Over the last month, shares of Michael Kors Holdings (NYSE:KORS) are down 7%. Meanwhile, its top peer Coach (NYSE:COH) is essentially flat. This comes amid an apparent rise of promotions offered by Kors, which is signaling that demand for its products in the U.S. might be slowing.
Long term, Kors has crushed Coach. Over the last year, Kors is up 31%, while Coach is down 40%. However, one accessory company has outperformed Kors. Kate Spade (NYSE:KATE) is up 70% over the last 12 months.
Back in February we noted that Kors couldn't eat all of Coach's lunch. Well since then shares of Coach are down another 26% (compared to Kors' 17% slide).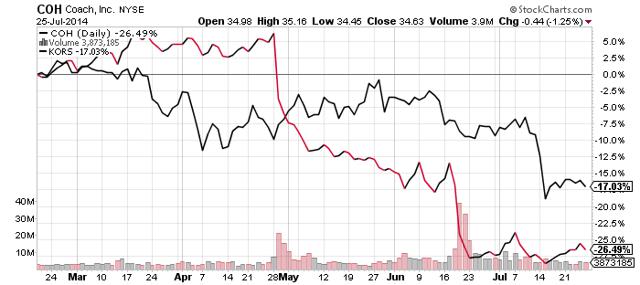 However, in that article we were more concerned with Coach's China and Asia opportunities.
Kors' weakness
Kors' fiscal fourth-quarter earnings beat consensus by 15%, but since then, things have slowed for Kors. Sales were up 15% in April, then up 13.7% in May; but its growth came in at only 8% for the month of June.
The biggest worry is that Kors could be reaching a level of over-expansion, which is part of the woes for Coach. U.S. sales are falling more than expected for Kors, and this is leading to higher markdowns. Ultimately, that'll lead to a lower gross margin.
Kors' current gross margin is 60.9% on a trailing-12 month basis, which is actually already below Coach's 71.1%. Coach's gross margin has been higher than Kors' since Kors came public back in 2011.
Is the weakness good news for others?
The turnaround story for Coach is fairly well told. But it's more of a story that likely won't materialize for a number of years. Its keys include turning its business into a lifestyle brand, which includes entering footwear and outerwear. Other initiatives include the men's business expansion and tapping the Chinese market even further.
As we noted in February,
"That's [China] where the big opportunity is, one that Coach has to get out in front of to help restore earnings growth and investor confidence. Assuming the China handbag and accessory market grows at 15% over the next five years, it'll be an $8 billion market. Compare that to the U.S., which is currently $10 billion. And being modest with market share, assuming it captures 15% to 20% -- similar to Japan -- there's a $1.2 billion opportunity, which would be over $900 million in incremental revenue. Using the company's high 20% guidance for EBIT margins in the region, China could add over $1 per share to earnings in less than five years."
But it won't be easy. After divesting its Lucky Brand and Juicy Couture brand earlier this year, Kate is now a pure play on high-end accessories. Making it a formidable competitor in the space. The company is also looking to tap the fast-growing men's market for high-end accessories. This includes focusing on its Jack Spade brand. As well, it's going "casual" with its more laid back Saturday brand.
Kors' bright spots
A couple of big opportunities that Kors does have are with wholesaling and licensing. Its licensing deals will allow Kors to diffuse into international markets faster and with less capital. That's a big opportunity considering more than 80% of Kors' revenue is generated from inside the U.S. And analysts expect the company to grow earnings per share by 19% next year.
Have we seen this before?
Back in the 1980s, there were two major retailers, Wal-Mart (NYSE:WMT) and Kmart, the latter of which is now part of Sears Holdings (NASDAQ:SHLD). We all know how this has played out; Wal-Mart's everyday low prices and operating efficiency have crippled Kmart. Kmart stores are constantly closing, while Wal-Mart is the world's largest retailer.
The media would have you believe that the same thing is happening in the world of luxury handbags. But it's hard to see the weaker retailer (in this case Coach) going the way of Kmart. It has too much cash and is larger in terms of annual sales.
Despite the success of Kors, Coach is still extremely profitable. Coach did $4.89 billion in sales last year and earned $927 million in profit. That's not what I would call a struggling retailer. Coach boasts an operating margin of 28% and a return on equity of 40%.
Owning Kors versus Coach
Shares of Kors trade at a P/E ratio of 25 and a P/S ratio of more than 5. That's well above Coach. With Coach you get a stock that's yielding close to 4% and no debt. It also has enough cash to cover 8% of its market value. With Kate, it trades at a P/E ratio of 87 and is the only one of the three that carries debt on its balance sheet.
Bottom line
With the U.S. economy slowly rebounding and the rising middle class abroad, the high-end accessory market should benefit from higher demand going forward. However, given Kors' valuation, it might be best to wait on a pullback. If you're looking for a turnaround in the retail space that offers downside protection via a strong dividend, Coach is worth a closer look.
Disclosure: The author has no positions in any stocks mentioned, and no plans to initiate any positions within the next 72 hours. The author wrote this article themselves, and it expresses their own opinions. The author is not receiving compensation for it (other than from Seeking Alpha). The author has no business relationship with any company whose stock is mentioned in this article.