Over the past several months, Lululemon Athletica Inc. (NASDAQ:LULU) has been beaten down to its lowest point since the spring of 2011. That cute yoga apparel company loved by both women and men -albeit for different reasons- has gotten little love from Wall Street as of late. The stock is treading slightly above $39, right near the bottom of its 52-week range of $36.26-$77.75. Year over year the stock is down 43%.
The question a lot of people are asking is this: "What gives?" How could a stock fall from Wall Street's embrace so quickly and dramatically? It's a question that has a very simple answer: Lululemon's growth has slowed dramatically over the past several quarters.
Sluggish Growth
First we'll take a look at same-store sales; this will help us determine how established stores are performing year over year.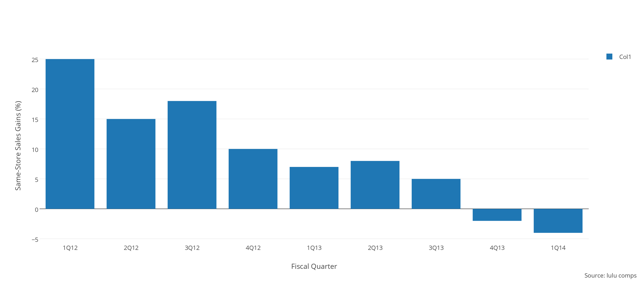 I'm no math wizard, but I did pay enough attention in statistics class to recognize a strong negative association when I see one. In this case, the trend would have you believe that as time increases, same-store sales growth decreases. There are a few scenarios that might explain this: 1) fewer customers are shopping at established stores. 2) customers are spending less money at established stores. 3) a combination of both 1 and 2. All of this is just the fancy way of saying that Lululemon has, perhaps, lost its ability to attract customers to stores.
Even though same-store sales growth is slowing, overall revenue is still trending upwards - although very moderately.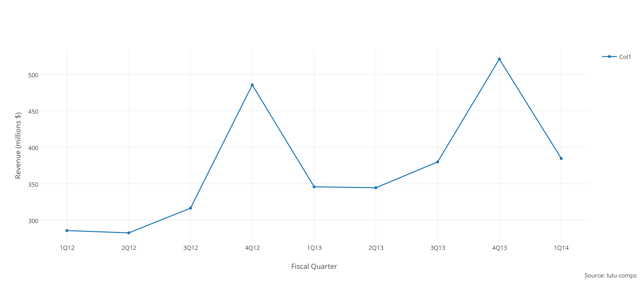 The bottom line, on the other hand, has remained largely flat over the past few years.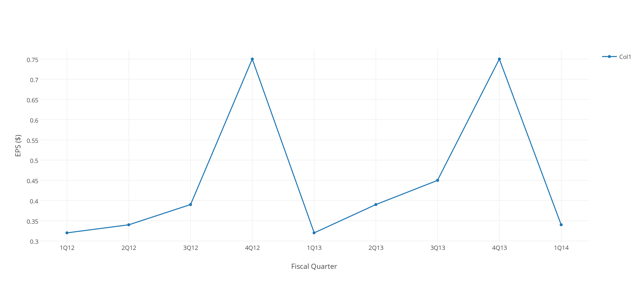 When you consider that same-store sales growth is deteriorating, revenue is growing only ever so slightly, and net income growth has flatlined, it becomes pretty clear why the stock has been pummeled.
So there you have it. At the end of the day, it all comes down to the numbers, and Lululemon's numbers paint an ugly picture. But now what? The company still exists, and the company is still very profitable - it's just a less attractive growth prospect than it used to be. A very feasible possibility is that an ambitious company steps in to acquire Lululemon, perhaps to breathe some life into a brand that has lost some of its luster. Below I'll discuss some possible bidders and examine the likelihood that they make an offer.
Who Would Rescue The Damsel In Distress?
Some analysts have mentioned V.F. Corporation (NYSE:VFC) as a potential acquirer. The company has an expansive brand portfolio that includes The North Face, Vans, Jansport, Nautica, and many others. The company is known for making high profile bids, notably the acquisition of Timberland for $2.3 billion in the fall of 2011. At the time, Timberland was struggling with compressing operating margins and falling profits. Lululemon would be an attractive target for V.F. Corp. because it would bolster its presence in women's activewear. V.F. already owns Lucy, which competes directly with Lululemon, but Lucy's brand recognition is nowhere near Lululemon's level. Additionally, V.F.'s massive size and scale would help Lululemon cut costs and expand into global markets. In my opinion, V.F. Corp. would be the most likely suitor.
Nike, Inc. (NYSE:NKE) is another name that has been mentioned. Nike has the size and scale, supply-chain management, and plenty of cash. But - and this is a big but - Nike has a very limited brand portfolio, and doesn't have an extensive history of scooping up brands outside of its core footwear business, save for its acquisition of Hurley International in 2002. Last year, Nike sold Cole Haan to a private equity firm, signaling the company's intention to focus on just a few core brands. At this point in time, I think a Nike bid is extremely unlikely.
Adidas AG (OTCQX:ADDYY) has also been mentioned as a potential bidder; but like Nike, Adidas has a limited acquisition history. Its last major acquisition was of Reebok in 2006. Also, the company has been experiencing sluggish sales and earnings growth, so a bid for Lululemon would seem unlikely. Adidas shareholders would be wary of combining two struggling companies, especially at the expense of Adidas's balance sheet.
While I don't know of any analysts who have cited an Under Armour, Inc. (NYSE:UA) bid, I think it bears mentioning because both companies compete in similar markets. At this point in time, Under Armour is extremely unlikely to make a move for Lululemon. The company is focused on continuing to grow the Under Armour brand, and picking up Lululemon would only slow down Under Armour's momentum and place an unnecessary burden on the company's balance sheet. The odds of this happening are close to zero.
While I haven't heard The Gap, Inc. (NYSE:GPS) come up as a possible suitor, I think that the company would be interested in bolstering its limited activewear clout. Currently Gap's Athleta brand competes with Lululemon, but similar to V.F. Corp.'s Lucy, Athleta lacks the brand influence of Lululemon. Gap has excellent global exposure - something that Lululemon undoubtedly lacks.
Additionally, there have been rumors that Lululemon founder Dennis Wilson may have plans to take the company private, but whether an offer will ever surface is up in the air, especially considering that he would need to raise a significant amount of cash to cover the campaign.
In Conclusion...
There are a few possible bidders for the beaten down retailer - V.F. Corp. being the most feasible; but considering the slumping sales pattern that the company is trapped in, I think the company will continue trading range bound until either 1) an acquirer emerges or 2) the company shows significant progress in growing same-store sales and revenue. While Lululemon could very well turn out to be a very profitable comeback story, I'm personally of the opinion that there are much better places to park your money.
Disclosure: The author has no positions in any stocks mentioned, and no plans to initiate any positions within the next 72 hours. The author wrote this article themselves, and it expresses their own opinions. The author is not receiving compensation for it (other than from Seeking Alpha). The author has no business relationship with any company whose stock is mentioned in this article.
Editor's Note: This article discusses one or more securities that do not trade on a major U.S. exchange. Please be aware of the risks associated with these stocks.