Offshore drilling giant Noble Corp. (NYSE:NE) gave a presentation at the GHS 100 Energy Conference on June 24, 2014 that does an excellent job of discussing the company's current position in the industry and its forward trajectory. The company also discussed the improvements that it has been making to its rig fleet over the past few years. Unlike some of its peer companies such as Seadrill (NYSE:SDRL) and Pacific Drilling (NYSE:PACD), Noble does not discuss the macroeconomic environment in which it operates except for a very brief statement at the end of its presentation. However, this still works out very well as the company still provides great insight into its current position. Given the fact that I have not published an article on Noble Corp. to this site for quite some time, I would like to take this opportunity to share these insights as well as provide some further analysis into them.
Noble Corp. is one of the largest offshore drilling contractors in the world, boasting a fleet of 77 rigs. This fleet consists of fourteen semisubmersible rigs, fourteen drillships, and 49 shallow-water jack-up rigs. Not all of these rigs are operational, however. At the time that the presentation was given, one of the drillships and three of the jack-up units were still under construction. These rigs that are currently being built will be the drivers of Noble's growth going forward, which will be discussed later in this article.
This large fleet allows Noble to diversify its operations globally and today the company operates offshore drilling rigs in all of the industry's major areas of the world except for East Africa and the Arctic, which are both emerging as drilling hotspots.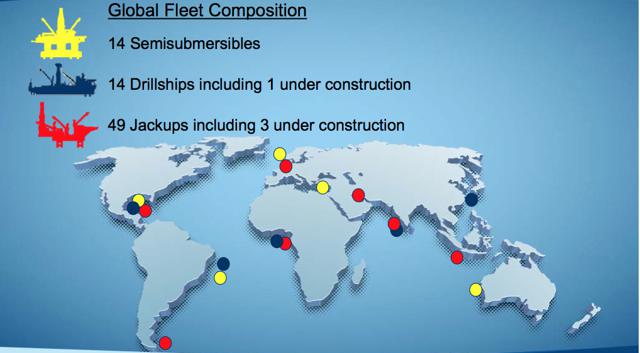 Source: Noble Corp.
This international diversification provides Noble with significant protection against regime risk, or the risk that the government of one of the countries in which Noble operates will institute some policy or take some other action that will have an adverse impact on the company. Investors in the offshore drilling industry have witnessed the adverse impact that governmental actions can have through the actions of the United States government towards BP (NYSE:BP) and Transocean (NYSE:RIG) following the Macondo disaster of 2010 or through the actions of the Brazilian government towards Chevron (NYSE:CVX) and Transocean following the Frade field oil spill in 2011. Investors also witnessed another excellent example of regime risk when the government of Argentina nationalized YPF (NYSE:YPF) to the detriment of Repsol (OTCQX:REPYY). By diversifying its operations internationally, Noble has effectively reduced its exposure to such risks because only a small part of the company's total operations are exposed to the jurisdiction of any one government. While this, admittedly, still does not provide total protection against such risks, the company is still much better protected than it would be if its operations were limited to a single country.
Noble's revenues are also well diversified among the various regions in which it operates providing further protection against regime risk.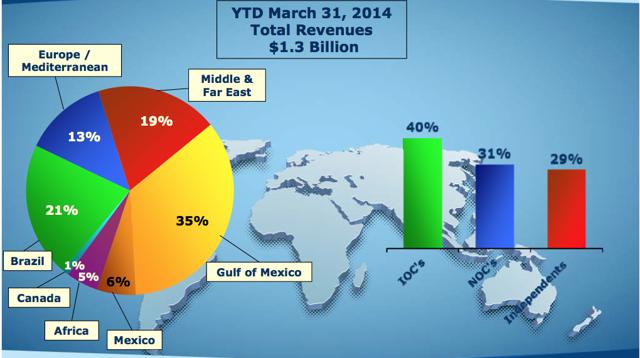 Source: Noble Corp.
As the charts show, no region in the world accounts for more than 35% of Noble's revenue. With that said, the so-called "Golden Triangle," which consists of the U.S. Gulf of Mexico, Brazil, and West Africa, does amount to more than 50% of Noble's revenues. However, this area is by far the largest market in the world for ultra-deepwater rigs and it includes the jurisdiction of several different countries so this is both understandable and acceptable. The fact that its revenue is diversified across so many countries and regions limits the potential adverse impact to Noble's revenue should one of these countries enact a policy that negatively impacts the company's top line numbers. As an extreme example, if the United States decided to ban all offshore drilling in the Gulf of Mexico, then the maximum amount of revenue that Noble would lose is only 35% of its total.
Long-time readers of my work will recall that I have discussed several times in the past that the oil and gas companies that contract out offshore drilling rigs have expressed a marked preference for newer rigs. This has been true even though these newer rigs command significantly higher dayrates. In fact, the oil and gas companies' preference for modern rigs is precisely the reason why these rigs command much higher dayrates. Noble has recognized this and has decided to take advantage of it by splitting its fleet into two separate companies.
This transaction will involve Noble splitting its fleet into two different companies. One of these companies, Paragon Offshore, will take ownership of the majority of Noble's fleet. Specifically, Noble currently has a sizable number of older, standard specification drilling rigs. These are the rigs that Paragon Offshore will receive. All of Noble's modern, high-specification units, as well as a few selected standard specification units will remain with Noble.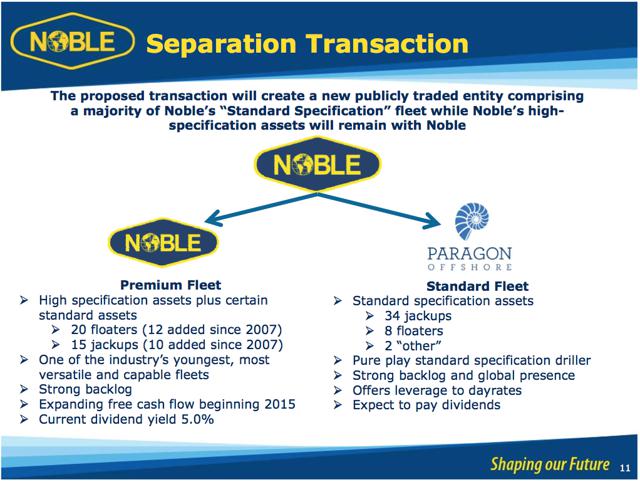 Source: Noble Corp.
The end result of this transaction will be to transform Noble into an exclusive, or near exclusive, operator of modern high-specification drilling rigs much like its peer company Seadrill. Paragon Offshore will almost certainly look much more like a cash cow. This company will likely have much lower growth, instead focusing on maximizing free cash flow and dividends.
The formation of Paragon Offshore and Noble's transfer of its older assets to this entity will have the effect of reducing the average rig age in Noble's fleet by 52%. In 2013, the average offshore drilling rig in Noble's fleet was 25 years old. This figure would have climbed to 27 years old by 2016, was the transfer of the company's older rigs to Paragon Offshore not to occur. Now, however, the transfer of these assets will reduce the average age of one of Noble's rigs to thirteen years in 2016.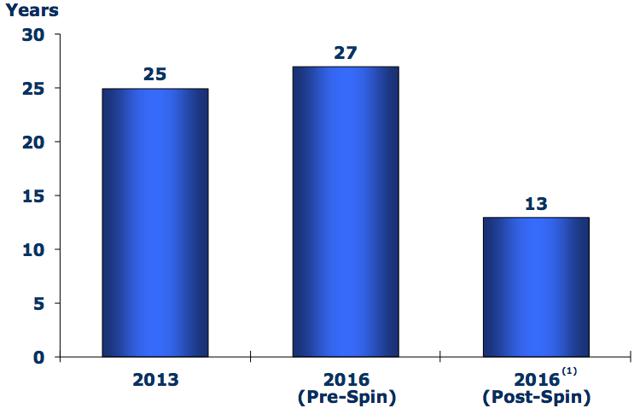 Source: Noble Corp.
This will improve Noble's ability to compete with companies such as Seadrill that exclusively operate high-specification drilling units. As already mentioned, the oil and gas companies that contract out offshore drilling rigs are most interested in securing modern, high-specification units. This is due primarily to the fact that these modern rigs boast greater technical capabilities and improved safety characteristics compared to older drilling rigs. Noble does indeed already have a number of modern rigs in its fleet already due to the newbuilding program that the company has embarked on over the past few years. However, as the chart above shows, the older rigs in Noble's fleet were much more numerous than the new rigs and this resulted in the company having an overall much older fleet than that of its peers. This may have resulted in Noble occasionally being overlooked by companies looking to contract out a modern, high-specification rig despite the presence of the new rigs in the company's fleet. By splitting its fleet into two companies, Noble may be seeking to rectify this situation and improve its visibility among the managements at the various oil companies.
Despite the potential drag that Noble's older fleet may put on the company, Noble is not struggling to obtain contracts. In fact, the company has a very large contract backlog of $14.3 billion. In the first quarter of 2014, Noble had total contract drilling revenues of approximately $1.2 billion. Thus, this backlog represents approximately twelve quarters, or nearly three years, of revenue at Noble's current revenue generation rate. As this is revenue that Noble is all but guaranteed to receive (it is technically possible for an oil and gas company to cancel the contract, but such events are rare and typically involve a cancellation fee of at least 10% of the remaining value of the contract), this backlog provides the company with a significant amount of safety and security. Of course, Noble will not receive all of this $14.3 billion over the next three years. Instead, the amount of revenue that the company is almost certainly guaranteed by contract to receive is spread out over the next decade. Here is the amount that the company is scheduled to receive in each of the next ten years (dollar figures in billions):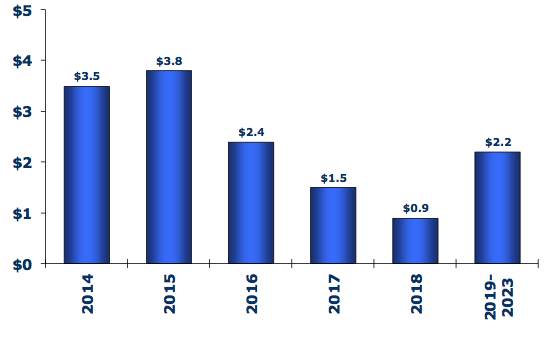 Source: Noble Corp.
There is one potential risk to this backlog, however. This is the fact that Royal Dutch Shell (NYSE:RDS.A) accounts for more than half of it. This means that out of the $14.3 billion that Noble is guaranteed to receive, approximately $7.3 billion will be paid by Royal Dutch Shell. Thus, if any financial problems at Royal Dutch Shell result in that company being unable to fulfill its contractual commitments then Noble might find a significant portion of its backlog in jeopardy. Fortunately, Royal Dutch Shell is one of the largest oil companies in the world and is very financially stable so the risk of such an event is minimal but it is still present.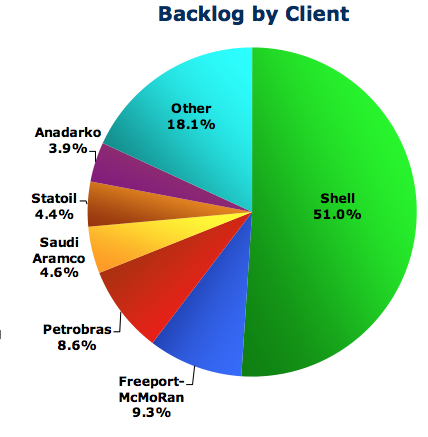 Source: Noble Corp.
For the past several years, Noble has been embarking on an ambitious newbuilding program in order to add to the number of modern, high-specification rigs in its fleet. This was already mentioned. This resulted in Noble having to significantly increase its capital expenditures during the years that it was engaging in this program due to the high cost of constructing an offshore drilling rig. For example, it costs approximately $600 million to construct an ultra-deepwater drillship and approximately $180 million to construct a benign-environment jack-up. The construction of a harsh-environment jack-up rig, such as Noble's new JU3000N rigs, costs the company approximately $245 million each. Thus, it is easy to see how Noble's capital expenditures could have surged due to this project. However, this project is now nearing completion. As already mentioned, Noble has only one ultra-deepwater drillship and three jack-up rigs still under construction, three of which will be completed this year. The final rig, one of the jack-up units, will not be completed until 2016. The end of this program should cause Noble's capital expenditures to fall dramatically going forward.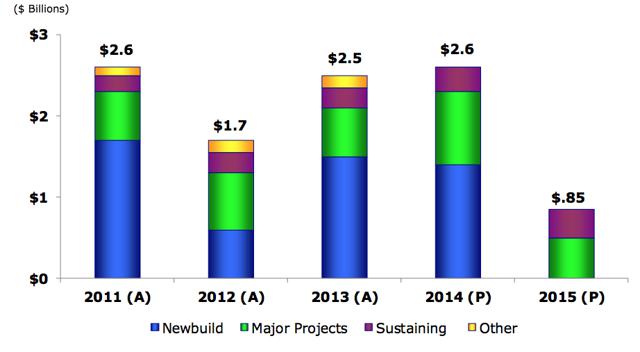 Source: Noble Corp.
The projected decrease in capital expenditures should result in rising free cash flow for the drilling company. But, this is not the only thing that will contribute to rising free cash flow. The new rigs that Noble has under construction will also contribute to this. This is because all but one of these rigs have already secured contracts and so will begin working as soon as construction has been completed. These rigs will also begin generating income as soon as they begin working. As none of these rigs are currently working, the start-up of operations on each of these rigs will result in the full amount of revenue that they generate being added directly to Noble's revenue. As each of these rigs will generate more revenue than what each costs to operate, they will also directly increase Noble's cash flow.
As I mentioned in the introduction, Noble did comment on the current macroeconomic environment in the ultra-deepwater industry, albeit briefly. Noble acknowledged that 2014 has thus far been relative slow, at least in terms of contract awards for the relatively large number of uncontracted rigs, in direct contrast to the conditions that were present over the 2012-2013 period. However, that has now begun to change. Since the beginning of May, there have been numerous contracts awarded for ultra-deepwater drilling rigs, primarily from the "Golden Triangle." Unfortunately, there is still significant downward pressure on dayrates caused by the relatively large supply of uncontracted rigs that are either under construction or that have just recently left the shipyard and this is preventing the dayrates on new ultra-deepwater contracts from reaching the levels that were achieved during the 2012-2013 period. Overall, though, the trend here is positive and could be a sign that the ultra-deepwater industry is beginning to recover from the malaise that it has been suffering from for the past three quarters or so.
As I have written about before, the shallow-water subsegment of the industry has been the bastion of strength throughout the past three quarters. Noble points this out as well, stating that there is a healthy amount of contracting activity for jack-up rigs taking place, even given the large number of rigs that will be leaving the shipyard between now and 2016. However, unlike in the ultra-deepwater sector, drilling companies are continuing to order new jack-up units without already having secured contracts for them. These are known as speculative orders. Depending on the demand for shallow-water units when these rigs leave the shipyard, the construction of these speculative rigs may ultimately result in a supply glut. Other projections state that enough older jack-ups will be scrapped over the medium-term and that oil and gas companies will continue engaging in sufficient drilling in shallow-water regions to prevent such a glut from occurring. Either way, this is something that investors will want to pay attention to even though it is unlikely to be a concern within the next year or so.
Disclosure: The author is long SDRL, PACD, BP. The author wrote this article themselves, and it expresses their own opinions. The author is not receiving compensation for it (other than from Seeking Alpha). The author has no business relationship with any company whose stock is mentioned in this article.
Editor's Note: This article discusses one or more securities that do not trade on a major U.S. exchange. Please be aware of the risks associated with these stocks.