Background: Twenty-First Century Fox, Inc. (NASDAQ:FOXA) operates as a diversified media and entertainment company worldwide. The company's shares are liquid and trade an average of 18 million shares per day, and the company has a market cap of $72 billion.
The next fourth quarter earnings promises to be a good one if the company meets or beats estimates. Shareholders and analysts alike are hoping for an improvement of 8 cents above the same period last year's 31 cents per share results, to come in at 39 cents after the close on August 6th.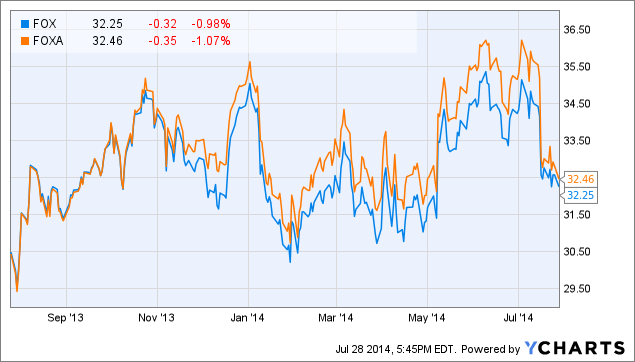 I've read estimates from 35 cents to as high as 41 cents per share. So that tells you how much consensus there is. The whisper numbers I've read range from 37 cents to a high of 44 cents.
Compared to Twenty-First Century Fox's 19 forward price-to-earnings ratio, and Disney (NYSE:DIS) is slightly lower at 18.8 and CBS (NYSE:CBS) is about 20. The P/E ratio is the number of years of earnings the company needs to pay for one share of stock. Historically, above 20 P/Es underperform the market in the long run, while under 20 outperform.
This stock is about as stable as the overall market and falls on the low-end of Disney and CBS. Fox has a Beta of 1.03, while Disney is 1.32, and CBS is almost twice as volatile as the overall market at 1.93. I think this is important because all else being equal, if you're not selling covered calls or shorting put options to get long, you want as low of Beta as you can get.
Analysts are in love with this company. Twenty-First Century Fox is sporting 24 Buy ratings from a total of 26 analysts covering the company, only 2 Hold ratings, and there are no analysts rating it as a sell.
The average analyst target price for Twenty-First Century Fox is $39.52. I'm bullish on Fox, but not quite as optimistic as the average analyst. My 12-month price range is between $38.50 and $40.
I look at call and put option pricing to get an idea of what the market is expecting. The higher the premium, the more investors are bracing for a major price move. You want to examine the contracts that expire right after the earnings release and maybe the next expiration date if the stock has weekly expiration contracts.
Earnings is usually the most volatile time for any given stock. Investors are expecting the shares to Twenty-First Century Fox to move in a range of about $2.07 around the current price. That's about a 6% difference within the next 19 days. Compared to many other companies I've researched into earnings, Fox is on the high end.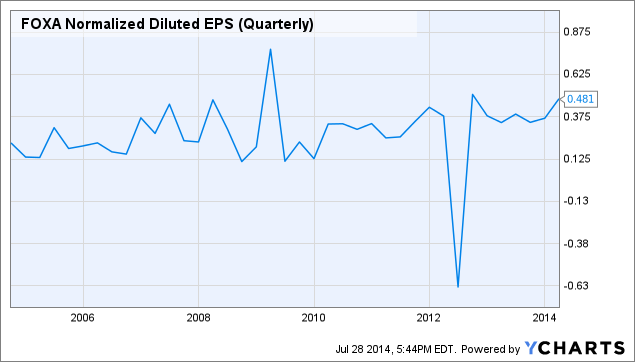 That means, as a shareholder or potential investor, you should anticipate Twenty-First Century Fox to trade as low as $30.74, or appreciate higher to $34.88, and still remain within one standard deviation.
After last quarter's results, the shares rose a modest 6.5%, or $2.10 from the close before the earnings release to the closing after. The closing trade before the release was $32.12 and ended at $34.22 the following day.
Looking back from the closing price before last quarter's results, until now, the shares increased a small 2.1%, or 69 cents. The close before the announcement was $32.12, and currently about $34.22 as of this writing. Considering its normally low Beta (as mentioned earlier), you probably want to sell, not buy premium.
One catalyst for the higher implied volatility for options is the recent price action. Over the last month in trading, the stock has performed poorly. Shares have dropped about 7.7% in the last 30 days. That's certainly enough to get shareholders interested in buying puts for protection. Unless talks with Time Warner (NYSE:TWX), or someone else resume, I think the dust will settle, and the shares will find technical support above $30.
Shareholders receive 25 cents annually in dividend payments. The yield is 0.7%, nothing to write home about. CBS currently has a better yield at 0.80%, and a five-year historical yield of 1.20%. Neither one is worth buying for the yield, but it's a nice bonus. Disney is slightly higher still, but again, at 1% it's not an opinion changer.
The studio and others in the space are priced for consolidation, so don't get caught off-guard if takeover talks heat up again, but regardless, it's shaping up to be a solid earnings report.
One final note - short interest above 4% is not enough to sound he alarms, but worth watching. Short sellers are among the brightest and most informed market participants, and if they turn sour on a company it is likely for a valid reason.
If the short interest ascends above 6%, you may want to scrutinize changes within the space. Otherwise, the prevailing 4.1% of the float short is relatively meager and not a primary concern.
Disclosure: The author has no positions in any stocks mentioned, and no plans to initiate any positions within the next 72 hours. The author wrote this article themselves, and it expresses their own opinions. The author is not receiving compensation for it (other than from Seeking Alpha). The author has no business relationship with any company whose stock is mentioned in this article.