JinkoSolar (NYSE:JKS) was founded in 2006 to design, develop, produce, and invest in photovoltaic products in China. Since, they have expanded into international markets as diverse as South Africa, Chile, The United States, United Kingdom, and Japan. The brand name, quality, and efficiency of JinkoSolar's products and services have been ever expanding, and with macro trends in the solar industries favor this is one leader to buy.
Valuation
Comparing JinkoSolar to three representative competitors in the solar industry, it is clear that JinkoSolar is a relative bargain. The three representative competitors I've chosen are Trina Solar (NYSE:TSL), Yingli Green Energy (NYSE:YGE), and First Solar (NASDAQ:FSLR). The first two are Chinese competitors and the last is an American competitor.
JinkoSolar has a higher ROE and lower forward price/earnings ratio (forward P/E) than all of its competitors, standing out as attractively cheap. The price/sales ratio (P/S) is slightly higher than its competitors in China. However, given its status as a cost leader and superior profit margins, its P/S ratio is certainly within the realm of reasonability. Also, with plenty of cash to meet short- and long-term obligations, and superior profit margins than its Chinese competitors, JinkoSolar has a higher probability of surviving any cyclical downturn or overcapacity in the solar industry.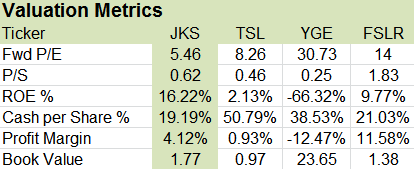 Source: Yahoo Finance.
Growth
There are many macro tailwinds at the solar industry's back that should continue to blow for many years into the future. With costs coming down and the need for many public figures worldwide to make clean energy an essential part of their campaign, subsidization is likely to remain important. According to the SEIA, the United States increased its photovoltaic (PV) capacity 41% in 2013, and it accounted for 29% of all new electricity generation capacity added. Meanwhile, the national average PV installed system price declined by 15% to $2.59/W.
Stronger demand and declining costs make it likely that solar will become a far greater percentage of total energy demand, even as total energy demand continues to grow. Aside from the bullish macro trends in favor of the solar industry, JinkoSolar's growth is impressive -- but, relative to its competitors, it is about in line. This is bullish since you can currently buy JinkoSolar at a discount, which means more growth per dollar invested.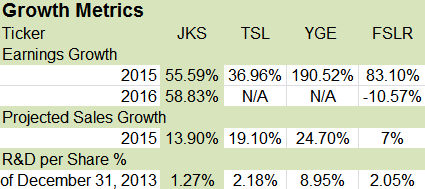 Source: Yahoo Finance and Nasdaq.
The chart below shows how impressive JinkoSolar's earnings and revenue growth have been.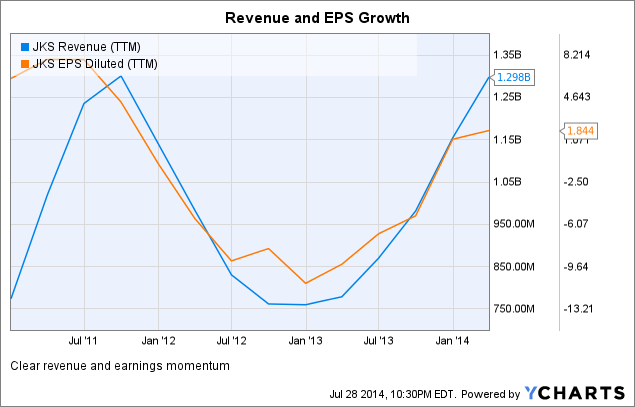 JKS Revenue TTM data by YCharts
Revenue Sources
The revenue sources of JinkoSolar are diversifying geographically, and by product/service offerings. JinkoSolar has recently become a market share leader in South Africa (40% market Share) and Chile (30% market share), according to its most recent Q1 conference call. With hopes of expanding its offerings in the United States, Europe, and Japan, it has the potential to break into massive markets as a cost leader. More importantly, JinkoSolar will not be solely dependent on China as its source of future revenue.
JinkoSolar is also diversifying its product/services revenue allowing them to be less dependent on earnings from manufacturing solar panels. This gives JinkoSolar the ability to avoid the full pain from overcapacity. As both a manufacturer and an investor in solar panels, JinkoSolar has uniquely positioned itself within China as a stable and predictable growth story going forward.
Short-Term Catalysts
There are several short-term catalysts for JinkoSolar. Last Friday, a trader purchased 2,000 August 30 calls for $1.15, which would imply a 13.2% increase as of the close yesterday in just the next three weeks in order to break even. Three top hedge fund managers own 13.5% of the floated shares in JinkoSolar, according to Insider Monkey. This puts you in good company owning the stock. Also, JinkoSolar continues to improve its patent portfolio and promised new product offerings in the future on their 2014 Q1 conference call.
Finally, the technical pattern currently forming in JinkoSolar has a strong base of support around $22.50 and is currently trading near its 50-day moving average. It would be wise to watch for support at the 50-day moving average, but given how its traded the last two days, the risks seems to be clearly to the upside and signals a higher likelihood that we test the 52-week high of $37.98 (38% upside from its previous close).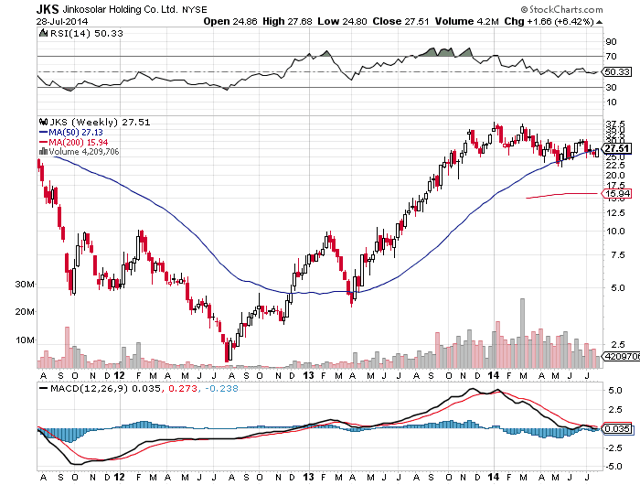 Conclusion
JinkoSolar is trading at bargain prices with strong growth. The company is intelligently diversifying its revenue stream, both geographically and through different products and services. There are additional risks to investing in Chinese companies, but given JinkoSolar's potential to be a global leader in the solar industry, the reward outweighs the risks.
Disclosure: The author has no positions in any stocks mentioned, but may initiate a long position in JKS over the next 72 hours. The author wrote this article themselves, and it expresses their own opinions. The author is not receiving compensation for it (other than from Seeking Alpha). The author has no business relationship with any company whose stock is mentioned in this article.