When activist shareholder Elliot Management Corp. proposed buying Riverbed Technology (NASDAQ:RVBD) for $21, it set an unconvincing level of support for the stock. In early July, the support price of $20 that held for four solid months broke down. Riverbed warned that its second quarter earnings would not meet its previous guidance. With Riverbed trading in the $18 range, investors need to ask two questions. First, is the stock still worth $21 and second, does it have any further to fall?
Weak quarter temporary
Riverbed earned $0.26 per share on revenue of $264 million. On its conference call, Riverbed said that its shortfall was due largely to slower revenue in North America and in the government vertical. Due also to operating as a multi-vendor solution provider, Riverbed was less accurate in forecasting quarterly results. On the upside, the more complex structure meant there were more multi-product sales valued at $1 million or more during the second quarter.
Riverbed failed to close deals for two product types during the quarter. Contracts for SteelHead, a WAN optimization solution, and SteelCentral, a web interface management console, will probably contribute to earnings in the third and fourth quarter of this year.
Growth potentials
Riverbed is confident it will take a leadership position in the application performance infrastructure market. The total addressable market ("TAM") is $11 billion. Riverbed needs to keep building its sales force and boost advertising spend. As customers become more aware of Riverbed's product offering, sales will improve over the next several quarters.
Share buyback
Riverbed is authorized to buy back up to 288 million shares. The firm spent $75 million buying 3.8 million shares for an average of $19.83. Investors should expect the buyback to accelerate if the stock drops back to the $15 - $17 range.
Valuation
If Riverbed earns $1.17 per share this year, the stock is valued at a forward P/E of 15.6. By comparison, Juniper Networks (NYSE:JNPR) and Aruba Networks (NASDAQ:ARUN) each have a forward P/E of 12.71 and 17.5, respectively. Juniper trades at a bigger discount because it, too, issued light guidance for the current quarter. Juniper is facing slower demand from carriers like AT&T (NYSE:T). Conversely, Aruba stands to gain as U.S. schools purchase Wi-Fi equipment. Despite the varying outlook, all three issues dropped steadily since the start of the year: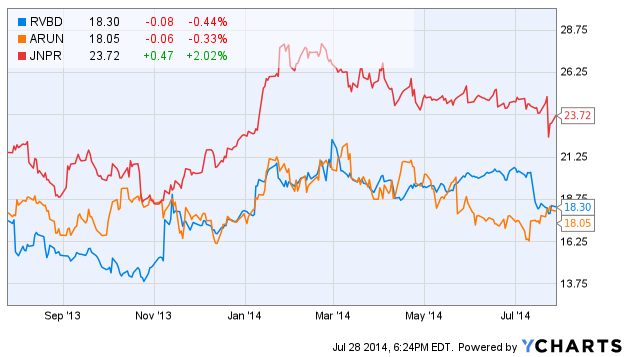 Risks
Riverbed still sports an elevated debt / equity ratio, thanks to its expensive acquisition of OPNET Technologies. Long-term liabilities were $684.1 million at the end of the second quarter. Further delays in closing transactions could strain Riverbed's balance sheet in the near term.
Delays in the closing of deals could extend beyond Q3 and into Q4. This will also make Riverbed shares less attractive for investors for the next six months.
Bottom line
It might be too early to call a bottom in shares of Riverbed. Despite activist shareholder Elliot Management looking to shake up management, the catalyst for a rebound simply depends on Riverbed closing the large deals. Most of the deals will close in Q4, which means another quarter of uncertainty. The potential for upside still exists over the long-term, since demand for WAN optimization and application performance management is a growing field. As such, investors should start accumulating the stock over the next few months.
Disclosure: The author has no positions in any stocks mentioned, but may initiate a long position in RVBD over the next 72 hours. The author wrote this article themselves, and it expresses their own opinions. The author is not receiving compensation for it (other than from Seeking Alpha). The author has no business relationship with any company whose stock is mentioned in this article.