Energy giant Chevron Corporation (NYSE:CVX) released its Q2 interim update for the first two months of the quarter on July 10, with the company looking set to witness sequentially increasing earnings. The current growth is owing to gains because of a lack of impairment charges and sales of assets (primarily those that were upstream related). Even so, losses in foreign exchange are being prognosticated to expand as compared to what we witnessed in the first quarter of 2014. But this should not affect CVX's long-term profit generation, especially if it manages to enhance its overall production.
As upstream production saw a sequential plunge in liquid realization, both local and global, enhanced significantly, in the period under discussion. Furthermore, downstream earnings for CVX are being predicted to remain sequentially flat.
Q2 Analysis
The daily oil and gas production of CVX was on average 2.566 million oil equivalent barrels (BOE/D) as compared to 2.582 million in Q2 of 2013. This dip was owing to a decrease in global oil production. CVX's production saw a slight sequential dip of 0.9%.
The first two months of Q2 witnessed 665,000 BOE/D as CVX's domestic production, as compared to 640,000 in Q1. This was owing to Permian Basin's better production and the Gulf of Mexico not seeing a lot of maintenance activity.
Net global production was 1,901,000 BOE/D, which was 47,000 BOE/D less than Q1. This dip was owing to Angola LNG facility being shutdown and CVX not managing to kick start the activity in Kazakhistan.
The domestic liquid realization for Q2's first two months was $92.01 for every barrel, showcasing an increase from Q1's $91.49 per barrel. The corresponding international numbers saw $100.35 for every barrel, underscoring a 1.8% sequential rise in the international liquid realization.
The local gas realization was $4.11 per thousand cubic feet (MCF) as compared to Q1's $4.77 mcf. The corresponding international numbers witnessed $6.00 mcf as compared to $6.02 in the previous quarter.
CVX has predicted domestic downstream earnings for Q2 to be similar to Q1, since a decrease in refinery crude volumes and rise in operating expenses appear to be offsetting higher refining margins. The 79,000 barrels per day drop in domestic refinery input, as compared to Q1, was due to El Segundo's turnaround activity. Internationally, CVX posted 60,000 barrels per day hike from Q1, owing to a reduction in maintenance activities.
Expectations
With the company all set to release the earnings for the entire second quarter on August 1, the general expectation is that the final Q2 numbers would showcase an overall upward trend eventually, after showcasing an initial decline.
The entire industry's production in maturing fields is decreasing with an expected $7-10 trillion worth of new investments in the next 15 years needed to meet global requirements. However, CVX has repeatedly reiterated that it eyes dividend growth and is vying to operate with a strong fiscal position, by continuing to fund capital expenditures, while returning the residual cash to its investors.
The company is focusing on North America for the next couple of years, with nearly one-third of its capital expenditures aimed towards the region. Asia Pacific might witness similar investment with the Middle East and Latin America sharing the spoils. These investments are expected to run a wide gamut from LNG to shale.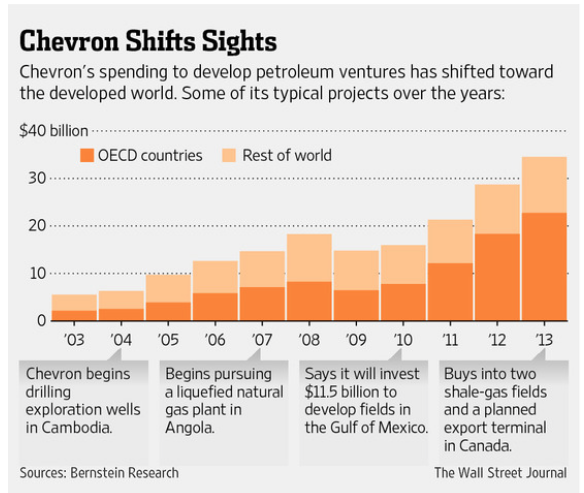 The company is focusing more on OECD countries, in which 66% of their exploration-and-production budgets are in OECD countries.
Even so, the expenditure on capital should be around $40 billion, till the year 2016, even though it touched the $42 billion mark in the year 2013. It is worth mentioning here that CVX's 2014 budget stands at $35.8 billion, which is around $100 million per day. This clearly means that CVX is all set to witness a rise in production and in turn an increase in the growth of its profit, in the long run.
The production in the year 2013 stood at 2.6 million barrels per day, which is expected to touch the 3.1 million mark in the year 2017. This rise would be orchestrated by Wheatstone, Mafumeira Sul, Permian, Big Foot and Permian. The company predicts even more growth following 2017, but the numbers haven't been predicted as yet.
The Gulf of Mexico continues to be the CVX's bulwark with a daily production capacity of 177,000 barrels. Tubular Bells looks set to conjure 44,000 barrels per day and will start production in the next quarter. Big Foot will kick off next year and add another 79,000 barrels every day. Even, so a lot will depend on how things pan out in the Gulf of Mexico.
There's a lot of expectation from the Australian Gorgon project as well. With it being 20% away from completion, it is expected to commence operation before Q3 of next year.
With the company making its intentions clear expect both the production levels and the profits to soar for CVX in the long run.
Investment Opportunity
Even though CVX's production in the near future will dip, but this would be stabilized by a rise in realized prices. However, in the long run, the odds are that CVX would be upping the ante on its production, making it a top notch investment prospect. If all of its projects go as planned, expect CVX's overall production to increase by a massive 20%. Even so, a lot hinges on events in the Gulf of Mexico. If CVX can set the ball rolling in Mexico, then there's no turning back for the company. Therefore, it is wise to keep an eye on Mexico - and to some extent Australia - before taking the investment plunge in CVX.
Disclosure: The author has no positions in any stocks mentioned, and no plans to initiate any positions within the next 72 hours. The author wrote this article themselves, and it expresses their own opinions. The author is not receiving compensation for it (other than from Seeking Alpha). The author has no business relationship with any company whose stock is mentioned in this article.