Investor sentiment toward Alcoa, Inc. (NYSE:AA) has gradually become very positive over the last few months, as seen in the stock price which has soared approximately 25% in the last three months. CEO Klaus Kleinfled has transformed Alcoa from an aluminum producer whose income was dependent on the London Metals Exchange's commodity prices to one that gains most of its profit from selling downstream products in booming industries like auto and aerospace. This move has lowered the company's reliance on the price of aluminum while also positioning it to benefit from the upswing in other markets, something that has made Wall Street very bullish on the firm. Since July 3rd, eight rating agencies have issued buy ratings and/or hiked its price target for AA. I have been positive on Alcoa for over a year (and have written two bullish articles on Seeking Alpha in October 2013 and January 2014), but there are two major factors that concern me regarding the stock right now: debt and valuation.
Debt
Alcoa's balance sheet shows that the company has $5.84 billion in current liabilities, over $7.5 billion in long-term debt, and only $1.18 billion in cash. This cash level results in only $1 of cash per share. Only adding to the company's debt woes is its cash flow generation. Alcoa only managed to bring in $260 million in free cash flow this past quarter (a mere 4.5% of sales or $0.22 per share) and have actually been free cash flow negative in two of the past four quarters. On the Quarterly Conference Call, Kleinfeld guided that the company will be free cash flow positive for the entire year. While some cash flow is better than none, Alcoa needs to start generating cash soon to pay down the massive debt burden plaguing its balance sheet.
Overvalued?
As mentioned, Alcoa's stock has accelerated 25% in the last three months and over 100% in the last year. The company currently trades at a 40.50 ttm P/E ratio and a forward P/E ratio of 21.00. Clearly the market is awarding AA a premium multiple when it comes to earnings, but it is doing the same when it comes to other valuation metrics as well. According to Charles Schwab, Alcoa has a book value per share of 9.95 and a tangible book value per share of 7.02 resulting in a price/book of 1.72 and a price/tangible book of 2.42. Even the most aggressive Alcoa bulls would admit that the multiples the company are presently trading at are pretty high. A forward P/E of 21 is the kind of multiple that are usually reserved for high growth stocks, which begs the question, is Alcoa a growth stock?
Looking Forward At Current Problems
Alcoa's ttm and forward P/E ratios are high, but they are not unwarranted. Management has completely revolutionized the business strategy and explosive earnings growth has been the result. Yes a P/E ratio of over 40 is very high, but with a company like this it is short-sighted to look at this year or even next year's earnings. Investors need to focus on earnings that will be achieved in five years, not one. When you do that, the company's five-year PEG ratio of 0.59 stands out. The new Alcoa led and engineered by Kleinfeld is on its way to being even more profitable than the company that was once a staple of the DJIA. A refocused core business and high cost efficiency ratios will propel EPS exponentially higher in the years to come.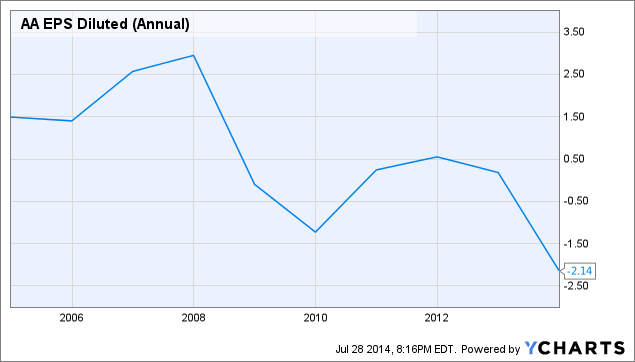 AA EPS Diluted (Annual) data by YCharts
In the mid 2000s, Alcoa earned almost $3 per share, nearly eight times more than the $0.42/share earned over the last twelve months. If AA can manage to come close to, nonetheless surpass, those numbers, $17 per share will be a huge bargain.
In terms of the debt, I am not too worried. Despite its impressive growth potential, I would not necessarily classify AA as a growth stock. The company is, however, without a doubt a turnaround stock. In Chapter seven of his famous book One Up On Wall Street, Peter Lynch outlines a few different kinds of turnaround stocks and Alcoa would be a "restructuring-to-maximize-shareholder-value" turnaround - pretty self-explanatory. "Turnaround stocks make up lost ground very quickly" Lynch notes, something that Alcoa has been doing over the last 12 months. Turnarounds often carry high debt levels in the early stage of their recovery as a result of operating at a loss for several years. Once classified as a turnaround. Alcoa's debt figures could be interpreted as a sign that the firm still has a long path of profitability ahead.
For clarification, I would not classify Alcoa as a cyclical because it has delevered itself from the price of aluminum. The new Alcoa is a company that is no longer reliant on commodity prices and thus will not endure the ups and downs cyclicals often experience. Because of this, Alcoa can be labeled as a turnaround stock.
Conclusion
Alcoa shareholders should be concerned with current valuations and its debt level if they are planning on trading the stock on its way higher. Those two points are the largest worries investors have and could pressure the share price lower in the near term. Traders should dump their shares now with the stock near its 52-week high and look to re-enter at a lower price. Long-term investors should comfortably hold on and collect the small, but still existent dividend of $0.03/share as AA continues its rise.
Disclosure: The author is long AA. The author wrote this article themselves, and it expresses their own opinions. The author is not receiving compensation for it (other than from Seeking Alpha). The author has no business relationship with any company whose stock is mentioned in this article.