As the market continues to move higher, I have been combing over the U.S. equity market, looking for stocks that are undervalued. I found one name in particular that has fallen quite precipitously, and has been a battleground among bulls and bears: Whole Foods Market (NASDAQ:WFM).
I took a deeper look into the stock, and combed over many articles here at Seeking Alpha, trying to see if the stock is ready to stop its terrible decline. My conclusion is this: It is not yet time to buy. At least, not time to buy a full position.
How do you figure?
Just because the stock has declined a lot, does not make it cheap. From its high, shares of Whole Foods Market have dropped roughly 45%. However, it still trades with trailing PE ratio of 25, compared to an industry average of 16.
Furthermore, it trades with a forward PE ratio of 21.5, while earnings over the next twelve months are only expected to grow 8.5% compared to the previous twelve months of earnings.
Whole Foods' price-to-sales ratio of 1 is also roughly three times higher than the industry average of 0.3.
With this quick back-of-the-envelope math, we can see that Whole Foods trades at a higher valuation than its industry peers, while also trading at what I would consider a high valuation given its next year's worth of expected earnings.
In the past, Whole Foods deserved a higher valuation than compared to its industry because of its elevated growth rate. But with growth slowing dramatically, (just 4% EPS growth expected for fiscal 2014), those valuations become less justified.
Admittedly, the stock is off dramatically from its 52-week high around $65, but I'm worried that estimates for fiscal 2015 are still too high.
Speaking of 2015…
Analysts are expecting Whole foods to earn $1.73 in fiscal 2015, or roughly 13% more than it earned in fiscal 2014. Analysts also expect the company to garner sales of $16.08 billion, a 12.6% increase from fiscal 2014.
Of course, these are analysts' estimates, and it's difficult to gauge whether they are accurate. Usually, management is able to add clarity to guidance.
However, in the case of Whole Foods' management, I have one simple issue: They are not accurate.
Consider when the company reported third quarter earnings in fiscal 2013. It issued guidance for fiscal year 2014 of 12% to 14% revenue growth and 17% to 18% earnings per share growth, (which equated to $1.72 to $1.74 in earnings).
In the fourth quarter of fiscal 2013, the company cut its full-year 2014 guidance to 11% to 13% revenue growth and earnings per share of $1.65 to $1.69.
In the first quarter of fiscal 2014, management once again cut full-year 2014 guidance to 11% to 12% revenue growth and $1.58 to $1.65 in earnings per share.
Finally, they had this to say in the most recent earnings report:
"We're resetting expectations for this year and for the first time, laying out our strategic vision for the next several years. This is not guidance, but rather a framework around how we intend to manage our business over the intermediate term."
After three straight quarters of guidance cuts for the top and bottom line, this is not what I, nor any investor wants to hear.
So what's the good news?
Over the past 90 days, analysts' estimates have fallen almost 10% for fiscal 2015, and the stock price has gotten shellacked, down some 35% year-to-date.
The price-to-earnings valuation is also getting near levels that investors have historically felt comfortable buying the stock. Have a look below: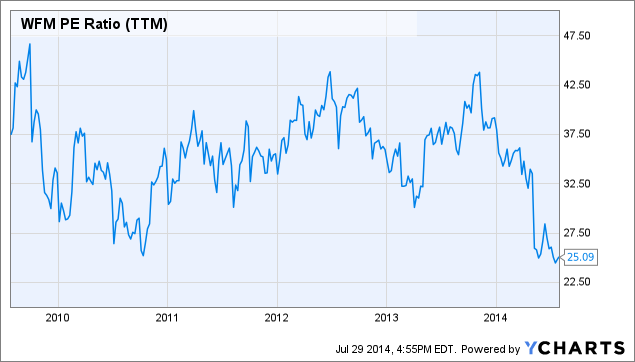 WFM PE Ratio (TTM) data by YCharts
Whole Foods also carries no debt and $1.5 billion in cash and investments. It also pays a 1.3% dividend yield and has an $800 million share repurchase plan, which as of the second quarter, had over $650 million left for buybacks. We'll see how much this amount has changed when the company updates investors in the third quarter.
Final thoughts
While I want to be a buyer of Whole Foods, I have trouble believing that next year's earnings estimates will not decline. Even if the company does provide guidance that's in-line with current expectations, the earnings per share growth rate may still not be robust enough to make the stock attractively priced.
Shares of Whole Foods certainly do not appear cheap if fiscal 2015 estimates are trimmed lower, although the resulting sell-off from such an event would likely make the stock a buy, especially in the low-$30s.
Because of the company's secular growth opportunity in a healthily growing industry, the stock is at least worth considering as a buy. For me personally, I'm looking for a small investment in the stock, with the plan of adding to that position over time.
The conference calls are your key to understanding the stock. Co-CEOs John Mackey and Walter Robb will basically tell you everything you need to know.
With earnings scheduled for Wednesday, July 30th, investors may be better off waiting for the results to see if the company needs another quarter or two before deserving your hard-earned dollars.
Disclosure: The author has no positions in any stocks mentioned, but may initiate a long position in WFM over the next 72 hours. The author wrote this article themselves, and it expresses their own opinions. The author is not receiving compensation for it (other than from Seeking Alpha). The author has no business relationship with any company whose stock is mentioned in this article.