Mercer International (NASDAQ:MERC) is the world's second-largest producer of high quality Northern Bleached Softwood Kraft (NBSK) market pulp, selling to customers in Europe (52%) North America (12%) and Asia (33%) who manufacture a wide range of premium paper and tissue-based products.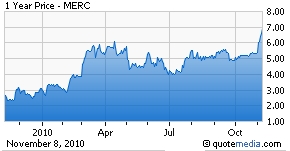 Mercer operates three of the world's most modern and efficient mills, with approximately 1.5 million air dried metric tonnes ("ADMT") of total annual capacity at Celgar, British Columbia (500K ADMT), and Rosenthal (330K ADMT) & Stendal (645K ADMT) in eastern Germany. All are located near excellent fiber baskets and in close proximity to key global markets. Mercer's pulp operations also produce a significant amount of excess renewable carbon-neutral electricity that is sold to third parties at premium "green energy" rates. The company's financials are reported in Euros.
Mercer's most recent investor presentation (Credit Suisse High Yield Conference) can be viewed (here).
Mercer's recently announced Q3 results (see earnings report here; earnings call transcript here), setting a new EBITDA record of €65.5MM (about US$85MM) and new production records at two of its three mills. The quarter's strength was fueled by continued high pulp prices and certain lower input costs, offset by a weaker US dollar and a substantial scheduled maintenance shut at its Rosenthal mill. The press release for Q3's results can be found on Edgar (here).
After pulp industry inventory shortages in Spring following the Chilean earthquake and a dock strike in Finland, newly constructed hardwood capacity and the reopening of some previously shut NBSK mills has returned inventory levels toward equilibrium today. While this equilibrium has caused pulp prices to roll over, their decline has proven slower and shallower than analysts first predicted, extending the time period for leveraged producers like Mercer to further build cash and pay down debt.
In addition, Mercer's Celgar bioenergy facility, constructed primarily with Canadian Government 'green energy' grants, began producing $CAD20-25 million of annual cash flow from higher rate renewable energy sales to BC Hydro at the end of September. Mercer's Q3 maintenance downtime also included a rebuild of the Rosenthal mill's energy turbine. With no maintenance downtime scheduled in Q4 at any mill, the combination of Celgar's new energy sales and Rosenthal again a net energy producer rather than consumer ought to provide increased and record energy sales cash flow. This incremental cash flow should partially offset prospective near term weakness in pulp prices.
Two quarters of back-to-back record EBITDA and strong Q4 cash flow prospects have led to substantial improvement of Mercer's balance sheet such that Mercer's credit rating has been upgraded a few times. The company recently announced a tender offer for its 9.25% Senior Notes due 2013 and plans to sell a new smaller amount of Senior Notes due 2017. With Mercer's improved credit profile, we expect the company's financing costs to drop, allowing for more rapid de-leveraging and enterprise value to accrue to the benefit of Mercer's shareholders.
At Mercer's present common stock price, one can also obtain the same upside via its 8.5% Convertible Subordinated Notes due January 15, 2012, since these notes convert into shares at $3.30/share. We have owned and profited from these Notes over the past year as they paid us a sizable interest coupon, provided the substantial down-side protection of debt with improving credit quality, and are not callable until mid-2011. It is our view that these Notes will be well in-the-money when Mercer can call these bonds next year, and all of this debt will be retired through conversion into new equity by that time.
Disclosure: At time of writing, funds the author manages hold a net long position in this Issuer via a long position in MERC 8.5% convertible Subordinated Notes due Jan 2012 and a smaller short position in Mercer common stock. The funds or its affiliates may buy or sell securities of this issuer at any time.