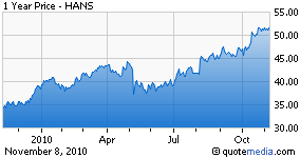 Hansen Natural (HANS) reported after the close Thursday, and the results throughout Q3 suggest that international growth is continually becoming a bigger focal point. Through the first six months of the year, net income trailed slightly behind the pace set in 2009, so Q3 was a needed push past comps.
As noted on the call, the macro environment continues to challenge, which appears to be keeping a consumer led recovery "at bay" in developed markets such as the US and Europe. Despite the headwinds, HANS was able to produce strong quarterly results: Net sales increased 23.9% to $381.5 million ($307.9M in 2009) and net income jumped 17.7% to $66.5 million, compared to $56.5M in Q3 2009.
According to CEO Rodney Sacks, the record sales and profits can be attributed to the strong sales of the company's Monster Energy drinks, which gained share and outpaced category growth in the quarter (17.1% vs. 14.9%). In the race for the top spot in the United States, HANS continues to gain ground on Red Bull, closing the gap to less than 4 points of market share (28 versus 31.9) The company continues to build upon the success of the Monster Brand through complimentary products, launching both Monster Energy Absolutely Zero and Monster Energy Import Light in the quarter, which have been "well received by distributors, retail customers, and consumers."
New products being released in Q4 to be on the lookout for include Monster M3, which is a Monster Energy drink super concentrate in a 5 oz bottle, and WORX, a new energy shot. A strong signal for these releases is that Five Hour Energy, which focuses on energy shots, recorded sales increases of 73% YOY for the 13 week period and commands 10.6% market share of the convenience and gas channel energy drink category from shots alone.
On top of that, international sales (16% of gross sales) increased by nearly 40% to $69.8 million, as expansion into Europe (net sales up 156% YOY) starts to become an integral part of the business. Mr. Sacks had this to say about the international growth during the call:
We continued to make progress on the international front during the third quarter and launched the Monster Energy brand in Germany, Europe's second largest energy drink market, and also in the United Arab Emirates, Lebanon, Jordan and Tahiti. We are in the process of launching the Monster Energy brand in Switzerland, Austria and Iceland and are planning to launch Monster Energy in Bulgaria before the end of the year.
Some of the figures suggest that the company is successfully grabbing share. For the quarter, the Canadian energy drink category grew 19%, while sales of Monster grew 51% YOY; impressively, Monster's market share in this region increased more than 5% in the quarter, while Red Bull and Rockstar both lost share. Mexico is a similar story, with Monster holding roughly 30% of the market; however, legislature proposing a 25% tax on energy drinks could materially affect results in this region looking forward. Despite this setback, international is looking good, and with plans to extend Monster into Asia into 2011, is set to get even better.
One down point from the HANS release is the warehouse segment, which is where they group their juice based and soda beverages; while accounting for less than 10% of net sales, warehouse segment revenues decreased in the quarter, suggesting that for the time being, Hansen Natural is Monster Energy and not much else. This is one of my key concerns looking forward, which I thought might be answered by Vidration (and possibly by WORX with the announcement this quarter). For those of you not familiar with Vidration, it is a vitamin enhanced water beverage that was launched by HANS in July 2008. From trying the product, I can tell you that Vidration could compete with both Glaceau Vitamin Water (NYSE:KO) and SoBe (NYSE:PEP) and find demand within its target market. For reasons that are unknown to me, this product has not found a spot on the shelves at any of the grocery stores in my area; when it is available (which is random and rare might I add), it has always been located in stack outs near the registers, and gone in a couple days.
Hansen Natural's plans for developing product lines outside of Monster is key for maintaining growth opportunities; thankfully, Monster is just starting to pick up steam in Europe and has some diversification within the brand itself (Java Monster, for example, accounted for more than 10% of Monster sales in Q3), so the company has a fair amount of time to get on top of this issue. Until then, HANS looks set to continue to "unleash the beast" to record revenues and profits.
Disclosure: Author long PEP