Much has been said lately about how The Fed is poised to pump another $600 billion into the economy in attempt to get credit flowing and encourage companies and individuals to invest, spend and stimulate the economy. The latest round of Quantitative Easing is likely to push down the value of the dollar and push up commodity prices and import costs which will hurt Americans overall spending power. Whether this wave of Quantitative Easing jumpstarts the economy like the Fed hopes, or leads to future asset bubbles or deflation that some fear is yet to be seen.
If the dollar does fall as expected, investors will be positioning their portfolios to take advantage of the drop in the dollar's value in several different ways. Some investors will buy gold, foreign currencies and Mutual Funds that invest overseas. Since equities are our focus we will provide our readers a list of stocks that we think will benefit or remain unaffected by a devalued dollar. The most attractive investment opportunities during periods of declining dollar values usually tend to be in companies that have a high exposure to commodities such as oil and gold or U.S. multi-nationals that derive a high percentage of their revenues abroad or high involvement in exports in order to take advantage of favorable currency exchanges.
All of the companies included in our list below look likely to benefit or remain unaffected by the falling dollar either by a heavy exposure to foreign markets, commodities or ability to resist inflationary pressure. These companies also look attractive according to key criteria used in The Applied Finance Group's (AFG's) stock selection process including attractive valuation and expected improvement in economic profitability (Economic Margin). Companies that AFG identifies as undervalued that are also expected to improve Economic Margins have proven to be likely to outperform sector peers and index benchmarks.
click to enlarge

Source: www.EconomicMargin.com
One company that we especially like from this list is the international copper and gold miner Freeport-McMoran (NYSE:FCX) as it has consistently been following a "wealth-creating" strategy of growing a profitable business for the last several years. FCX also currently looks very attractive from a valuation perspective according to AFG's valuation model. The chart below illustrates the deviation between AFG's Intrinsic Value (Red Line) and the company's trading range (blue bar). When a firms trading range is below AFG's Intrinsic Value line it signals that the company currently looks undervalued on a default basis. It is also important to note that AFG's model has done a good job tracking FCX as seen by the high accuracy score which measures how far AFG's intrinsic value deviates from a firms trading range over the past 7 years.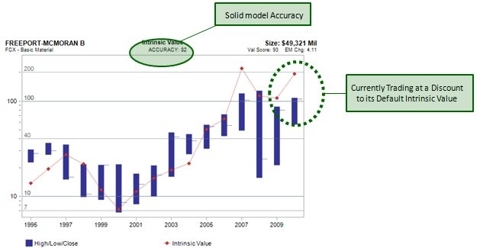 ---
Disclosure: None