After having invested and traded for the last 9 years, I am often humbled by intraday market movements. It can downright be irrational and PACCAR (NASDAQ:PCAR) falling 2% after its second quarter earnings release today (July 29th) is a prime example. What's not to like about the solid quarter? PACCAR earned $319.2 million ($.90 EPS) for the second quarter, an increase of 9% compared to $291.6 million ($.82 EPS) earned in second quarter of 2013. Second quarter revenues increase 9% compared to last year coming in at $4.57 billion. The results beat consensus expectations both on the top and bottom line, at $4.43 billion and $.89 EPS respectively. Early in the morning, the shares traded favorably up 2% following the release and gradually deteriorated throughout the day.
There are two possible explanations for the confusing action in the stock. First, it could have been because of increased European Union sanctions against Russia announced mid-day. Considering PACCAR has European exposure with its DAF branded trucks, a conclusion could be drawn that the sanctions would have an effect on PACCAR's operations. The more probable explanation is that it was because of CEO Ron Armstrong's comment on the rumored Volkswagen (OTCPK:VLKAF) takeover speculations. On the conference call responding to analysts, Mr. Armstrong stated, "There have been no discussions with Volkswagen." This could have triggered a "sell the news" affect as the stock end the day closing the gap on July 3rd when the rumors were initially disclosed.
Regardless of the explanations, the sell-off presents investors with a reasonable entry point at the 50 day moving average. As disclosed on my last article on July 20th, I took a half position in PACCAR prior to the second quarter earnings release and mentioned that, "Should the earnings beat consensus expectations and the share price underperform as it did in Q1's report, I would look to accumulate the other half of my position." That's exactly what I did toward the close of trading and I am now fully positioned.
With demand for heavy-duty trucks growing in North America, I'm becoming increasingly bullish on PACCAR. My enthusiasm stems from one important, but often overlooked factor that could drive potential growth: PACCAR's MX engine penetration.
MX Engine Penetration
Since 2010, PACCAR has been relying less on Cummins (NYSE:CMI) for engines and more on its in-house MX branded engines. As noted in the chart below from the 2013 Vehicle Technologies Market Report, PACCAR used its own branded engines in 21.9% of Kenworth trucks and 24.6% of Peterbilt trucks. When asked by analysts on the recent second quarter conference call on MX engine penetration, CEO Ron Armstrong stated, "we were at about 35% penetration for the quarter…we'll continue to see that percentage will grow over time as you see in the marketplace, about 50%." Essentially, PACCAR has been able to grow its MX engine business from the low 20s to 35% penetration in less than two years. By the end of 2015, I believe the 50% penetration number estimated by Mr. Armstrong will come to fruition. It also helps that the Kenworth T680 with the PACCAR MX-13 engine was named the 2013 Heavy Duty Commercial Truck of the Year by the American Truck Dealers at the annual ATD Convention.
(click to enlarge)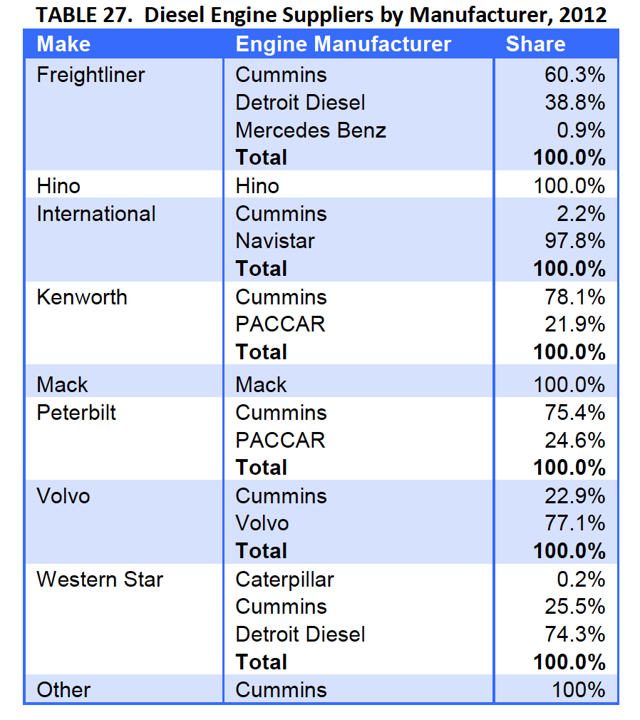 Source: 2013 Vehicle Technologies Market Report
The MX engine is a real threat to Cummins and it is coming from one of Cummins' largest end user customers. As noted in the chart below, Cummins was able to grow its market share for diesel engines installed in US built trucks from 15% in 2008 to 42% in 2012. As of the recent second quarter, Cummins CEO Tom Linebarger stated in the conference call, "Shipments to the North American heavy-duty truck market exceeded 23,000 units in the second quarter, an increase of 11% from 2013 levels. Our market share is 38% year-to-date, consistent with our full-year forecast." It's no coincidence that Cummins' market share in North America decreased from 42% in 2012 to 38% currently, while PACCAR's MX engine penetration grew in the same time period. PACCAR is eating Cummins' lunch as it has found a winning formula for its MX engine in terms of reliability and fuel efficiency.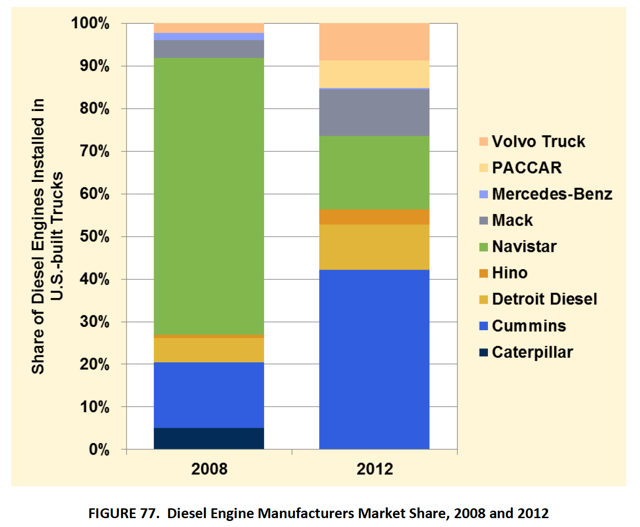 Source: 2013 Vehicle Technologies Market Report
So why the fuss over engines when PACCAR is a manufacturer of trucks? The press release for second quarter results explains why and it boils down to parts. As noted by the company in the press release, "PACCAR Parts generated record quarterly revenues of $778.0 million in the second quarter of 2014, a 10 percent increase compared to $709.5 million of revenues achieved in the second quarter of 2013. Second quarter 2014 pretax income was $126.7 million, an increase of 16 percent compared to the $109.4 million earned in the second quarter of 2013." The parts business is growing faster year over year than the overall business with better profitability. I would look for the increasing MX engine penetration to drive the growth for this segment for years to come.
Recommendation
With the North American heavy-duty truck market rebounding and the increase penetration of the PACCAR's MX branded engines, I continue to stay bullish on PACCAR. I have used the sell-off today to increase my position and recommend that long-term oriented investors accumulate at this level. My 12-month price target for the stock is $80.
Disclosure: The author is long PCAR. The author wrote this article themselves, and it expresses their own opinions. The author is not receiving compensation for it (other than from Seeking Alpha). The author has no business relationship with any company whose stock is mentioned in this article.