The biggest problem facing Apple (NASDAQ:AAPL) long-term is that it's losing the competitive gap to mid-level smartphone and tablet makers. The company has a very loyal following likely to continue to purchase the high-end devices for the quality of the phone and the brand identification, but the growth potential could be limited without the ability to expand the market in emerging markets.
Enter Xiaomi into the Chinese market with an iPhone replica at a much cheaper price. For investors not paying attention, Xiaomi and others are quickly garnering large market shares in Asian countries. Combined with the lack of a phablet, Apple is now in a precarious position in what was once considered a massive market opportunity in China, but now appears to have a capped upside.
New Xiaomi Phone
According to Engadget, the Mi 4 smartphone is set to launch on July 29 for pre-ordering in China. The phone offers a 5-inch 1080p screen and will be sold at 16GB for $320 and 64GB for $400. The company sold 26.1 million phones in the 1H14 and expects to exceed sales of 60 million for the year. Total revenue will reach over $11 billion for the year. Below is a picture of the new phone from Engadget.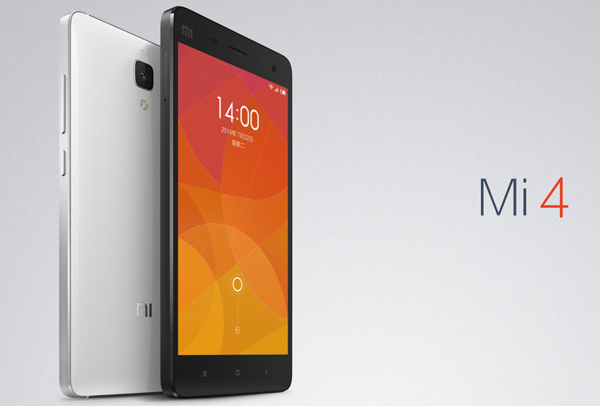 If the company was only focused on China, it might not amount to a huge concern for Apple. Unfortunately, Xiaomi added former Google (NASDAQ:GOOG) (NASDAQ:GOOGL) executive Hugo Barra that is helping it expand beyond the Chinese borders. The company already expanded to Singapore, Malaysia, Philippines, and recently launched the older Mi 3 phone in India.
On top of Xiaomi, Apple faces competition from other smartphone markers that combined already sell more phones to the long-term important markets of China and India. According to this chart from BI Intelligence, the quarterly numbers from local manufacturers already surpass 60 million.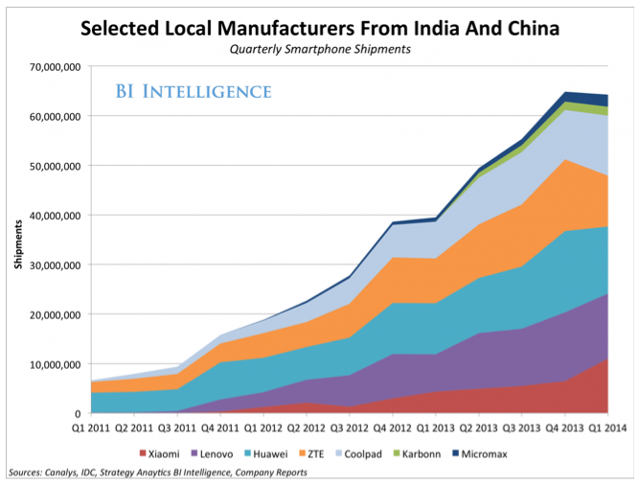 Asian Revenue Importance
Apple now obtains more revenue from the Asian markets than Europe. If one assumes the Japan market isn't as susceptible to mid-market competition, the China and Asia Pacific markets that Xiaomi now targets generated over $8 billion of revenue in Q314.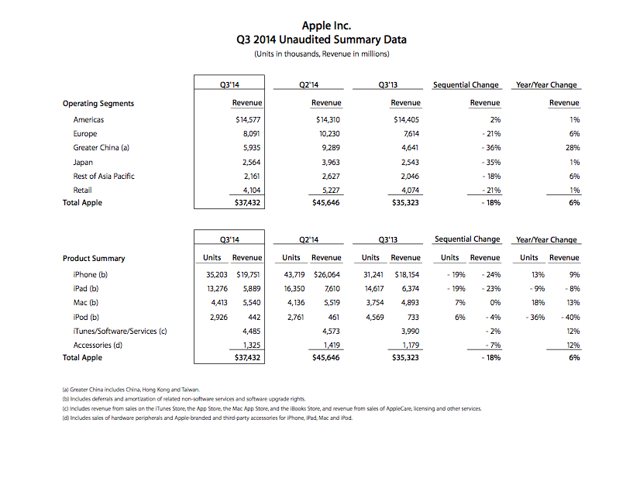 Apple is reportedly producing larger size phones due to the growing demand for phablets in the Asian economies. The company is expected to release a 4.7-inch and 5.5-inch iPhone 6 in the fall time frame. According to the Wall Street Journal, Apple has ordered a combined 70 million to 80 million phones for manufacture by the end of the year.
The acceptance and value proposition of Xiaomi smartphones suggests that Apple is extremely late to the market. At the start of this year, Apple investors expected the Chinese market to re-launch revenue growth. Back in January, the launch of the China Mobile (NYSE:CHL) deal was expected to lead that market past Europe in terms of revenue. Even a doubling of Chinese revenue would only increase Apple's total revenue by 15% to 20%. In the latest quarter, Apple had $37.4 billion in total revenue and $5.9 billion from Greater China. Now it appears unlikely that significant gains will be made in China due to cheaper local competitors with solid phones for those markets.
Conclusion
Apple continues to remain a cheap stock trading at an enterprise value of roughly 10x earnings estimates for 2015. The stock should continue to produce solid gains, but the recent news continues to suggest that upside potential is being capped due to increased competitive positions in Asia that will limit what was supposed to be a large growth opportunity when the year started.
Disclosure: The author is long AAPL. The author wrote this article themselves, and it expresses their own opinions. The author is not receiving compensation for it (other than from Seeking Alpha). The author has no business relationship with any company whose stock is mentioned in this article. The information contained herein is for informational purposes only. Nothing in this article should be taken as a solicitation to purchase or sell securities. Before buying or selling any stock you should do your own research and reach your own conclusion or consult a financial advisor. Investing includes risks, including loss of principal.