RSP Permian (NYSE:RSPP) has exceeded its production objectives, added inventory, and continued to refine drilling practices to maximize value. In general, the Permian Basin's growth is a part of the great rebound tale of America's energy renewal. RSP Permian reported strong second quarter production growth - increasing 15% sequentially over Q1 2014 production to 10,714 Boe/d and an increase of 43% over Q2 2013 production. The firm also raised 2014 production outlook to a range of 11,500-12,000 boed, from 10,000 - 11,000 earlier.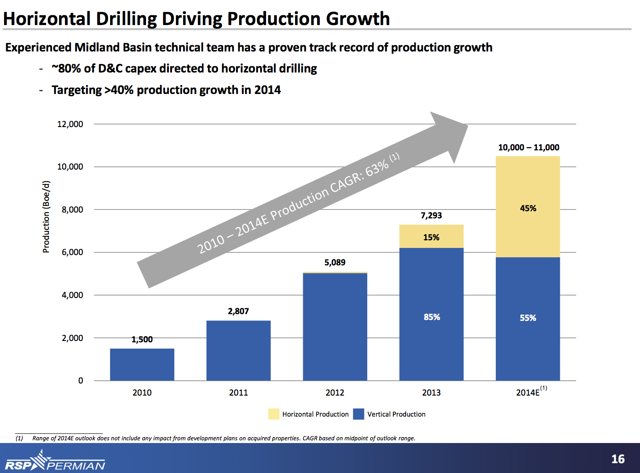 In the first quarter, RSPP had 52.2 million of proved reserves (BOE) with 81% liquids (62% oil). Additionally, the firm has contracted a fifth horizontal drilling rig and finalized terms on a sixth horizontal rig during the second quarter, expected to arrive in late Q4 2014 and mid-Q1 2015, respectively. In earlier presentations, RSPP suggested 4 horizontal rigs for 2014 and 6 in 2015. They are ahead of plans from year-end 2013 (below).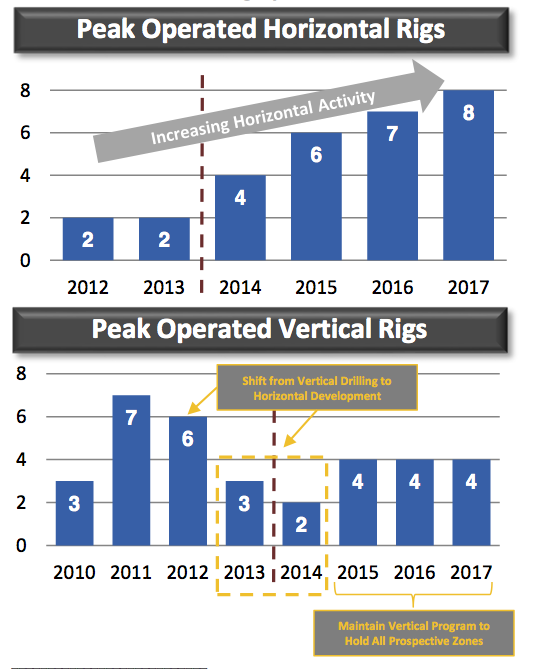 Total horizontal inventory has increased 34% to a total of 1,572 locations, up from 1,169 at the time of RSP's initial public offering. This addition of horizontal inventory is a result of findings from reservoir analysis.
"Additionally, after a detailed reservoir analysis of our acreage and our horizontal well results, we are increasing our horizontal well density on our properties as we continue our efforts to optimize returns," stated Steve Gray, Chief Executive Officer of RSP.
In their second quarter production results, from Middle and Lower Spraberry zones and well results, RSP increased the number of anticipated laterals per drilling unit from five across a section to seven, or by approximately 40%, increasing potential resource recovery and returns. Across its acreage, additional 3D seismic data was sought to further analyze the complexity of the Wolfcamp D (Cline) zone to better position the laterals.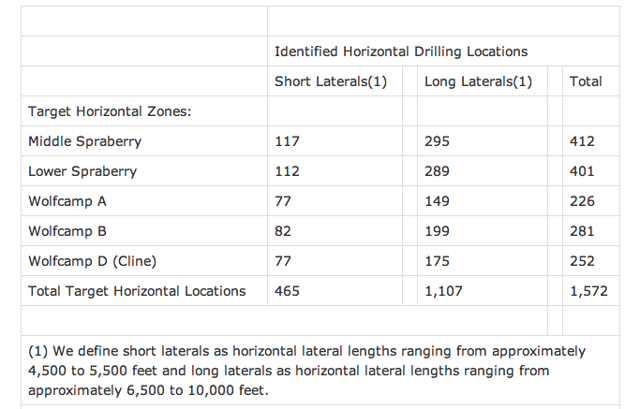 Source: RSP Permian news release, 7/17/2014.
New territory
All of RSP's acreage is located in Tier 1 Wolfcamp prospectivity per Pioneer Natural Resources' (NYSE:PXD) year-end assessment, a high quality area. The recently announced Glasscock County acquisitions add to the value of RSPP and opportunity for investors. Net proved reserves of 22 MMBoe (9% developed) and resource potential of 125 MMBoe are anticipated, which will be added to the 52 million boe of proved reserves cited in the earlier article. Apache (NYSE:APA), Energen (NYSE:EGN), Pioneer, Occidental Petroleum (NYSE:OXY), and others are active in Glasscock Co. In fact, a good deal of Wolfcamp D or Cline play activity is located in Glasscock Co. with good results. This report from a Pioneer presentation shows Wolfcamp production rates. RSPP's acreage is near Pioneer's in Midland Co. around Midland, Glasscock in the red zones, and Dawson Co. near the border of Martin, more in red than blue.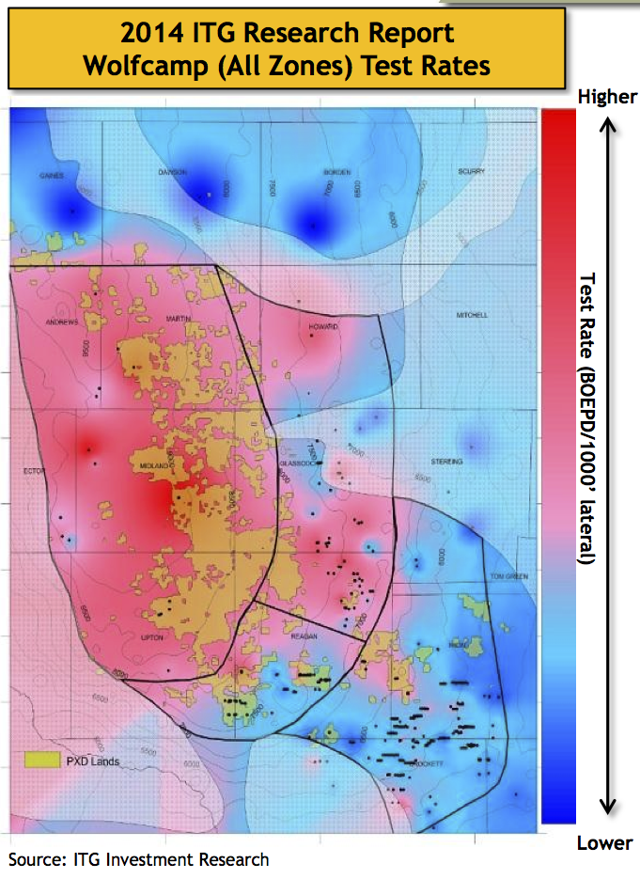 In an earlier article about RSP, I noted:
"This is a key to understanding RSP -- their experience in the Permian combining relationships, supply chain management and technological know how. ... RSPP also notes that its executive team has decades of experience in acquisitions. The acquisitions have come about post-IPO, targeting oil-rich locations. Another key in the Permian, in order for a smaller firm to grow, is that acquisitions will be needed. Aside from RSPP's multi-zone pad drilling and well-cost efficiencies, a small nimble player such as RSP can identify targets from the approximate 200 independent operators in the Spraberry/Wolfcamp area.
The new acreage will add 20% to earlier horizontal location estimates and 47% to vertical ones. In the Permian Basin, one does not hear frequently of new acquisitions (or at least not from the firms I follow). Again, this confirms a claim by the firm of having an acquisitions capability and the ability to follow through.
Having met CEO Gray recently, and based our discussion, these dual competencies of well-selected acquisitions and technological know-how are differentiators for RSP Permian. Gray, is his early 50s, has spent his entire career as a petroleum engineer. He has deep, firsthand knowledge in acquisitions and drilling technologies alongside solid experience.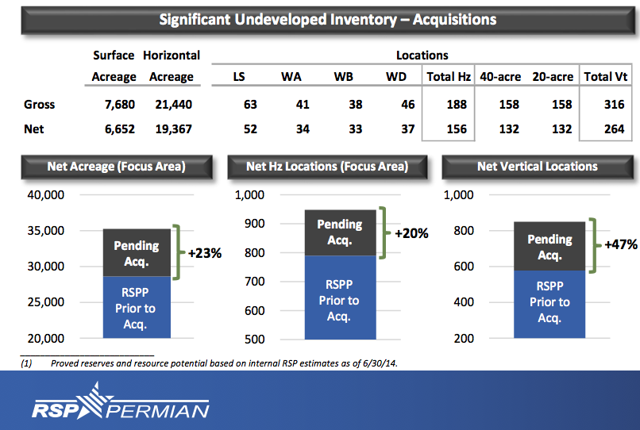 RSPP price had reached a high in late March of $30, rising 44% since the January IPO. Recently, Howard Weil raised its target price on the shares to $42 from $38. RSPP traded around $31 at the end of the day July 29th.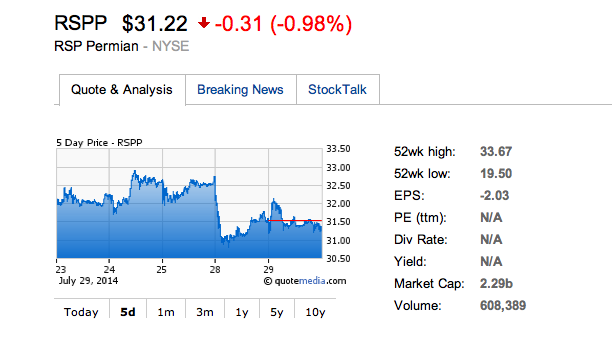 Disclosure: The author has no positions in any stocks mentioned, and no plans to initiate any positions within the next 72 hours. The author wrote this article themselves, and it expresses their own opinions. The author is not receiving compensation for it (other than from Seeking Alpha). The author has no business relationship with any company whose stock is mentioned in this article.