By Julian Murdoch
Last week saw an explosive debut for the Market Vectors Rare Earth/Strategic Metals ETF (NYSEARCA:REMX), an ETF whose ins and outs we covered on a recent podcast episode.
The ETF, which tracks miners involved in the production of the 17 REEs and 32 "strategic" metals, is now up to over $22 million in assets under management in just two weeks' trading.
Maybe it shouldn't be so surprising, given that investors finally seem to be waking up about REEs' critical role in 21st-century technologies. These metals, most of which have names that wouldn't sound out of place in a "Doctor Who" episode, appear in everything from DoD radar defense systems to that smart phone you're reading this article on.
But is REMX the right ETF for the rare earth space? Let's take a look under the hood.
Rare, or Just Undersupplied?
Currently, China is the world's main supplier of rare earth elements and is responsible for anywhere from 95 to 97 percent of rare earth metals produced globally. Other countries produce various metals, of course, but China is king.
That makes the rest of the world nervous when China begins talking about cutting REE export quotas, like it did in October. But the truth is, China has reduced exports of these metals for years to meet increases in domestic demand. Mark Smith, CEO of rare earth miner Molycorp (MCP), estimates export quotas have dropped by an average of 6 percent every year for the past nine years.
Of course, reductions this year have been much higher. In July, China cut exports for the second half of 2010 by a whopping 72 percent, and by October, either those export levels had been met or further restrictions were being imposed—no one was really sure.
This uncertainty of what was behind slowing exports resulted in a bit of a political kerfuffle between Japan and China, with Japan accusing China of blocking shipments to the country after Japan arrested a Chinese fishing boat captain. Still, China recently reiterated that it had no desire to politicalize rare earth metals, and that it would maintain its existing rare earth exports in 2011.
Given rising demand and unsure Chinese supply, various companies outside the country with dormant rare earth mines now have plans to reopen those mines, according to Bloomberg. Molycorp Inc. owns a mine in California it plans to reopen, and possibly increase capacity while doing so. In addition, an Australian mine owned by Lynas is scheduled to come online within the next two years.
REMX Correlates to the S&P
But Molycorp and Lynas are not the only companies outside of China producing rare earths, which is where REMX comes in.
Van Eck's REMX follows the Market Vectors Rare Earth/Strategic Metals Index, which contains 25 small- to mid-cap companies involved in the production of the 17 rare earth metals, plus an additional 32 so-called strategic metals.
First, let's look at how it correlates to things you may already have in your portfolio:
Daily Correlation YTD 11/5/10

Security

GDM

GDXJ

REMX

SPTR

GDM (Gold Miners)

1.000

0.908

0.401

0.459

GDXJ (Junior Gold Miners)

0.908

1.000

0.577

0.584

REMX (Rare Earth Miners)

0.401

0.577

1.000

0.683

SPTR (S&P 500)

0.459

0.584

0.683

1.000
This table shows the year-to-date correlations between the American Gold Miners Index, which underlies the world's biggest gold miner ETF, GDX; the Market Vectors Junior Gold Miners Index, which underpins GDXJ; the Market Vectors Rare Earth/Strategic Metals Index (for REMX); and the S&P 500, thrown in for good measure.
Why gold juniors? Well, when you look at this chart ...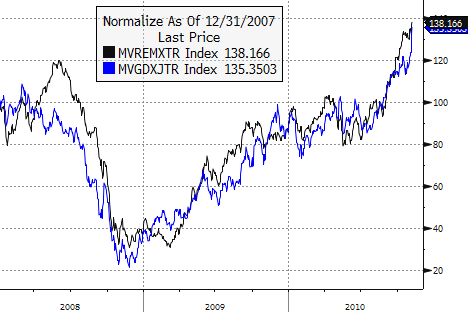 ... you see that the GDXJ and REMX indexes look remarkably similar. But as we can see from the above table, they aren't the highest correlated on a day-to-day basis.
For that, you need to look at the S&P. Since January, REMX has been most highly correlated with the S&P, a correlation that only gets stronger the further you go back:
Weekly Correlation Dec 31, 2007 To Nov. 7, 2010

Security

GDM

GDXJ

REMX

SPTR

GDM

1.000

0.889

0.054

0.351

GDXJ

0.889

1.000

0.692

0.529

REMX

0.535

0.692

1.000

0.807

SPTR

0.351

0.529

0.807

1.000
Correlation between the S&P and REMX isn't exactly unexpected—after all, they are both equities indexes, and as such, subject to similar forces. But correlation only gives you one part of the picture. To get the full picture, you need to look at performance: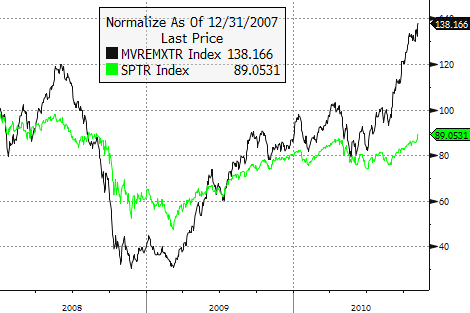 The chart may move up and down nearly in unison, but it's the amplitude of the wave that makes or breaks an investment. And looking at that chart since the beginning of the year helps you understand why everyone's suddenly gone bonkers for rare earths: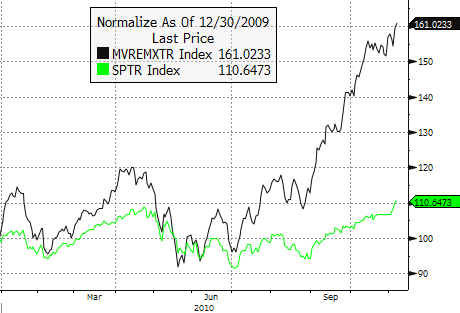 While REMX's benchmark is up 61 percent since the beginning of the year, the S&P is up just over 10 percent.
Granted, many of the REMX index's recent gains have all occurred since the July announcement of reduced export quotas in China. Other jumps can be tied to those other news stories I mentioned, both of rare earth exports to Japan being cut off and late October reports that China had slowed or ceased exports altogether. Nothing like a little supply fear to get prices rolling.
Will It Continue?
But before deciding to invest in REMX, it pays to do a little personal crystal ball gazing and deciding for yourself if you think gains like these will continue.
A recent article by Reuters points to some of the reasons why they may not. Regarding those two mines that Molycorp and Lynas want to restart within the next two years, they should be able to meet around two-thirds of global demand outside of China. What's more, Canada and Greenland also have projects under development (not to mention increasing numbers of uranium mines) that can also contribute to the global rare earth supply.
The companies included in REMX are fairly well distributed around the globe: Australia (23.9 percent); Canada (19.81 percent); the U.S. (18.77 percent); and China (14.84 percent) make up the top four countries represented. But all the constituent companies are small- to mid-caps. That sector carries with it significant risks, from the usual risks associated with mining operations—including government regulations and environmental damage claims—to business risks associated with processing radioactive materials. Plus, rare earth metals often require substantial after-mining processing, which can add to total costs.
Of course, supply increases will take a few years to come online at least, and there are still millions of people out there without smart phones, iPads, hybrid vehicles and other technologies that use these rare earth materials. And given the relative disposability with which we treat these items, without some major, worldwide coordinated recycling program, demand for rare earth metals will only continue to grow.
Ultimately, though, I'm still struck by the similarities between REMX and GDXJ. Both ETFs seem to ride the same train, one driven by rising commodities demand and the vagaries of high-risk mining companies. Over the long term, I can imagine them actually becoming countercyclical to each other: If the economy really booms, then REMX ought to do well, but if people begin hoarding guns and gold, gold miners should see a boost.
That's not what the recent data says, however. Right now, they're kissing cousins. It's just a question of whether you want the one with the gold jewelry or the fancy cell phone.
Disclosure: No positions