By David Russell
Cameco (NYSE:CCJ) is ripping higher, and the bulls are looking for more upside.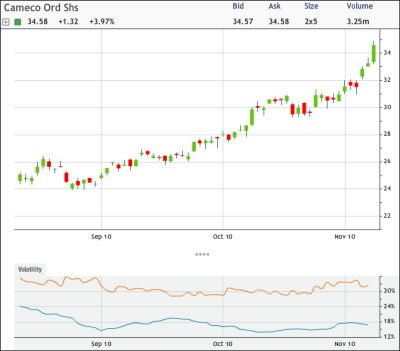 optionMONSTER's Heat Seeker tracking system detected the purchase of more than 5,700 November 36 calls for $0.25 to $0.40 against open interest of just 23 contracts. The stock is up about 4 percent to $34.58 this afternon, so those traders are looking for another 5 percent of appreciation by the end of next week.
CCJ has gained 16 percent in the last month. This morning the nuclear energy company reported third-quarter earnings slightly below forecasts but raised its full-year production guidance. The stock has broken above a resistance level around $33.70 from earlier this year, and now some chart watchers may think it's free to run toward its 2008 highs north of $40.
Separately, 1,000 November 35 calls were purchased for about $0.60, according to the Heat Seeker. A similar number of March 40s were also bought for $0.65 to $0.85.
Overall option volume in CCJ is 5 times greater than average so far today, with calls accounting for a bullish 84 percent of the activity.
Disclosure: No position