Donald Yacktman and his son and co-manager Stephen have been accumulating a large position in Avon Products Inc. (NYSE:AVP) as the stock continues to decline. In this article, I will try to "suss out" the reasoning behind this contrarian move.
Yacktman is one of the world's most successful investors. His flagship Yacktman fund (MUTF:YACKX) has an enviable record with 10.91% CAGR compared to 4.9% for its peers (large blend category) and has beaten 99% of its peers. Morningstar rates the fund as "Gold." (Source: Morningstar)

Yacktman has accumulated a position of well over of 5% AVP outstanding stock in his Yacktman fund and Yacktman focus fund.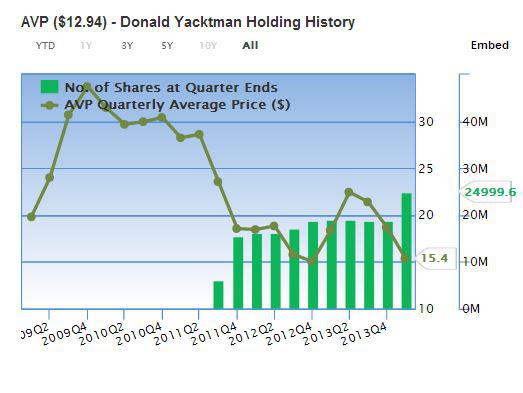 Source:Gurufocus.com
Avon's troubles are well known and have been covered in many Seeking Alpha articles. Once a high flier it has crashed to earth. The old management led by Andrea Jung has been turfed and new management led by ex-J&J exec Sherri McCoy has been charged to fix Avon and bring it back to its former beauty. However, at the present time, Avon is not looking pretty.
In a Barron's article, Yacktman summarized his investment criteria as follows:
"When we buy something, we try to look at it as if we were buying a bond, If a bond [price] declines, its yield goes up. So if a stock declines, its forward rate of return goes up." He equates this forward rate of return with a company's free-cash yield. He calculates this yield by estimating how much cash the company has left after spending what it needs to maintain its business, then adds in the cash he believes it can generate through growth and adjusts for the effect of inflation. That figure is then divided by the stock price."
Then, just as a corporate-bond investor does, Yacktman compares the stock's forward rate of return with yields on long-term Treasuries. Based mainly on the spread between the two, he assigns a quality rating to the stock.
Obviously, Yacktman is finding value in Avon at these prices. Avon lost 0.48 per share on a TTM basis, so there are no earnings. However, Avon is still generating positive free cash flow. In the table below, I have given the free cash generated by Avon over the last 10 years. To this I have added back the interest expense. The reason I have done that is to calculate the cash return. We can calculate cash return by adding free cash flow (cash from operations minus capital expenditures) to net interest expense (interest expense minus interest income), and then dividing the sum by enterprise value (market cap plus long-term debt, minus cash), which is the price an investor would have to pay to buy out the entire business lock, stock and barrel. We add back interest expense to free cash flow so that capital structure doesn't impact cash return. The goal of the cash return metric is to measure how efficiently the business is using its capital -- both equity and debt -- to generate free cash flow. In other words, cash return tells you how much free cash flow a company generates as a percentage of how much it would cost an investor to buy out the entire business.
Year

Interest Expense

Free Cash Flow

Enterprise Value

Cash return

$Million

1999

-43.2

261.2

8727.995

3.49%

2000

-84.7

129.4

12481.7973

1.72%

2001

-71.1

592.2

11907.11475

5.57%

2002

-52

438.9

13437.2401

3.65%

2003

-33.3

582.7

16475.0035

3.74%

2004

-33.8

632.5

18451.565

3.61%

2005

-54.1

688.7

13677.3345

5.43%

2006

-99.6

621.3

15470.934

4.66%

2007

-112.2

311.3

18341.6418

2.31%

2008

-100.4

367.6

11833.189

3.95%

2009

-104.8

485.7

14800.75

3.99%

2010

-87.1

370.8

14582.57

3.14%

2011

-92.9

379.1

9604.176

4.91%

2012

-104.3

327.6

8246.992

5.24%

2013

-120.6

338.3

9124.058

5.03%

TTM/current

-118.7

356.7

7653.506

6.21%
As you can see from the table above, Avon in spite (and because of) its depressed valuation is still generating an over 6% cash return, which compares very favorably with the past. (Avon was over $40 a share in 2008 compared to $13 now).
As new management led by CEO McCoy, works to fix the company, and assuming that normalized free cash flows return to the half a billion level (like in the period 2001-2006), we can look at a cash return on cost of around 10% per annum. At these levels and based on cash return, Avon is an interesting takeover candidate. In fact in 2012, Coty (a fragrance maker) backed by Buffett's Berkshire Hathaway made an offer of $24.75 a share, but the offer did not go through.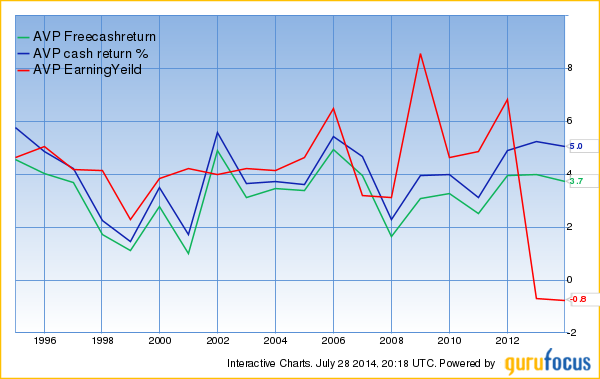 The above chart compares Avon's cash return with free cash return and earnings yield. The earnings yield (inverse of P/E ratio) has taken a big dip because of non-cash charges. However free cash flow relative to price remains healthy and odds are as the business is fixed the stock price will recover.
By following Yacktman's published investment logic, we can see why Avon is a compelling value pick why this renowned value investor is hot for this stock. Turnarounds take time and have risks, so we cannot be sure when Mr. Market will recognize the baby it has thrown out with the bath water. However, Avon appears to have solid new management who is trying hard to get over the Andrea Jung era, and lipstick is not going out of fashion. I look forward to reading your comments.
Disclosure: The author is long AVP. The author wrote this article themselves, and it expresses their own opinions. The author is not receiving compensation for it (other than from Seeking Alpha). The author has no business relationship with any company whose stock is mentioned in this article.