On Tuesday, Windstream (NASDAQ:WIN) stunned Wall Street by announcing it will be launching a REIT (details available here). In pre-market trading, shares were up over 35%, and while they gave back some gains, shares still finished 12% higher on the day. This news also sent fellow telecommunications companies like Frontier (NYSE:FTR) and Verizon (NYSE:VZ) higher on the thought that they might try and employ a similar structure. While I cannot speak to the implications if other companies tried this maneuver, I believe the market got the Windstream news dead wrong. In reality, this decision is nothing but financial engineering that will not add value as effective leverage increases for WIN while overall dividend payouts will decrease.
Windstream will be spinning its physical network assets into a separate publicly traded REIT. Current shareholders will continue to own Windstream and will receive a commensurate amount of the REIT. A REIT is a tax advantaged entity that owns but does not operate real estate assets, for instance Simon Property Group (NYSE:SPG), a mall owner. I was surprised the IRS is allowing network assets, like the copper lines, to be considered a REIT. Compared to malls or apartments, this is definitely an untraditional REIT. Nonetheless, the IRS has given Windstream a private letter saying it anticipated approving the REIT structure, so approval is not a significant risk. So long as it distributes 90% of taxable income, the REIT does not pay income tax; instead, it is a pass through entity where shareholders pay the taxes. This eliminates the double-taxation traditional companies pay. Corporations pay corporate tax, and shareholders pay a tax on dividends. For a REIT, only shareholders pay taxes. As a consequence, annual tax payments should decline a bit. Shareholders will likely receive a net benefit of less than $25 million, though. This is a nice positive but not a dramatic one. It does not outweigh the negatives.
Now, let's explore the mechanism of the transaction. Windstream REIT will borrow $3.5 billion on the debt markets. It will then pay Windstream $3.2 billion for the physical network assets. Investors will then get shares of the REIT in addition to their current WIN holdings. Windstream will continue to operate the network and will sign a long term agreement to lease the network assets with annual rent payments of $650 million that should increase over time with inflation. Currently, WIN pays an annual dividend of $1.00. After the transaction, WIN will pay $0.10 while the REIT will pay $0.60.
Now, Windstream argues it will be less levered, and while ratios will appear better that is not quite the case in reality. Windstream argues its debt to EBITDA ratio will fall from 376% to 331% as it uses $3.2 billion in proceeds to pay down debt, but this excludes the new $650 million liability WIN faces in payments to the REIT. This payment functions like an operating lease. This payment is analogous to the coupon on a bond, and like interest, it is a fixed expense. Even assuming a 10% interest rate, this obligation is equivalent to a $6.5 billion bond. Below is a chart showing current leverage, future leverage at WIN (including and excluding the operating lease), and leverage at the REIT.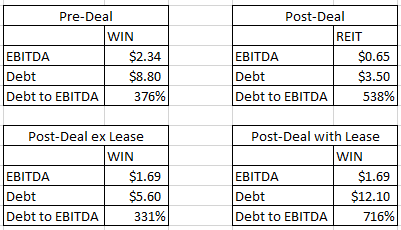 As you can see, this deal actually increases leverage. Prior to this transaction, WIN was levered 3.76x. After the deal, Win is effectively levered 7.16x while the REIT is levered 5.38x. The operating lease WIN has to pay the REIT more than fully cancels out the amount of debt WIN is paying back while the REIT will also be highly levered due to its debt issuance. This higher effective debt is the reason the pro forma dividend is down 30%. WIN is adding more debt to the capital structure, requiring more fixed payments, diminishing cash left for shareholders.
With more fixed payments, WIN is more highly levered, making it more vulnerable to a downturn. Given secular problems with traditional landlines, this is a tenuous position to be in. At the same time, the REIT has major counterparty risk as WIN is currently the only customer. If WIN faces financial problems and is unable to fully meet rent payments, the REIT would suffer. This financial engineering appears to make leverage lower by taking effective debt off of the balance sheet; however, effective leverage is actually higher. With a lower payout and higher leverage, this transaction is a lose-lose. Investors should use the pop to dump WIN.
Disclosure: The author has no positions in any stocks mentioned, and no plans to initiate any positions within the next 72 hours. The author wrote this article themselves, and it expresses their own opinions. The author is not receiving compensation for it (other than from Seeking Alpha). The author has no business relationship with any company whose stock is mentioned in this article.