SanDisk Corporation (NASDAQ: SNDK) was the worst stock market performer during the day that followed its earnings report. The stock lost around 13% of its value in just one day. Investors ignored the revenue and the EPS beat as the company gave weak guidance for the next quarter. A relatively lower margin was also not welcomed by the investor. Hence, the stock tumbled. But this seems to be an opportunity to extract capital benefit because of favorable industry growth prospects, technology leadership and market leadership of SanDisk. The fact that fundamentals are quite healthy, and SanDisk is trading rather cheaply on PE basis, adds to the reasons why this stock holds capital appreciation potential. Detailed analysis of catalysts along with the thesis follows.
Business summary
SanDisk belongs to the data storage devices industry. It designs, manufactures and sells NAND based storage products for enterprises and consumers. Products of the company range from microSD, embedded storage to SSD. The company generates most of its revenue from removable segment. Removable segment, including products such as cards, USB flash drives and audio/video players, contributed 43% towards the revenue during year ended 2013. However, the concentration is shifting towards SSD segment lately. This trend is positive for SanDisk as enterprise and consumer SSD market is expected to grow in coming years.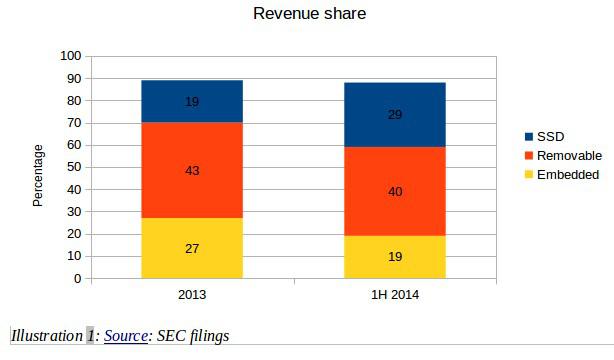 Recent guidance
In the second-quarter results, SanDisk provided guidance for third-quarter 2014. It expects revenue to be in the range of $1.675-$1.725 billion as compared to the consensus estimate of $1.735 billion. Gross margin is expected to be in the range of 47%-49% as compared to 48% in Q2 and 51% in Q1. Slightly weak revenue guidance can be explained by supply constraints of SanDisk. The company increased its capacity by a mere 5% during the year. Cautious cost control may be the reason behind it. On margin front, embedded segment revenue increased in previous few quarters. Apple, a 20% customer (2013), is ramping up iPhone 6. Analysts believe that iPhone has a relatively low-margin revenue due to pricing power of Apple. According to Wedbush analyst, Betsy Van Hees, the weak outlook is "more attributed to the pricing power that Apple has." Investors were quite optimistic because of Apple's iPhone 6 ramp-up. But, that was not going to be a high-margin business because of Apple's position in price negotiations. Investors overreacted to weak guidance situation and the stock lost 13% of its value in one day. Anyhow, embedded will always drive the margin down in future either because of powerful customers or because of emerging market growth. But, the point is, enterprise and client SSD will drive growth and margin of the company going forward. Things are not bad for SanDisk. Apart from that, lower guidance on revenue and margin doesn't materially affect the valuation of the company (details in valuation segment). And, I believe the sell-off was not justified. SanDisk is an established NAND storage player, and it will most probably grow in line with the growth of the industry.
Industry prospects and SanDisk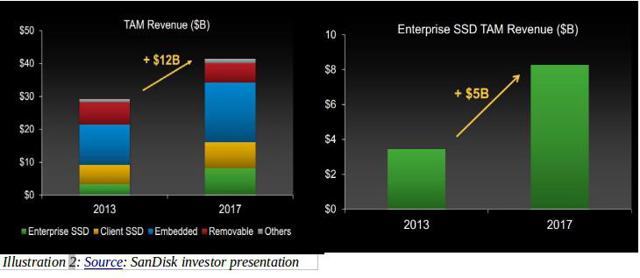 Growth of smartphones, tablets, and IoT will drive the growth of NAND based storage. Moreover, the overwhelming need to store and access data frequently places NAND based storage in the driving seat for growth amid its superior performance over mechanical disks. There are favorable indicators in the NAND industry. Demand is currently exceeding supply. NAND total addressable market is expected to grow at CAGR of 10% until 2017; as evident from the above presented chart. There are also some challenges. Scaling and cost benefits are not seen beyond 15nm, and hence the industry is moving towards 3D NAND; Samsung being the first mover. Despite the rise of 3D NAND, 2D will remain mainstream for the next few years due to high costs associated with the 3D NAND technology.
Why SanDisk?
SanDisk is going to benefit from the growth of the industry because of its established position and leading edge technology. In embedded segment, SanDisk is the supplier to leading smartphone manufacturer i.e. Apple. In client SSD, the company's products are qualified by top 10 OEMs. On enterprise SSD front, six out of seven enterprise storage vendors qualified SanDisk's products. The company recently won 2TB optimus SAS SSD tier one enterprise storage player OEM, probably Western Digital (NASDAQ: WDC), qualification. So, SanDisk seems to be a very established NAND storage player.
Secondly, the company is leading in process technology. The company is now transitioning to 15nm process, which is by far the most advance node as far as storage manufacturing is concerned. We have seen Intel lead the semiconductor industry by keeping the lead in node process technology. Same holds true for SanDisk if it manages to keep up. Note that Samsung holds the lead in 3D NAND but it is too early to choose winners in 3D department as the technology is in its infancy. Furthermore, the supply problem will be resolved next year as the company is building a new manufacturing facility in Malaysia. So, apart from risk posed by Samsung's 3D NAND in the long run, SanDisk seems to have no problem in the short term because of its superior 2D NAND technology and established relationships with OEMs and enterprise clients.
Financial performance and investment value
It can easily be assumed that weak guidance is a justification for such deep discounted valuation. This is not the case for SanDisk. The company along with the industry is set to grow in coming years. The guidance may be weak but yet it incorporates a growth of 4.6%. The point being, growth is not halted even when the guidance is on the low side. Revenue and EPS are expected to grow in future. See the chart that follows:
The chart incorporates low-side revenue estimates to reflect lower guidance and margin pressure going forward. It can be seen that growth is still instilled in revenue. However, this is a very pessimistic revenue projection, which SanDisk will surpass. The point to mention this graph is that growth is not going to halt despite lower guidance.
Now, to a more important point; even if SanDisk just matches low-side earnings estimates going forward, it will remain attractive on a PE basis. Earnings estimates are as follows: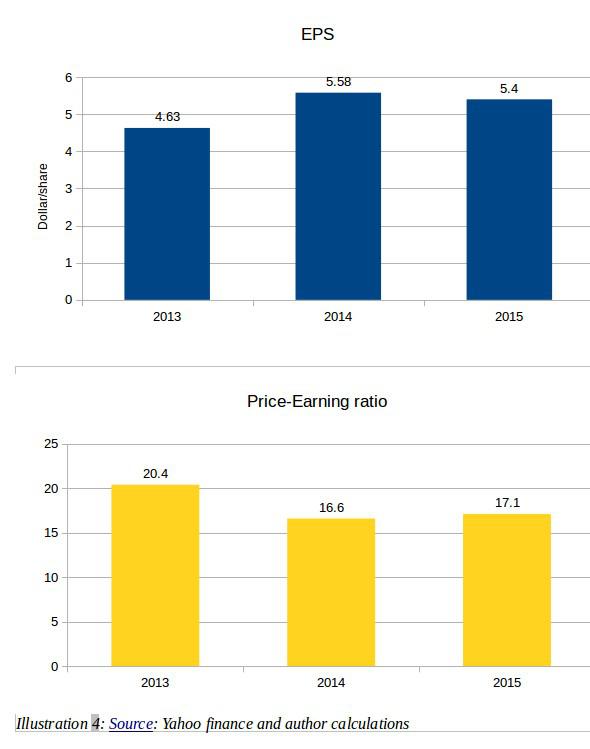 Industry average PE is around 22.40, while SanDisk's PE ttm is around 19.25. The stock will be a cheap preposition at current price as forward PE is below industry average. Note that these EPS estimates are based on low-side earnings. Industry is set to grow at CAGR of 10%, and Yahoo Finance and Reuters mention EPS growth of 25% per annum for the next five years. So, the estimates are on an extreme low-side. Therefore, despite weak guidance, SanDisk is a value proposition for equity investor.
Valuation
Assumptions
Cash flow growth of 4% is assumed in 2014 amid lower guidance. 10% growth is assumed (2015-2019). 2% growth is assumed in perpetuity.
$1.6 billion CAPEX, in line with icinsights' estimate amid new facility construction. 500 million average is assumed beyond that.
CAPM is used to derive the discount factor.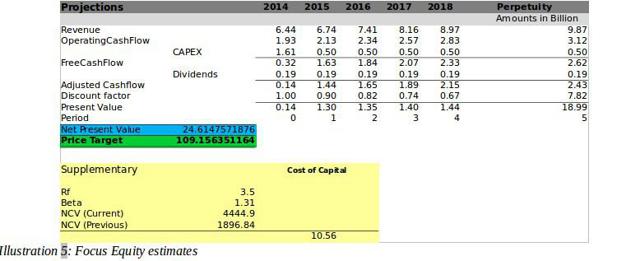 The price target reveals that SanDisk has potential to grow by 18%. Several factors will contribute toward achieving or surpassing this target including:
Supply resolution: New manufacturing facility will put an end to the supply problem; a positive both for the business and the investor.
Fusion-io synergy: Cost benefits will arise. SanDisk will also leverage Fusion's PCI-e NAND expertise.
1z 15nm: OEMS and clients will prefer 15nm as it results in performance boosts along with reduction in total cost of ownership.
Emerging markets will drive the growth story of SanDisk in embedded smartphone and tablet storage (China and India).
Final thoughts
SanDisk is an attractive investment option despite weak guidance for the next quarter. In fact, the guidance itself created this capital appreciation opportunity. SanDisk will reward its investors to the tune of 20%. The stock is a definitely a buy.
Disclosure: The author has no positions in any stocks mentioned, and no plans to initiate any positions within the next 72 hours. The author wrote this article themselves, and it expresses their own opinions. The author is not receiving compensation for it (other than from Seeking Alpha). The author has no business relationship with any company whose stock is mentioned in this article.