Twitter (NYSE:TWTR) reported Q2 results in which revenue of $312m (+124% y/y) was ahead of consensus $283m driven by solid ad revenue growth (+129% y/y) due to what it seems to be stabilizing ad pricing in the US and abroad. The company posted a $0.02 EPS compared with the expected loss of $0.01 per share, and the Q3 revenue guidance of $330-340m beat the consensus of $323m. While the headline numbers may have given the market a reason to be bullish with the stock up 30% after hours, I am remaining on the sidelines as operating metrics continue deteriorate. Reiterate my bearish view of the stock.
Do not buy into the hype
The financial headlines were above my expectations with a surprising acceleration in ad revenue growth (+129% y/y vs. 126% in Q1 and 122% in Q4). Despite that the street cheered at the solid growth in the US and international pricing, I note that the US pricing growth seems to have plateaued at 78% y/y rate for the past two consecutive quarters, which allows room for deceleration in the upcoming quarters. In addition, international ad pricing (+150% y/y) has already shown signs of deceleration this Q, when compared with +155% y/y run rate. While I acknowledge that the deceleration may seem irrelevant, the stagnant growth profile is evident, in my view.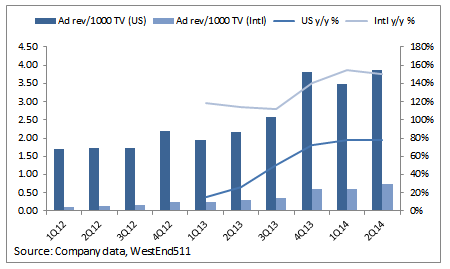 Operating metrics once again showed signs of deterioration. Despite the management's bullish forecast, I believe that TWTR could miss in Q3 as the current operating trend remains weak. Most notably, US engagement level was down 5% y/y, a slight deceleration from Q1 driven by lower timeline views.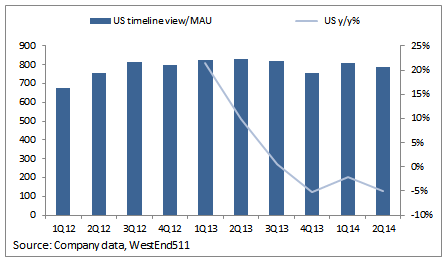 International engagement level was worse, down 9% y/y compared with 10% in Q1 as we saw a decline in timeline views abroad. This is in stark contrast to Facebook (NASDAQ:FB), which saw international engagement up 3% sequentially to 63% in Q2, which once again indicates that FB has better execution than TWTR in terms of relevant content that attract users' time spent.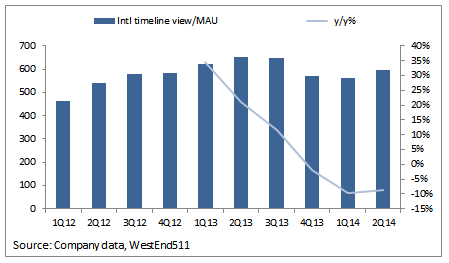 Overall, monthly active users in both the US and international continue to decelerate in what I suspect is the ongoing migration from TWTR to FB. It is also worth pointing out that messenger apps such as WhatsApp and LINE are gaining momentum in user acquisition and time spent, which can be a further negative to TWTR.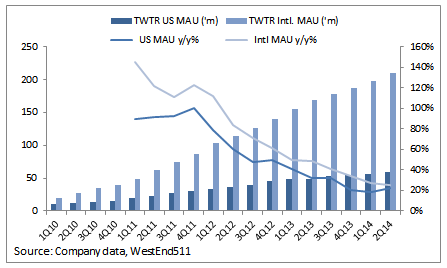 In conclusion, Q2 earnings once again indicated the ongoing deterioration of TWTR's operating metrics despite a strong headline number. I will remain cautious on the stock and recommend investors not to chase the momentum as the weak operating metrics could eventually flow into the financial results.
At 26x forward sales, the stock is rich even for the greediest fund managers I know. For those who want to buy into the social networking growth, FB continues to be my favorite in the sector due to robust financial growth that is supported by improvement operating metrics.
Disclosure: The author has no positions in any stocks mentioned, and no plans to initiate any positions within the next 72 hours. The author wrote this article themselves, and it expresses their own opinions. The author is not receiving compensation for it (other than from Seeking Alpha). The author has no business relationship with any company whose stock is mentioned in this article.