So tell me where it is written that a dividend growth investor should NOT have Apple, Inc. (NASDAQ:AAPL) as a core holding in their portfolio for retirement? I have heard that the yield is too low (2% as of now), that the company has not proven itself as a steady dividend raiser yet, and that the stock is too expensive and ahead of itself. Okay, I suppose an argument can be made to support those opinions, but as far as I am concerned, not only are these reasons rather weak, but by NOT owning shares of Apple, you just might kick yourself 10 years from now (if not sooner).
The world's largest public company with over $150 billion in cash and equivalents, that has paid and increased dividends regularly for 3 consecutive years should be in every portfolio anyone owns, right now.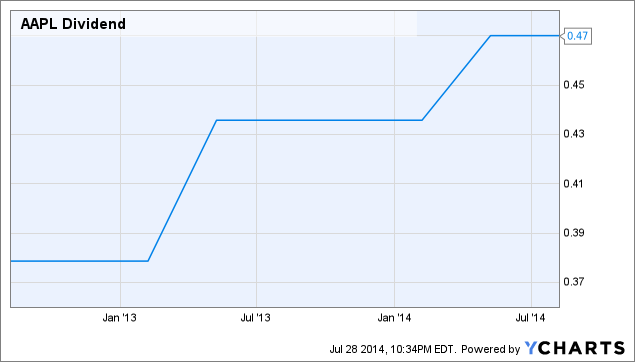 I know it has "only" been 3 consecutive years thus far, but the amount of money and the commitment to give shareholder value all of the time in the form of dividends and share buybacks, has been understated.
I believe that we are on the verge of seeing the birth of a brand new Dividend Aristocrat of the future, and I believe the shares are under valued and ready for greater growth once again.
Growth? But The Company Is So Huge, How Can It Grow Faster?
Well I believe that Apple is just about ready to put the business world on notice, that Microsoft (NASDAQ:MSFT) is not the only "game" in town. Perhaps not for the declining PC business, but for the largest growing device business on Earth; Smartphones and tablets.
The recent agreement between IBM (NYSE:IBM) and Apple to create apps for the business world, that actually will work, could change the face of regular computing completely, as never before:
...a new class of more than 100 industry-specific enterprise solutions including native apps, developed exclusively from the ground up, for iPhone and iPad;

unique IBM cloud services optimized for iOS, including device management, security, analytics and mobile integration;

new AppleCare® service and support offering tailored to the needs of the enterprise; and

new packaged offerings from IBM for device activation, supply and management.
I believe these bullet points are quite specific and focused for maximum impact when launched.
- Mobile solutions that transform business: The companies will collaborate to build IBM MobileFirst for iOS Solutionsa new class of made-for-business apps targeting specific industry issues or opportunities in retail, healthcare, banking, travel and transportation, telecommunications and insurance, among others, that will become available starting this fall and into 2015.

- Mobile platform: The IBM MobileFirst Platform for iOS will deliver the services required for an end-to-end enterprise capability, from analytics, workflow and cloud storage, to fleet-scale device management, security and integration. Enhanced mobile management includes a private app catalog, data and transaction security services, and productivity suite for all IBM MobileFirst for iOS solutions. In addition to on-premise software solutions, all these services will be available on BluemixIBMs development platform on the IBM Cloud Marketplace.

- Mobile service and support: AppleCare for Enterprise will provide IT departments and end users with 24/7 assistance from Apples award-winning customer support group, with on-site service delivered by IBM.

- Packaged service offerings: IBM is introducing IBM MobileFirst Supply and Management for device supply, activation and management services for iPhone and iPad, with leasing options.
So what does this mean for growth for Apple? Well, just as an example, I am currently using an HP (NYSE:HPQ) laptop to write this article, with Microsoft software. I cannot use an iPhone or an iPad to submit articles to Seeking Alpha. Those devices are simply not set up for this type of work right now.
Most businesses use Microsoft software such as Word, Excel, Power Point, etc. in the overwhelmingly popular Microsoft Office software package, which is far and away the most utilized tool for any sort of business today, anywhere.
Now, imagine that IBM and Apple can develop products that will not only compete with Microsoft Office, but also be focused even more so for business inside every single Apple smart device. The transformation could be shocking, and it could happen as soon as the new iPhone 6 is launched.
Now I am not a tech geek, nor do I have any specifics. As a matter of fact, I am just about computer stupid! However, I do know that I cannot do what I need to do on my smartphone or smart pad. I must use this laptop, and even the new Microsoft Surface Pro 2 tablet, touted to be both a pc and tablet, does not work the same as a "real" computer. Yes we can search, and read, and play some games, and I can even answer some comments right here on Seeking Alpha with my tablet, but trust me, it is the pc that runs business, not the smart devices... yet.
Obviously, Apple has the hardware (and software) and IBM has the "cloud" and virtually "owns" the mainframe business, and is known for its business support. Combine these huge resources into one little handheld device like the iPhone 6 and do I need to say anything else?
If that feat can be accomplished, then the word "growth" might just take on a whole new meaning for both IBM and Apple, but Apple is the key.
It goes without saying, that an exclusive agreement by the tech giants to build a new class of made-for-business apps aimed at companies in retail, healthcare, banking, travel and transportation, telecommunications and insurance, among others, and sell mobile devices and services to the enterprise-is not only a direct assault on Microsoft (MSFT)'s home turf, which more than three decades ago (Nov. 1980) won a contract from IBM that helped it become a dominant force in the computing world, but also one that could have lasting ramifications for rivals Google (NASDAQ:GOOGL) (NASDAQ:GOOG) and BlackBerry (NASDAQ:BBRY). IBM CEO Ginni Rometty promised a "transformation to the way people work, industries operate and companies perform."
Forget about BlackBerry, the big fish is MSFT and this frontal assault will be fought in more than the two ways that I can think of right now:
New smart devices with the applications for business already built in (like Microsoft Office is now for PCs).
Selling the applications to work effectively enough for many of Apple's existing products (like Microsoft does with the Office package for PCs right now).
We will all be able to download the apps more than likely, without even having to visit a computer supply shop for anything at all. Plus, businesses (and little business folks like me) around the world could access the IBM personalized Technical Support system that literally built IBM all over again, in the 1980s and well into the 90s, with Lou Gerstner at the helm.
If this partnership turns out as I expect it to, the decline in pc sales in the last 5 years has not seen anything yet, and the absolute disappearance of the pc will be the dawn of perhaps the largest business growth segment that Apple (and IBM) has ever seen.
So Why Apple?
Apple stock is cheap in my opinion, and at the current share price of $99.00, it is more affordable than when it last hit $705, even if it is because of the 7-1 stock split.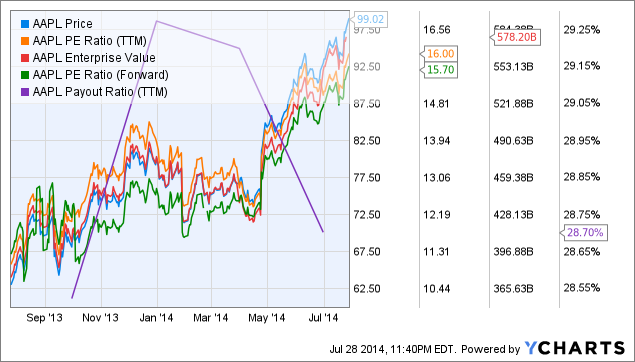 A current P/E of just 16.00, and a forward P/E of just 15.70 is cheap relative to the S&P 500 averages, and if the company is going back to being a growth company, it should be given an even higher P/E. That has always been a question about the Apple valuation anyhow. The next giant spurt of growth should rectify the low P/E always assigned to Apple perhaps.
The rapid growth of the share price back then was due to the magical explosion of iPhones and with a new global business being developed, Apple could see an even greater surge in the share price when the newest Apple products start showing up in business offices around the globe.
Since the split, Apple shares have risen by about 9%, but this is the tip of the iceberg I believe. Oh, before I forget, I also planted the dividend payout ratio of a measly 28.70% in that chart up there just to further support my opinion that the Apple rise to dividend champion status is more than achievable, just with the business as it is right now!
Did I say Apple is a bargain right now and should be held in every retirement stock portfolio? Yes, but I wanted to say it again. Is $125-$150/share within 18 months outrageous, based on this new business and higher P/E multiples? No, and that might be very conservative.
Not only that, but the company will pay us to own the shares! Oh, wait, did I already say that?
Disclaimer: The opinions of the author are not recommendations to either buy or sell any security. Please remember to do your own research prior to making any investment decision.
Disclosure: The author is long AAPL, GOOGL, MSFT. The author wrote this article themselves, and it expresses their own opinions. The author is not receiving compensation for it (other than from Seeking Alpha). The author has no business relationship with any company whose stock is mentioned in this article.