Altria (NYSE:MO) shareholders have enjoyed a nice first half of the year as the stock has been appreciating from a low of $34.43 in February to a recent high of $43.43, translating into a 26% return without dividends. Not bad for a steady, defensive tobacco stock.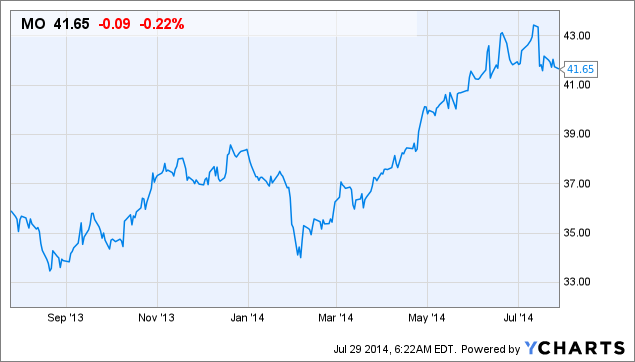 MO data by YCharts
The reason, of course, has been the general rise of all domestic U.S. tobacco stocks due to the merger talks between Lorillard (NYSE:LO) and Reynolds American (NYSE:RAI). After the merger was confirmed on July 15, all three tobacco stocks fell back a little. With all the merger fuss behind us, it is a good time to look ahead. One of the most interesting things happening with Altria over the next month is the likely announcement of a dividend increase.
Historical Dividend Growth
There really isn't much negative that could be said about this company's dividend growth track record. It has consistently increased its dividend year after year, 47 times in the last 45 years in fact.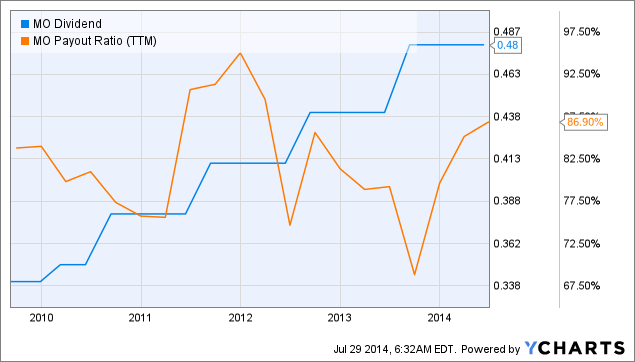 MO Dividend data by YCharts
Over the last couple of years, the company has continued this track record, increasing the dividend from $0.35 in 2010 to $0.48 in August last year. Though the payout-ratio has varied somewhat over time, its target payout-ratio is 80%, so we should expect the payout to converge to that level over time.
According to Morningstar, the company's EPS for the last fiscal year was $2.26. With the current annualized dividend being $1.92, we get a payout-ratio of 85%. This means that the payout is a little bit stretched in relation to its target, but also that the Board is not afraid of being a little bit aggressive when it comes to rewarding shareholders.
August Dividend Hike
Almost as certain as death and taxes is it that Altria increases its dividend in August. The only question is by how much. On July 22, the company released its Q2 numbers and also revised its full year EPS guidance to between $2.54 and $2.59. Applying an 80% payout-ratio would give us an estimated annualized dividend of $2.032 and $2.072, representing a growth of between 5.8% and 7.9%.
One could make an argument that the Board would increase the dividend according to its long-term EPS growth rate target of 7%-9%, however, I believe the Board will not stretch its payout-ratio too far.
The most likely increase is thus between 6% and 8%. As the company usually sticks to relatively round numbers when it comes to its dividend, I believe the new dividend is likely to be $2.04-$2.08 annualized, or $0.51 - $0.52 per quarter. A quarterly dividend of $0.53 is possible, but would translate into an annualized dividend of $2.12, which I believe will be a little on the high side.
Risk Factors
Though Altria has rewarded long-term shareholders nicely in the past, there are always risks in any investment. For Altria, an obvious risk is the declining smoking rate in the U.S. Declining volumes make it necessary to compensate with price hikes, which makes the product less affordable and attractive for consumers. Another risk is the potential for tougher competition as its number 2 and number 3 competitors are now going to merge. Litigation risk is always present when it comes to U.S. tobacco companies. In fact, only a few days ago, Reynolds American lost a case against a widow suing Reynolds for $23 billion. Recessions are also a risk as it might push consumers to cheaper tobacco products.
Current Valuation
I last wrote about Altria in late March. At the time it enjoyed a dividend yield of 5.2% and P/E of 16.1x. Since then the share price, as mentioned, has been rising nicely, thereby pushing up the stock's valuation as can be seen in the table below.
| | | | |
| --- | --- | --- | --- |
| | Altria | Lorillard | Reynolds |
| Price/Sales | 4.7x | 3.2x | 3.7x |
| Price/Earnings | 19.2x | 19.9x | 20.0x |
| Yield | 4.6% | 3.9% | 4.6% |
Source: Morningstar
Though the company is certainly more expensive today than back in March, its competitors are also more expensive. We can see that on Price/Sales, Altria is still the most expensive of the three. However, on Price/Earnings, it is the cheapest while Reynolds is the most expensive. On the dividend yield, Altria and Reynolds share first place, while Lorillard is the most expensive of the three.
Altria's relative valuation still looks good, but on an absolute basis, I think it is a little too pricey to be aggressively adding at this point. The Price/Earnings of the S&P 500 is 18.6x, and tobacco stocks almost always trade at a discount to the S&P 500.
The mean analyst estimate for EPS growth over the next five years is of an annual growth rate of 7.6%. With no change in the multiple and adding in the dividend yield of 4.6%, total expected annual shareholder return is 12.2%. Not bad but, as mentioned, I do believe that the multiple is currently a little stretched and will therefore likely to come down a little bit, thereby reducing total shareholder returns. That said, if you are looking for an income stock that will give you a nice raise year after year, you really can't go wrong with Altria.
Conclusion
Altria's stock has been good for investors so far this year, stretching valuation levels maybe a little too much. However, there is good news forthcoming for investors as the company almost certainly will increase its dividend come August, likely to a quarterly dividend of $0.51 to $0.52. Do not expect Altria shares to continue rallying but if you are looking for safe and steadily increasing income, Altria should satisfy your needs perfectly.
Disclosure: The author is long LO, PM. The author wrote this article themselves, and it expresses their own opinions. The author is not receiving compensation for it (other than from Seeking Alpha). The author has no business relationship with any company whose stock is mentioned in this article.