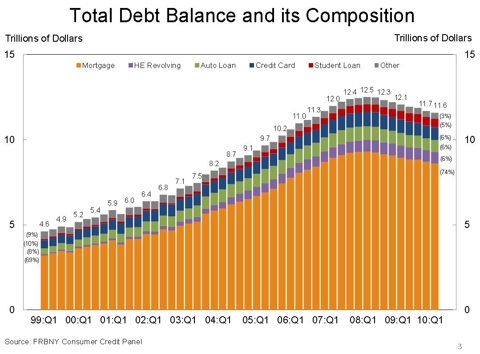 Click to enlargeGood morning to all. We had quite a superb week last week that ended on Friday with a sale of our last portion of Cloud Peak Energy (NYSE:CLD) after the company reported excellent profits that exceeded expectations.
Currently, we are still holding a small 1/4 of our original position in Solarfun (SOLF) and has this not been a gem? We got involved at 9.91, and the stock has moved in four trading days to now $11.35. That is a gain of 14.5%. I wanted to hold the last position through earnings, but I feel as though I am getting quite greedy. We will exit SOLF if the stock hits $11.40 and above again.

(Interesting chart to the right about consumer debt…it is declining)
We also have a position in Green Mountain Coffee Roasters (NASDAQ:GMCR). We got involved in a Short Sale at $34.30. Our Stop Buy is set at $35.32, which has not been reached. We are currently down 0.3%. The company had been rumored to report earnings Monday, but it is not going to happen. We are continuing to hold…
For today, we are going to start with our Play of the Week, Updates on the Longterm List and $5 List, and end with a new Longterm Ratings Report on China Automotive (NASDAQ:CAAS)…
Play of the Week: China Sunergy Co. Ltd. (NASDAQ:CSUN)
Analysis: We have been playing solars for the past two weeks and making a lot of green plays. Solarfun is the latest, and we are still involved with our final portion of the position up 14%. The sector has taken off as it moves into the core of its earnings reporting. The fun really begins Monday evening and Tuesday morning when Solarfun, LDK Solar (NYSE:LDK), and JA Solar (NASDAQ:JASO) all report earnings. I expect them all to do very well as the solar industry is slated for a very nice Q3.
One company that could continue to see itself rise throughout the week is China Sunergy (CSUN). With a number of companies reporting, this company still has room to grow. The stock is still a step behind the others in RSI and valuation currently due to a black eye it suffered at the beginning of the year when it was sued over accounting mistakes and had to re-report earnings lower. In all other quarters, however, the stock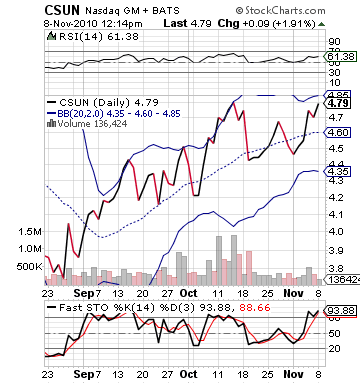 has performed very well and should rise with the rest if earnings are solid.
I am fully behind the earnings coming in this week. Currently, JASO is expected to report an EPS rise of 240%. SOLF is at 33%, and LDK is at 60%. These companies are all seeing tremendous growth, and they should not only report solid earnings but guide well. All companies that have reported in the solar sector thus far have commented that the end of the year is going to be better than expected and 2011 looks bright as well.
All this translates into positives for CSUN moving through the week. Further, the company has SunPower (SPWRA) earnings to be released on the same timeframe as CSUN, so that continues to provide more chance for good rather than bad.
CSUN is slightly overvalued with an RSI around 60, but it is much less so than many of its competitors in the industry. The stock neared its upper band Monday, but the company is still 20% off its 52-week high. Additionally, the stock is approaching $5. This now turns into also a $5 play once it breaks the barrier. There is a ton going in the right direction for CSUN. As long as earnings do not disappoint too greatly, CSUN should be sunny all week!
Entry: We are looking to get involved at $4.70 – $4.76.
Exit: We are looking to exit for a 3-5% gain.
Stop Loss: 5% on bottom.
Disclosure: No positions unless otherwise specified.