Check out this week's Danger Zone Interview with Chuck Jaffe of Money Life and MarketWatch.com.
NCR Corporation (NYSE:NCR) is in the Danger Zone. Founded as National Cash Register in 1884, NCR now earns most of its revenue from ATM's and point-of-sale retail solutions. The rise of online banking and shopping threatens the growth and profitability of both of these businesses. NCR has responded with several large acquisitions that increase its debt burden and decrease return on invested capital (ROIC) without providing the meaningful competitive gains the company needs to keep up.
Acquisitions Mask Declining Profitability
NCR operates in four segments: Financial Services, Retail Solutions, Hospitality, and Emerging Industries. Financial Services and Retail account for 84% of its revenue.
Both Financial Services and Retail have had some difficulty maintaining revenue growth recently. Financial Services revenue declined by 3% in 2013 due to declining volume of ATM product sales domestically. Retail revenue declined by 6% in 2012 and only grew organically by 4% in 2013.
NCR's profits and margins rebounded well after the financial crisis, but slow top line growth and new competitive pressures pushed the company to become a serial acquirer. Since 2011, NCR has spent $3.9 billion on acquisitions (65% of market cap). These acquisitions have driven shareholder value destruction as the pace of growth in invested capital has been greater than that for after-tax profit (NOPAT). In the last fiscal year, ROIC fell from 8.2% to 6.6%.
Meanwhile, its debt has ballooned to over $4 billion (66% of net assets) as of the latest quarterly filing, and Moody's assigned NCR's latest debt offering Ba2, junk bond status, which in turn means interest expense doubled for the first quarter of 2014.
Investors who just look at GAAP numbers miss the difficulties NCR faces, as pension gains have artificially boosted reported earnings. The company transitioned to mark-to-market pension accounting in 2013, and the increase in the discount rate led to $110 million in pre-tax income. The company discussed this gain on the 4Q13 conference call.
Another $14 million in pre-tax earnings came from a gain on the sale of property, plant, and equipment. Though these non-operating gains were partially offset by one-time acquisition costs, NCR still ended up with a $60 million net gain from hidden non-operating items.
Acquisitions Don't Fix The Problem
To their credit, NCR's management team has recognized the threat online retail and banking pose to the company's core business. However, the acquisitions that NCR has made to respond to the changing competitive landscape don't look promising.
The Retalix acquisition is more of a consolidation play as it doesn't actually expand the company into online retail. NCR can bundle Retalix's software packages with its own hardware, but it can't stop people from doing more and more of their shopping online.
Digital Insight does get NCR into online banking, but only as a very minor player. Digital Insight, which NCR owned for almost all of Q1, contributed $76 mm in revenue, which equates to ~$300 mm annually. A competitor like Fiserv (NASDAQ:FISV) earned $2.5 billion in its payment segment last year, which encompasses mobile banking along with electronic bill payment. Strategically this deal might have made sense, but one has to wonder whether Digital Insight will make a meaningful enough impact to justify its $1.6 billion price tag.
Figure 1 compares NCR to several different competitors in retailing, financial, and mobile banking. It shows that NCR is near the bottom in terms of both ROIC and NOPAT margin.
Figure 1: Lagging in Terms of Profitability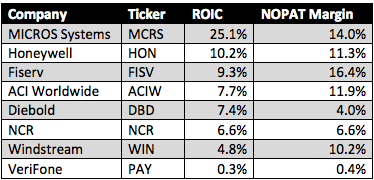 Sources: New Constructs, LLC and company filings.
What's more concerning, the top company on that list, MICROS Systems (NASDAQ:MCRS), is about to be acquired by Oracle (NASDAQ:ORCL) for $5.3 billion. ORCL's scale and its 31% ROIC should give it an advantage to grow MICROS further and take market share away from NCR in the hospitality and retail segments.
Don't Believe the Hype
New products, including video banking services and self-service checkout terminals, have created optimism around the company and promised significant growth. However, most of the growth we're seeing is still coming from acquisitions rather than organically, and the value of the new products is questionable long-term. Self-service checkouts are moneymakers now, but they're not going to stop the growing trend of customers moving online. Video banking seems like a niche product despite optimistic guidance but Financial Services revenue declined in 2013 so I'm not sure how that moves the needle.
The other bullish sign for NCR is the decline in its pension underfunding, which is down from $1.7 billion in 2011 to only $250 million in 2013 as the company bought out many of its workers pension plans. Bulls argue that the decline in pension underfunding and its associated costs will free up cash flow for investment or buybacks. The problem with this assertion is that the tripling of the company's debt over the same time frame more than offsets the decline in the pension underfunding. Debt plus underfunded pensions were only $2.7 billion in 2011, and they now stand at roughly $4.3 billion. Interest expense will consume any cash flow freed up by lower pension costs.
Market Has Overly Optimistic Expectations
NCR's current price of ~$31/share implies that the company will grow NOPAT by 11% compounded annually for 12 years. Double-digit profit growth for a decade and a half seems overly optimistic for a company whose core products are facing threats from new technologies. A more modest 7% compounded annual growth rate for 15 years yields a fair value of ~$23/share, a 27% downside.
NCR took a hit this year in April when it issued lower than expected full year revenue guidance. The competitive pressures NCR faces and the misleading nature of its reported earnings last year make me think the bad news is not done for this company.
Insiders seem to agree, as they've sold 630 thousand shares over the past year, more than three times the number they've bought. Insider selling on its own is not a reason to avoid a stock, but the selling within NCR at a time when it's making such significant acquisitions suggests a lack of confidence from within the company that is troubling.
Sam McBride contributed to this report.
Disclosure: David Trainer and Sam McBride receive no compensation to write about any specific stock, sector, or theme.
Disclosure: The author has no positions in any stocks mentioned, but may initiate a short position in NCR over the next 72 hours. The author wrote this article themselves, and it expresses their own opinions. The author is not receiving compensation for it (other than from Seeking Alpha). The author has no business relationship with any company whose stock is mentioned in this article.