Before I get started I would like to take the time to apologize to those who enjoy following my work and the picks that I make for my portfolio for my lack of articles over the course of this quarter. I've recently accepted a farm management position growing grapes at a vineyard and was quite a bit busier this spring than I've been in the past planting and monitoring a new crop. That being said, I was still able to update readers on the moves I made throughout the quarter via the 'stock quote' system here on Seeking Alpha. When thinking about the first article I was going to write since my absence began, I knew that I wanted to write a reflective overview of those investments that I've made throughout the period of time that I've been away. Now that the Japanese beetle hatch is over and things have slowed down with summer, I should have the proper time to dedicate towards my portfolio updates.
After having the time to sit back, analyze my moves, and track their results a bit, I began to identify patterns. Several of these are probably too premature to write about meaningfully, but one: the decision-making process for purchases, began to stand out as correlations formed. When investing I try to remain as systematic as possible, using certain tools and fundamental metrics to ensure that my decisions are fueled by rational reasoning rather than emotional urges. This system has morphed slightly as I've continued to learn and grow as an investor, but when looking back at the vast majority of the purchases I've made, I realize that ultimately I'm been able to sort my purchases into three distinctive groups:
High-quality companies that I would like exposure to and using one of my favorite Buffett mantras, "It's far better to buy a wonderful company at a fair price than a fair company at a wonderful price" to justify the decision to buy shares.
Stocks that have experienced what I deem to be an irrational decline in share price after either earnings or some other reported, isolated event.

High-quality stocks that have taken part in a sector or market wide sell off; the proverbial "babies thrown out with the bath water."
I will reference these numbers throughout the article as I show how my investment philosophy serves as a guide for my decisions.
Flash forward to the present: it's earnings season - which means that once again I have the opportunity to attempt to find and take advantage of irrational overreactions within the markets. It's like Christmas in July! Although I do not consider myself to be a "trader", I still get giddy when there is post-earnings volatility, especially when it's to the downside. Significant downward moves after an earnings release or the associated conference call are one of the major occurrences that trigger buy signals on my radar. If you've followed my investing career thus far you've probably come to understand that I typically invest in mega and large cap companies with wide moats and long-standing earnings and dividend growth records (with a few mid caps thrown in the mix to keep things interesting). Investing in these sorts of companies is what I feel comfortable doing. I like the defensive nature of many of my holdings and I like the capability to weather market storms that large hordes of cash and sector-wide influence give many of the 'blue chip' companies. I realize that I am oftentimes sacrificing growth for perceived safety in a potential bear market situation. I don't expect any of my purchases to be ten-baggers in the short term. That being said, I've seen the massive potential in long-term sustained earnings growth and the appreciation of stock price that usually coincides with decades of high-quality performance. I am 24 years old and while I'd love to double my money in a week or a month or a year, I have no realistic expectations of doing so. I think that the risk associated with the investments that offer those types of short-term rewards just aren't worth it. Power hitters will always strike out more than they'll hit the long ball, and back when I was a ball player I was more of a gap to gap guy who found his way on base at a much higher percentage than most.
Because of the sometimes sluggish nature of the stocks that I typically own, I like to find ways to increase my wealth building potential while adding a disproportionate amount of risk. I understand that many market analyst will say that this is impossible, that in an efficient market the risk/reward profile of all investments remain equal. I would wholeheartedly agree with this sentiment if it weren't for one thing: markets are not efficient. I've been closely covering the US markets for a little more than two years now and I've been amazed by the amount of stark overreactions that I've witnessed. Buying towards the bottom of these overreactions enables me to increase my investment upside while minimizing negative risks, so long as I am patient enough to wait for them. This is where the dilemma lies, patience is not my strong suit, but up to this point I've been able to take advantage of enough of these irrational dips (oftentimes coming on the onset of an earnings release) to use my past performance to instill trust within myself that if I wait, opportunities will arise. Sticking with the baseball metaphors, during tranquil market periods when I happen to have investment funds burning a hole in my pocket, I picture myself as Kevin Costner hearing ghost whispers, "if you build it, they will come." The field's been built, the market exists, now I just have to sit back in the bleachers and wait for the rare opportunities when Shoeless Joe steps out of the corn field.
Qualcomm (NASDAQ:QCOM) is the latest example of this for me. The stock sold off over 7% post earnings and I added to my current position, buying a lot of shares at $76.02. This brings my average price/unit up from $67.50 to $70.66. As a value investor with a bit of contrarian in him, I'd rather be averaging down than averaging up, but I really like the company's moat in mobile, its balance sheet, its incredible dividend growth statistics, and lately, I've been wanting more exposure to tech. The only other semi-conductor company that I own is Intel (NASDAQ:INTC), which I also bought on a nice pull back in November 2012 on the news that Paul Otellini was retiring, somewhat unexpectedly. I've experienced great gains on my Intel position having picked up the majority of my shares below the $20 mark and I truly believe in the direction the company is headed in from a product standpoint, but because of my focus on the growth of income that my portfolio generates, I worry about INTC and have been unwilling to add to the position due to their stagnant dividend. Qualcomm on the other hand, has a dividend growth record that would make an income-oriented investor salivate. QCOM is listed as a 'Contender' on David Fish's US Dividend Champions list with a consecutive annual dividend increase streak of 12 years. The company has maintained a 35.7% payout ratio alongside a 5-year DGR of 14.87%. QCOM's most recent increase was announced back in April, a 20.0% increase from $0.35/share on a quarterly basis to $0.42/share. QCOM's current $1.48 annual dividend equates to a 2.21% dividend yield; a number that might be lower than many investors' target yield of 3%, but one that I am satisfied with coupled with its strong double-digit growth.
Now obviously I can never be sure of these 'buy the dip' calls. It is difficult to differentiate between issues that are isolated and those that represent the beginning of potential long-standing negative trends. For instance, I own shares of Coach (NYSE:COH), have bought into its current decline already, and find myself tempted to do so again because of the value that the company's fundamentals represent; however, Coach is the worst 12-month performer on the S&P. When you focus on buying dips you catch the occasional knife and only time will tell whether or not I'm doing the same thing with QCOM, but I think that Qualcomm is a great company and I think the market has had a knee-jerk reaction to the recent China results. I get it, China is a big deal. Especially for a chip maker due to China's market size, ability to produce technology, and the alleged issues of technology and intellectual property theft that seems to pop up again and again in the news concerning the Chinese business sector. All of this is extremely important for a tech company and for the investors in tech companies, however, I've put my faith in QCOM's management's ability to navigate these stormy waters and I see this as a short-term bump in the road, not something that will likely erode QCOM's massive market share, especially in high-end, high-margin devices. China aside, the company soundly beat analyst estimates. In Q2 the company posted an EPS of $1.44, beating estimates by $0.22, or roughly 15%. QCOM produced $6.81B in revenues, up 9% Y/Y. The company guided down slightly for Q3 and for their FY14, something that caused many investors to raise their eye brows. Until this fight over licensing fees in China is over I wouldn't be surprised to see unusual volatility in the stock price. There is uncertainty to how much negative effect this process will have on their FY14 total device sales, but as far as I'm concerned the fundamentals of the company continue to shine brightly. QCOM's ttm P/E ratio is 18.3, a bit higher than I might like, but its forward PE is 15.7. This, combined with a PEG ratio of 1.2 and the aforementioned dividend related statistics makes me feel comfortable with the value that I am receiving here.
I added to my position in Visa (NYSE:V) in early May. Shares of the company had sold off because of news coming out of Ukraine and Visa's notable exposure to the Russian economy. This war scare is another example of the second reason to buy listed above, I don't foresee any major escalation happening in the region with a most likely worst-case scenario being damage done to Europe's economy due to lack of Russian energy if there were ever to be ramped up sanctions against Russia; therefore, I consider it to be an isolated event and shouldn't effect Vs long-term business prospects. I watched the initial decline, saw the shares bounce off of their $200 support once and decided that if I got an opportunity to add near that $200 mark my downside would be limited. I was able to add to my position at $203/share, increasing my average price/unit to just over $200/share after my initial purchase at $197.82 made November last year. I am attracted to Visa because of their business model. The company doesn't take on credit risk, but simply uses its massive network to generate revenues by taking a small portion of each transaction made. I think the trend towards a mobile, "cashless" economy is strong. Visa seems to be at the forefront of this movement and barring any unforeseen disruptions; i.e. bitcoin or the like, I think that V will continue to expand its network and continue to take advantage of the alacrity and simplicity of credit card purchases. Simply put, Visa is an earnings growth machine. The company has been steadily increasing its earnings at a double-digit rate for years, which is why it demands such a premium valuation wise, but I don't see any major barriers for this company moving forward and I expect these double-digit increases to continue. Visa released their Q2 earnings at the end of last week and while management's negative comments about the sluggishness of the world economy and its overall recovery caused the shares to sell off from $220 to $213, the numbers seemed solid. The company beat analyst estimates on the top and bottom lines with an EPS of $2.17/share ($0.08 better than expectations) and revenue of $3.16B (up 5.3% Y/Y and a beat of $10M). Management affirmed their FY outlook forecasting EPS growth of 17.5-18.5% and revenue growth of 9-10%.
Like QCOM, Visa's small yield may dissuade certain income-oriented investors from owning shares. This is much more of a total return play than an income-driven asset to own, but that being said, I think Visa will continue to grow its dividend at a high rate. The company's current dividend payment of $1.60/share equates to a 0.75% yield at current stock prices. The yield is miniscule, but the growth in tremendous. Visa's 5-year DGR is 65.91%, having increased its quarterly dividend from $0.11/share at its IPO in 2008 to $0.40/share now. Visa's most recent dividend increase was 21.2%, from $0.33/share to $0.40, made last October. I expect another strong double-digit increase later this year as earnings continue to increase, allowing the company to maintain its historically conservative payout ratio which currently sits at 18.3%.
I admit that I was not as objective from a fundamentals standpoint on another move I made in the quarter: making a large initial purchase of shares of Whole Foods Market (NASDAQ:WFM). In late May I bought shares of WFM at $37.75/share. For a little while I thought that I was an absolute genius when the shares bounced nearly 10% off of my entry price; unfortunately for me, the shares currently trade at $36.50. Whole Foods trades at a rich valuation, much higher than the typical company that I own but I've been wanting exposure to the health foods movement for some time now. I already own shares of Kroger (NYSE:KR) and Wal-Mart (NYSE:WMT) and knew that besides the very small position I hold in SunOpta (NASDAQ:STKL) I was very underweight in a sector of the market that I am very bullish on. I thought that the 40+% pullback in WFM was as good as an opportunity as any and although I'm currently in the red, I feel comfortable holding this company for the long term. My purchase of WFM is another example of #2 on my above list; this 40% pullback originally spawned when shares dropped more than 10% on Q2 earnings. Because of the company's rich fundamentals I did not jump straight in like I did with QCOM, I was forced to wait and see if shares would continue to fall to levels where I felt comfortable initiating a position. The shares are trending negatively because of worries about competition and a drop in same-store sales figures. To justify trading at 24x ttm earnings investors must remain confident in WFM's ability to continue to grow its earnings and revenues at solid, double-digit rates. CEO John Mackey admitted on the company's most recent earnings release that management was 'overly optimistic' and may have underestimated potential competition with many of the more traditional big block stores and grocers adding organic products to their shelves. I think this move by the likes of Wal-Mart is more of a gimmick than anything else. Speaking from a farmer's perspective, due to the nature of our country's industrial farming industry and the inability to farm organically and to produce non-GMO products cheaply, the margins just aren't there to truly offer organic/non-GMO products at discounted prices. I think the quality of product and experience that Whole Foods offers consumers is vastly superior to a Wal-Mart or even a Kroger. Compared to your typical grocery store, shopping at Whole Foods in an experience of its own. This experience is important, because ultimately for WFM to succeed they will have to continue convince customers that the noted premium being paid for their products as opposed to the food available from a traditional grocer is worth it. I think that as the adversarial effects of highly-processed and GMO-laden foods on the body become more clear and this news becomes more main stream WFM will once again become a market darling. I see a change of mindset amongst many in my generation towards a heightened awareness of what is put into our bodies, and I think that in no way in this health foods trend played out.
From a dividend-growth perspective I consider WFM to be a speculative bet. WFM currently pays a small dividend: 1.3%. The company's dividend has been sporadic in the past, with both bumps and cuts in the quarterly payouts in the last 5 years. Mackey has made it clear that while he wants to be a shareholder-friendly company, the growth and success of the company comes first. While this might mean that the income that my shares produce in the near term disappoints, I think his head in the right place as he continues to grow his company both organically and through expansion. WFM does maintain a very low payout ratio, currently 29.1%; this coupled with its earnings growth potential makes me think that when/if Mackey decides to commit to dividend growth, WFM could easily set themselves on a similar DG trajectory to Kroger, whose given shareholders double-digit increases 5 out of the last 7 years.
Like WFM, Target (NYSE:TGT) presented another buying opportunity with the ongoing reaction to last year's data breach as investors fear the possible long-term damage done to the brand and its effect on earnings moving forward. Originally, when I bought shares of target for the first time on December 12th of last year I was putting into place a #1 type of purchase: buying shares of a great company with a great dividend growth record at what I believed to be a fair price. I was interested in owning target because I thought it would do well in a recessionary environment and I viewed it as a strong defensive holding. I knew that there were fears that traditional 'brick and mortar' stores would be under pressure by the growth of e-commerce but I simply can't imagine a time when I would rather order everyday household goods, toilet paper and toothpaste, or even clothes or household electronics, things that I would like to see and feel and handle, online than in person. I've heard all of the crazy stories of completely automated streamlined delivery systems with robots packaging orders at regional centers before handing them off to drones for expedient delivery, which probably is more efficient than running errands, but if/when the FAA allows for this sort of drone delivery and we truly enter a Jetson's sort of technological age, I think that people will still enjoy getting out of the house and running around town, especially when companies (cough...cough Whole Foods Market) offer a bright and exciting experience within their stores. I also thought that the company's international expansion plans set it apart from its closest competitor, Wal-Mart, and I thought that if they could get settled in Canada and begin to thrive this would lead to further expansion into other developed countries, fueling earnings and therefore, dividend growth for decades to come. Thus far, my thoughts about the Canada expansion have been far off as TGT's movement into the US' northern neighbor has been full of disappointment and confusion for investors. Making matters even worse, less than a week after buying shares, on December 18th news of the data breach was reported by the Wall Street Journal and exactly one week later on December 19th the company acknowledged the breach and the share price began its major descent. While this did seem to me to be an isolated event, albeit a very large one full of negative public sentiment, I was unsure how far the stock price would fall and wanted to wait before taking advantage of the dip. I still believe that ultimately this data breach doesn't change Target's business model or its prospects of success over the long term. I think it's too bad for shareholders that TGT has had to serve as the scapegoat for the lack of IT security within a major consumer-driven corporation. I've seen how short Wall Street's memory can be and I imagine that after a quarter or two of outperformance all of this will be forgotten. For me, the Target data breach saga ended recently after seeing what I believe to be strong support for TGT shares in the $55 range and viewing the June 11th 20.9% dividend increase announcement as a mark of strong confidence in the business by management. I finally felt comfortable enough to buy the dip and add to my position so I decided to buy a second lot of shares at $57.20 on June 17th, lowering my average cost/unit and increasing my exposure to a company with a 3.63% yield (TGT shares currently offer investors a 3.44% yield), a 20.57% 5-year DGR, and a sustainable 57% payout ratio.
I bought a small entry block of shares of Chicago Bridge and Iron Co (NYSE:CBI) at $68.59/share on June 23rd. This move was a small, speculative turn around play made for several reasons. One, because of the large stake the Berkshire Hathaway bought of the company in the recent past. I am a big fan of what Berkshire does as well as a current shareholder and I thought that I too would "be greedy when others are fearful" with this stock, down 23% from its 52-week high. CBI has recently sold off because of Prescience Point's allegations that CBI used creative acquisition accounting to cover up losses. If these allegations are true, the stock is worth much less than the $58/share I paid; however, I've seen this sort of thing play out both ways in the past and due to the company's very low valuations: a ttm PE of 12.6, a forward PE of 11.3, and a PEG ratio of 0.9, I felt comfortable taking a small risk. CBI has posted strong earnings and revenue results since the Shaw acquisition was finalized and I was willing to bet, alongside of Berkshire, that this trend would continue. I've grown wearisome of this bet in the last several weeks as the company's shares have continued to sell off, now trading at $63/share, roughly 30% off their 52-week high. I do not have any plans to add to this position in the short term, I like to manage the potential downside of further investment in this company by closely following this accounting allegation story.
Moving away from post-earnings dips purchases, I will talk about the two companies that I bought during Q2 that were taking part in sector wide declines. In what is probably my proudest moment thus far as an investor, I bought a large initial block of shares in Gilead (NASDAQ:GILD) on April 15th at $67.07/share. This trade stands out for me because I was stepping out of my comfort zone. Gilead does not pay a dividend. I've always read/heard that a non-medical professional has no business investing in the bio-tech sector because of the complexity and cut-throat nature of the sector. The amount of work required to stay up to date in such a fast-paced environment is difficult for amateurs and because of this I have stayed away, focusing on more predictable companies. With all of this in mind, I still followed the large decline in the iShares Nasdaq Biotech ETF (NASDAQ:IBB) because as a value-oriented investor, I knew that even if the bubble here had popped there would be a time when these companies would trade at or below their fair values. I knew that the pricing of Gilead's 'miracle drug' Sovaldi and the conflict that arose in Congress helped to spark the bio-tech selloff and I couldn't help but think this was unjustified. I followed several of the largest and highly profitable companies within the bio-tech industry: Gilead, Amgen (NASDAQ:AMGN), Biogen Idec (NASDAQ:BIIB), Celgene (NASDAQ:CELG), and Regeneron (NASDAQ:REGN) knowing that if I was going to take a dive into unknown waters I wanted to at least have earnings power on my side with so many of the companies that comprise the IBB being young and highly speculative. All four of these companies had sold off more than 20%, putting them into a recessionary category and I couldn't help but notice how low their forward PE ratios and PEGs had fallen. I kept coming back to GILD and Sovaldi. The World Health Organization's website estimates that there are 130-150 million people on this planet with chronic Hep C infections. Because of Sovaldi's 100% cure rate I saw no reason why doctors wouldn't push this drug, albeit the high costs (it should be noted that a Sovaldi regime is still significantly cheaper than a liver replacement operation), and I became certain that the company would experience very significant revenues with this drug. I noticed that the 200-day moving average was serving as strong support for the stock and when the share price dipped below that technical metric I held my nose and jumped in. At the time GILD's forward PE was 13x with a PEG hovering around 1. Since then the company has released two earnings reports, both blow outs, and the stock price has appreciated significantly. What's more is that GILD's fundamentals have actually improved since my original purchase with the forward PE currently sitting at 10.8x and a PEG of 0.8 because of massive earnings and revenue growth because of the huge success of Sovaldi sales. I think this proves to a certain extent that all else aside, a strict focus on fundamentals moving forward enables investors to spot value in the market. Last Thursday I added to my GILD position at 90.82/share because of the lack of a major pop in response to what I saw as a near-perfect earnings report and recent news that the FDA approved phase three trials of Zydelig, drug treatment for blood cancer, adding another potential power house to GILD's pipeline. Gilead is now one of my top 5 holdings. The stock is currently trading at $91.50 and I plan on adding shares on any major weakness.
Taking further advantage of this bio-tech sell-off I bought an entry position in Amgen at $112.00/share several weeks after my GILD purchase. I have already extensively covered my reasoning for this purchase in an article published earlier in the Spring so I will spare you the replication here.
With so many of my recent purchases having low dividend yields, I wanted to make a purchase that would help to counteract that trend. Earlier in the Spring I published an article here focused on the value that I saw in the off-shore drillers after their sector wide sell off. That article was primarily focused on Ensco (NYSE:ESV). I already owned shares of ESV and after spotting what I believed to be strong support in the sub-$48 range I wrote that I would be a buyer if shares dipped that low again. Well, they didn't and since then the shares have risen to as high a $55/share. While ESV was experiencing a nice recovery, another driller that offers investors what I believe to be a quality-high yield lagged its peers a bit. Because of this I bought an entry position of shares of Noble Corporation PLC (NYSE:NE) at $30.79/share. At that price NE's $.150/share dividend represented a 4.81% yield. Today the stock trades at $32.25 and yields 4.61%. NE's 5-year DGR is 36.56% and the company boasts a conservative 36.6% payout ratio. Shares of NE currently trade nearly 21% off of their 52-week highs and offer investors value from a PE perspective with a ttm PE of 9.8x, forward PE of 10.0, and a PEG of 0.7. Shares are depressed because the market believes that offshore drillers are in a cyclical decline but with many of these companies paying such high dividends while maintaining conservative payout ratios, I feel comfortable owning them, and waiting for things to turn around as I don't foresee global demand for fossil fuels being significantly reduced any time soon.
And last, but certainly not least, comes the two purchases I made that fall under the #1 category: companies who haven't experienced any sort of significant dip in price but desirable to own all the same at a fair value. On June 6th I added to my position in John Deere (NYSE:DE) at $90.85/share, nearly one month after adding a few Apple (NASDAQ:AAPL) shares on May 5th at $597.73/share or a split adjusted $85.39. At the time of these purchases, both stocks were experiencing a steady upward trajectory. I had money to invest and knew that I wanted an increased exposure in what both of these companies represent. I've been wanting to increase my exposure to industrial agriculture stocks because of what I believe will be a long-term trend of increasing global demand for food. Population may be stabilizing or even declining in certain Westernized countries but this trend is non-existent in many developing countries. Climate change will also play a major role in the world's ability to produce enough food to feed its population as the corn belt shrinks and traditional farming areas become more arid; agricultural technology will be a necessary tool to increase the world's current crop yield, especially if countries are thoughtful about further forestation and make a commitment to do their best to utilize the acreage that the world currently dedicates towards crops and live stock. There are many companies well suited to play a profitable role as this trend plays itself out; however, not many of them offer investors such low valuations and what I deem to be a predictable, sustainable increasing dividend. DE has a ttm PE ratio of 9.4, a forward PE of 10.9, and a PEG ratio of 1.2. Deere and Co has paid an annually increasing dividend for 11 years in a row and the company is coming off of a 17.6% increase from $0.51/share quarterly to $0.60/share. DE's 5-year DGR is 13.43% and its current payout ratio is 16.6%. Deere is current in the midst of a small sell-off due to analyst concerns that DE is in the declining portion of its product cycle, but regardless, I plan on owning this company for decades and wholeheartedly expect solid price appreciation as well as continued dividend increases. I will continue to monitor this selloff and although I have what I consider to be a full position, I would be happy to lower my cost average if it falls below $80/share.
After reading through Apple's Q2 earnings report I knew that I wanted to increase my Apple exposure on any weakness. Not only did the company announce a 7-1 stock split, but management expressed a clear commitment towards dividend growth as the company continues to mature. I know that many Apple fans would rather the company not return cash out of its massive coffers to its shareholders, instead using this cash in M&A and/or R&D, and my response to them, is why not both? It's incredible how much cash AAPL generates and how much the company currently holds (roughly $160B, and growing), although much of that is harbored overseas. There are several very interesting articles floating around the internet that put this $160B figure into perspective. You can let your imagination run wild considering all of the different things that you could purchase with $160B, or you could look at this diagram put together in a Business Insider article showing the many major countries and corporations whose cash reserves pale in comparison to Apple's.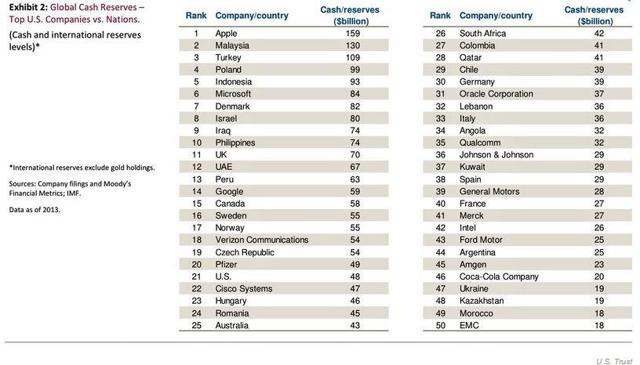 Click to enlarge
Source: Business Insider
To me, this is astonishing. I really like what Apple is doing with all this cash, having returned over $8B to shareholders during its most recent quarter, through both dividends and a massive buyback plan. AAPL's CFO, Luca Maestri, mentioned in the earnings report that the company has used over $74B of its current $130B capital return program with six quarters left until the program is complete. I look forward to the next year and a half and the remaining $56B that I can only assume that Apple will return to shareholders. Because of all of this great news, Apple shares shot up strongly after the earnings announcement and I quickly realized that if I waited for weakness I may be waiting for a very, very long time. I thought that due to the bandwagon nature of Apple's recent trading history that once the shares hit $600 they would likely run up past $700 and towards their all-time highs near $750. This is why I bought in at $597, knowing that even if I was wrong, I had the income side of the equation to fall back on. While it was Apple's latest commitments towards shareholder returns that caused me to buy my latest block of shares, I do not consider this to be a purely income-oriented position. I see Apple as a long-term core holding for my portfolio along side of Coca-Cola (NYSE:KO) and Disney (NYSE:DIS) (I plan on using the income that my portfolio creates on a monthly basis to purchase shares of both Apple and Disney for the foreseeable future with my flexible dividend re-investment program). I am very excited about the iPhone 6 launch later this year, especially if they do what I've speculated that they might for some time now: release a phone with a 5.5 inch screen. I think a move like that could change the tides of the smartphone wars and once again give Apple a significant upper hand against the other major competitors.
I would like to thank those of you who've made it this far in the article, I apologize for the lengthy nature of this piece; it required more words that I imagined it would to recap my previous quarter. I think that if all these words are good for anything, they're good in that they show that so long as an investor sticks to their guns and maintains an even keel while using fundamentals to purchase stocks rather than chasing the hottest stock or latest trend, they can do reasonably well in the short (and hopefully long) term even when purchasing stocks in a market at all-time highs. I think it is important to remember that the stock market is really a market of stocks and although the S&P might be richly valued, there will always be bargains, so long as an investor is willing to wait for them to appear. I tallied up my results on these 11 purchases and found that I've posted a 6.70% gain on moves made since 4/01/14 without dividends factored in. The S&P has increased 5.40% during this same period of time. I'm happy to share these results with you all and like I said in the introduction, I should have more time on my hands moving forward, at least until next spring, so in the future I won't have to wait 4 months to given an update outside of stock talks form. I look forward to your responses and I hope that my story can be in some way helpful to you all as we move forward with our portfolio management.
Disclosure: The author is long QCOM, AAPL, GILD, AMGN, CBI, DIS, V, INTC, DE, NE, ESV, WFM, TGT, WMT. The author wrote this article themselves, and it expresses their own opinions. The author is not receiving compensation for it (other than from Seeking Alpha). The author has no business relationship with any company whose stock is mentioned in this article.