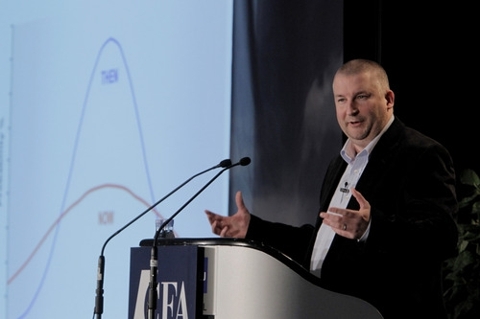 By Anne-Louise Fogtmann
What do Samuel Taylor Coleridge, Ernest Hemingway, Steve Jobs, Rudyard Kipling, Mark Twain, and Pope John Paul II all have in common?
As investment strategist James Montier noted Monday in an opening session at CFA Institute's Third Annual European Investment Conference, entitled "In Defense of the Old Always," each man was the subject of a premature obituary. So it goes for the concept of mean reversion: although its death has been widely reported by proponents of the so-called "new normal" thesis that is prevalent in markets today, Montier argued that mean reversion is in fact as vital and relevant as ever.
New normal proponents suggest that the distribution and forecast of outcomes has shifted from traditional bell-shaped curves with a high likelihood mean and thin tails to a much flatter distribution of outcomes with fatter tails. This has led strategists like Pimco's Richard Clarida to declare that "positioning for mean reversion will be a less compelling investment theme in a world where realized returns cluster nearer the tails and away from the mean."
Montier begs to differ. Using Bank of England GDP data as a rebuttal, he showed how the range of projections has narrowed in a quintessential return to the "old always." In fact, Montier's firm, money manager GMO, has examined more than 30 markets and found that every extraordinary capital market gain has retreated 100% or more — or as Montier put it, "every bubble burst." Indeed, in the grand sweep of the S&P 500 Index's long history, even major historical events like the end of the British Empire, World War II, or the oil shocks of the 1970s haven't really mattered in the pricing of markets over the long haul. As Montier noted, "mean reversion has dominated."
So where do the new normal proponents get it wrong? Montier argued that they are confusing the distribution of economic outcomes — and the forecast of those outcomes — with the distribution of asset market returns. Although the distribution of economic outcomes may well be wider than was the case historically, anyone trying to invest on the back of an economic forecast is, to use Montier's indelicate word, "insane."
Montier contended that proponents of the new normal also misunderstand fat tails, which are nothing new and which "create fat pitches" — the opportunities that investors seek to exploit through mean reversion strategies. Investors, he said, shouldn't throw out the old ways of investing; they should embrace them.
Seven "immutable laws of investing" apply, Montier argued, as they have in the past:
Always insist on a margin of safety.
This time is never different.
Be patient and wait for the fat pitch.
Be contrarian.
Risk is the permanent loss of capital, never a number.
Be leery of leverage.
Never invest in something you don't understand.
With these rules in mind, Montier noted, somewhat bleakly, that "not very many assets have any margin of safety." A few of his specific calls: Government bonds have no return potential; emerging markets look overvalued; and in a world where both bonds and equities could be too expensive, cash becomes a much more attractive investment, even when the yield is near zero. Not only is cash a better inflation hedge than bonds (it's a zero duration asset), it can act as a store of value during periods of deflation.
For more on James Montier's recent work, read our preview post for this session.