This morning I read the following comment on my previous article:
Commenter: It seems that Molycorp is going straight into a new chapter 11.
I immediately took a look at the Bloomberg article the commenter referred to, which explained how an expiry of Hitachi Metals' rare earth magnets was expected to lead to a growth in exports for Chinese rare earth miners:
Some Chinese producers of rare-earth magnets are seeking to use this month's expiry of a key patent held by Hitachi Metals Ltd. (5486) to expand exports of the micro magnets used in products from motors to smartphones. The expiry of a 17-year-old patent that defines the structure of such magnets paves the way for previously blocked Chinese producers to sell to U.S. customers, said Sun Baoyu, chairman of Shenyang General Magnetic Co. It's formed an alliance with six Chinese producers to promote their products and fight Hitachi over other patents, that the Japanese company says largely prevent rivals from making magnets ... An increase in exporters of the magnets could cut prices of the product used in Apple Inc. (NASDAQ:AAPL)'s iPhones and Toyota Motor Corp. (7203) hybrid-electric cars.
The Situation
The expired patent also covers neodymium ("Neo"), which happens to be the crown jewel of Molycorp, Inc's (MCP) product suite. Molycorp's much-talked about Magnequench unit is a leading producer of Neo powder used in the production of high performance, bonded neodymium permanent magnets. We have also talked incessantly about how the expiry of Molycorp's patent for Neo would impact its revenue and business prospects. Some have suggested the impact could be insurmountable. However, one commenter on my previous article thought the impact on Molycorp's cash burn would be immaterial:
Shock Exchange: Cash flows could improve in some of the segments. However, we know there is a probability the operating results in the Magnequench line will decline once the patents expire. I didn't ding the company for that.

Commenter: The patents are not being protected already. The primary patent has two major licensees: Molycorp and Sumitomo have some legal protection for magnets sold in the US. Hitachi has been licensing their patent on Neo magnets to some Chinese companies, although more are just infringing than are licensing. Those magnets can be sold in the US. The reality is that the Magnaquench patent is de facto unenforced, and has been for some time. The operating results in Magnaquench were terrible the last 2 quarters, likely because of the decline in patent enforcement.'
At the end of the day, an expiry of patents protecting Neo magnets cannot be positive for Molycorp. The Bloomberg article implies the impact will be more negative than previously thought. Secondly, key clients of Neo magnets - Apple Inc (NASDAQ:AAPL) and Toyota Motor Corporation (NYSE:TM) - did not get to where they are by not taking advantage of economies of scale. On my previous article, I described the potential for Apple to bully microchip suppliers like SanDisk Corporation (SNDK) and Micron Technology (NASDAQ:MU):
Apple is both friend and foe to SanDisk and Micron. It will be a boon to their top line growth as the mobile device market continues to grow. However, they may experience compression in gross margin if Apple decides to wield its power as one of their major clients. SanDisk experienced this phenomenon in its most recent earnings report. Whether Micron reports a similar impact on its gross margin when Q4 results are announced remains to be seen.
Neo Financial Results
Below are Molycorp's financial results on a segment basis for Q1 2014 and Q1 2013. The Magnetic Materials & Alloys segment is where sales of Neo magnets are represented. In Q1 2014 Magnetic Materials was the only profitable operating segment, earning $9.4 million in pretax income. The average sales price ("ASP") of Molycorp's product suite declined 26% year-over-year. However, the ASP for the Magnetic Materials segment only declined 6% during that period. If an increase in Chinese exports of bonded magnets negatively impacted the ASP of this segment, Molycorp's revenue declines would be exacerbated.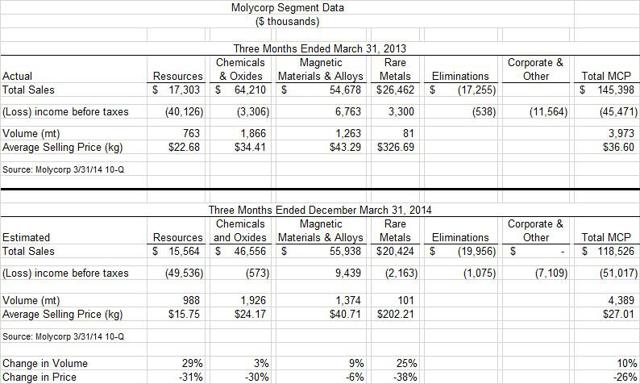 Cash Burn
For Q1 2014 Molycorp experienced cash burn of $78 million, lowering cash on hand to $236 million. The following chart shows that based on its current cash burn, the company's cash on hand could decline to as low as $100 million by the end of the year. At that point, Molycorp may seek a capital raise to help meet working capital needs. It should be noted that these high level estimates do not assume additional cash burn resulting from lower revenue due to an expiry of Neo patents; such an event could exacerbate the company's estimated cash out-flows.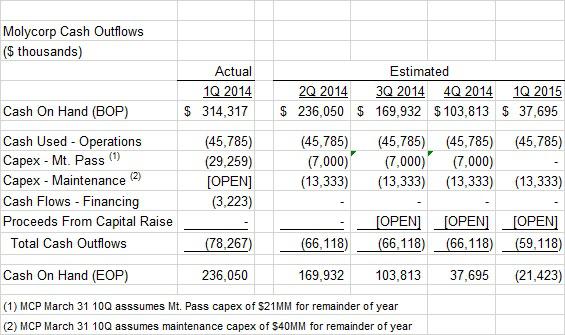 Impact On Restructuring
According to a recent Bloomberg News article, Leon Black of Apollo Global (NYSE:APO) has purchased Molycorp convertible bonds in an attempt at a backdoor takeover of the company. Expected declines in Molycorp revenue or business prospects from a flood of Chinese exports of Neo magnets could negatively affect any restructuring or capital raising efforts; in addition, investors could cause a sell-off in Molycorp bonds if they believe their speculative play will not pan out.
Conclusion
The expiry of patents protecting bonded magnets could create a flood of Chinese exports, driving down the price and negatively impacting Molycorp's revenue and earnings. Such an event would come at an inopportune time as the company seeks a solution to its cash burn. I would advise investors to avoid the stock until management can help quantify the impact on its Q2 earnings call next week.
Disclosure: The author is short MCP. The author wrote this article themselves, and it expresses their own opinions. The author is not receiving compensation for it (other than from Seeking Alpha). The author has no business relationship with any company whose stock is mentioned in this article.