American Electric Power (NYSE:AEP), a utility holding company that owns a number of transmission and distribution subsidiaries in Arkansas, Indiana, Kentucky, Louisiana, Michigan, Ohio, Oklahoma, Tennessee and Texas, reported a very strong quarter earlier this week. Because the US has gone through one year of contraction and four more years of anemic growth, many would understandably assume that a rust-belt based utility such as AEP would see little to no growth.
In fact, AEP has been enjoying steady, albeit slow, load growth over the past couple of years. When combined with public commission-approved rate hikes, AEP has managed mid-single-digit earnings growth since 2012. This article will look at AEP's latest quarter, why this utility is able to grow earnings despite anemic growth in the US, and finally valuation.
A Strong Quarter
AEP delivered some great earnings this quarter, earning $0.80 per share versus $0.73 last quarter. Year to date, AEP has earned $1.95 versus just $1.53 at the same time last year.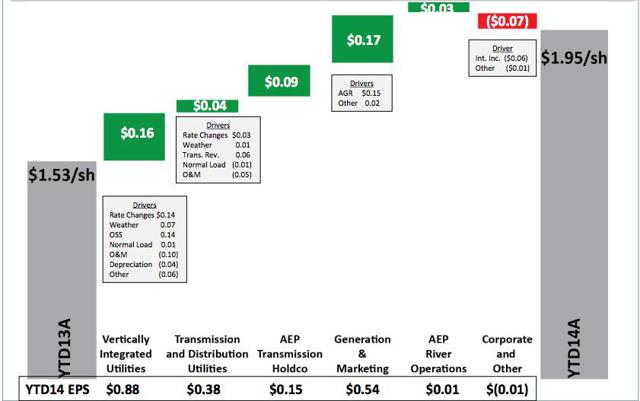 Courtesy of AEP Investor Relations
This chart shows where AEP's earnings growth is coming from. Overall, rate hikes contributed 17 cents, or almost half, of AEP's earnings growth. Weather directly affected earnings by 8 cents, which accounts for a fourth of earnings growth year to date. However, 'OSS,' which stands for outside system sales, where AEP sold power to customers outside its traditional operating area, also contributed 14 cents to the bottom line, and a good bit of those sales could have been weather-related as well.
But don't let weather mask AEP's steady results. Load deliveries are up 0.6% year to date, led primarily by industrial demand growth, which grew by a very encouraging 3.4% when adjusted for the closure of AEP's biggest industrial customer.
Being a legacy 'rust belt' utility, AEP has heavy exposure to midwestern industry. In the later half of 2013, AEP's biggest single customer, Ormet, an aluminum producer in Ohio, went out of business thanks to plummeting global aluminum prices. This led to flattish industrial demand.
Behind the Ormet story, AEP's industrial customers are thriving, primarily due to growth in areas exposed to shale oil and gas operations. For example, excluding Ormet, non-shale areas saw industrial power demand grow by 1.6% year to date. Not bad. However, counties in southern Texas, northern Texas and eastern Ohio, all of which are in shale plays, saw industrial demand grow by an awesome 39%, with over 50% industrial demand growth in the Eagle Ford of southern Texas.
Management is particularly excited about this because growth in industrial power demand usually begets growth in commercial demand, which in turn begets growth in residential demand. Shale drilling has created pockets of booming economies in an otherwise tepid overall situation. AEP is a benefactor of that.
Valuation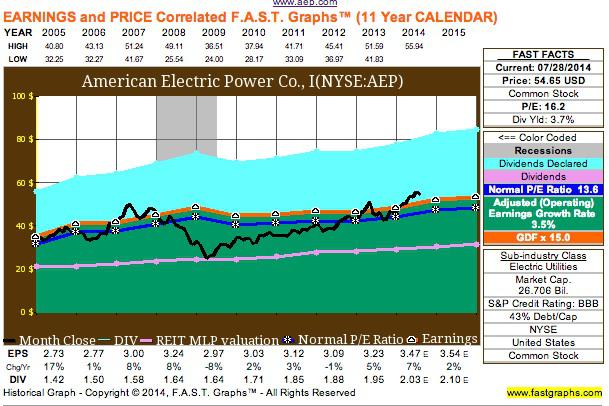 Unfortunately, AEP's success is not a very well-kept secret. Above, FAST Graphs shows us an average P/E ratio (represented by the dark blue line) of 13.6 times. Currently, however, AEP is trading at 16.2 times expected 2014 earnings. Also, a 3.7% yield is paltry for a utility with only a 3.8% compound annual dividend growth rate for the last nine years. (Ten years ago AEP cut dividends, and including that would skew the dividend CAGR number.)
Speaking of dividend growth, the market likely expects stronger growth ahead from AEP. When we look closer, that might indeed be possible. With a dividend/earnings payout ratio of only 60%, AEP does have some room to run here. In 2011, management raised the dividend by 8%. In 2013 management raised it another 4%. Mid-single digit dividend growth would not be unheard of in this situation.
Still, I believe that, at over sixteen times earnings, AEP is a bit pricey here. AEP is a name that should be on the watch list of every 'steady' income investor. If shares drop to $53, which would put the stock at 15 times expected 2014 earnings, AEP would be a solid buy.
Disclosure: The author has no positions in any stocks mentioned, and no plans to initiate any positions within the next 72 hours. The author wrote this article themselves, and it expresses their own opinions. The author is not receiving compensation for it (other than from Seeking Alpha). The author has no business relationship with any company whose stock is mentioned in this article.