The following is a list of highly shorted stocks, as defined by the short ratio. The short ratio expresses the total number of shares shorted as a multiple of the average daily volume, i.e. it indicates how many days of average volume is needed to cover all short positions.

All of these stocks have a track record of profitability, and analysts expect these earnings trends to continue. Are short-sellers to quick to come to the conclusion that these companies are running out of steam?

All data sourced from Fiviz. Full analysis below.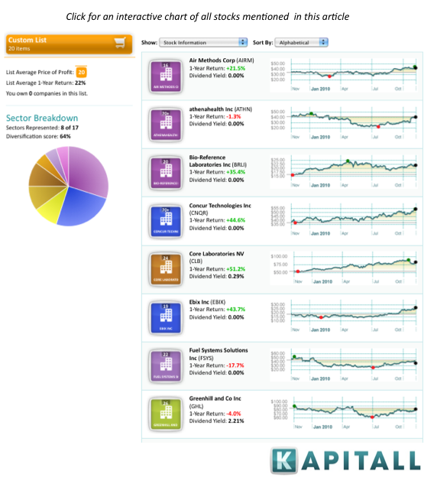 The list has been sorted by the short ratio.

1. Quality Systems Inc. (NASDAQ:QSII): Healthcare Information Services Industry. Market cap of $1.85B. EPS has grown by 22.46% over the past 5 years, with EPS growth projected at 18.81% over the next 5 years. Sales have grown by 26.82% over the past 5 years. Short float at 30.86%, which implies a short ratio of 24.27 days. The stock has gained 4.79% over the last year.

2. Core Laboratories NV (NYSE:CLB): Oil & Gas Equipment & Services Industry. Market cap of $3.69B. EPS has grown by 37.96% over the past 5 years, with EPS growth projected at 16.% over the next 5 years. Sales have grown by 10.23% over the past 5 years. Short float at 20.75%, which implies a short ratio of 23.71 days. The stock has gained 53.42% over the last year.

3. Life Time Fitness Inc. (NYSE:LTM): Sporting Activities Industry. Market cap of $1.63B. EPS has grown by 15.78% over the past 5 years, with EPS growth projected at 15.17% over the next 5 years. Sales have grown by 21.82% over the past 5 years. Short float at 22.16%, which implies a short ratio of 23.13 days. The stock has gained 62.12% over the last year.

4. Bio-Reference Laboratories Inc. (NASDAQ:BRLI): Medical Laboratories & Research Industry. Market cap of $607.25M. EPS has grown by 18.55% over the past 5 years, with EPS growth projected at 18.33% over the next 5 years. Sales have grown by 21.64% over the past 5 years. Short float at 16.08%, which implies a short ratio of 22.86 days. The stock has gained 35.36% over the last year.

5. NutriSystem Inc. (NASDAQ:NTRI): Consumer Services Industry. Market cap of $594.31M. EPS has grown by 96.29% over the past 5 years, with EPS growth projected at 17.5% over the next 5 years. Sales have grown by 69.25% over the past 5 years. Short float at 29.87%, which implies a short ratio of 21.73 days. The stock has lost -2.53% over the last year.

6. Quidel Corp. (NASDAQ:QDEL): Diagnostic Substances Industry. Market cap of $350.43M. EPS has grown by 85.73% over the past 5 years, with EPS growth projected at 18.33% over the next 5 years. Sales have grown by 15.86% over the past 5 years. Short float at 20.76%, which implies a short ratio of 20.92 days. The stock has lost -17.28% over the last year.

7. TreeHouse Foods Inc. (NYSE:THS): Processed & Packaged Goods Industry. Market cap of $1.76B. EPS has grown by 11.51% over the past 5 years, with EPS growth projected at 10.67% over the next 5 years. Sales have grown by 16.83% over the past 5 years. Short float at 15.58%, which implies a short ratio of 19.84 days. The stock has gained 37.62% over the last year.

8. Peet's Coffee & Tea Inc. (NASDAQ:PEET): Processed & Packaged Goods Industry. Market cap of $520.96M. EPS has grown by 18.23% over the past 5 years, with EPS growth projected at 16.8% over the next 5 years. Sales have grown by 16.4% over the past 5 years. Short float at 21.52%, which implies a short ratio of 19.38 days. The stock has gained 3.05% over the last year.

9. World Acceptance Corp. (NASDAQ:WRLD): Credit Services Industry. Market cap of $673.58M. EPS has grown by 20.7% over the past 5 years, with EPS growth projected at 11.% over the next 5 years. Sales have grown by 15.89% over the past 5 years. Short float at 24.74%, which implies a short ratio of 18.51 days. The stock has gained 65.54% over the last year.

10. Fuel Systems Solutions, Inc. (NASDAQ:FSYS): Auto Parts Industry. Market cap of $642.25M. EPS has grown by 70.05% over the past 5 years, with EPS growth projected at 16.67% over the next 5 years. Sales have grown by 30.77% over the past 5 years. Short float at 41.62%, which implies a short ratio of 18 days. The stock has lost -18.26% over the last year.

11. Greenhill & Co., Inc. (NYSE:GHL): Investment Brokerage Industry. Market cap of $2.4B. EPS has grown by 12.46% over the past 5 years, with EPS growth projected at 16.33% over the next 5 years. Sales have grown by 14.48% over the past 5 years. Short float at 15.51%, which implies a short ratio of 17.18 days. The stock has lost -0.78% over the last year.

12. Air Methods Corp. (NASDAQ:AIRM): Air Services Industry. Market cap of $523.37M. EPS has grown by 52.04% over the past 5 years, with EPS growth projected at 17.5% over the next 5 years. Sales have grown by 17.27% over the past 5 years. Short float at 16.06%, which implies a short ratio of 16.78 days. The stock has gained 21.48% over the last year.

13. Athenahealth, Inc. (NASDAQ:ATHN): Business Services Industry. Market cap of $1.4B. EPS has grown by 19.76% over the past 5 years, with EPS growth projected at 37.13% over the next 5 years. Sales have grown by 37.09% over the past 5 years. Short float at 29.64%, which implies a short ratio of 16.75 days. The stock has lost -1.33% over the last year.

14. Sigma Designs, Inc. (NASDAQ:SIGM): Semiconductor Industry. Market cap of $365.07M. EPS has grown by 40.64% over the past 5 years, with EPS growth projected at 20.% over the next 5 years. Sales have grown by 45.69% over the past 5 years. Short float at 15.79%, which implies a short ratio of 16.69 days. The stock has lost -5.28% over the last year.

15. Synaptics Inc. (NASDAQ:SYNA): Computer Peripherals Industry. Market cap of $1.01B. EPS has grown by 11.58% over the past 5 years, with EPS growth projected at 14.17% over the next 5 years. Sales have grown by 19.86% over the past 5 years. Short float at 35.15%, which implies a short ratio of 16.01 days. The stock has gained 17.56% over the last year.

16. Ebix Inc. (NASDAQ:EBIX): Business Software & Services Industry. Market cap of $909.81M. EPS has grown by 66.74% over the past 5 years, with EPS growth projected at 12.5% over the next 5 years. Sales have grown by 37.35% over the past 5 years. Short float at 28.03%, which implies a short ratio of 15.22 days. The stock has gained 50.43% over the last year.

17. InterDigital, Inc. (NASDAQ:IDCC): Wireless Communications Industry. Market cap of $1.62B. EPS has grown by 34.71% over the past 5 years, with EPS growth projected at 15.% over the next 5 years. Sales have grown by 23.46% over the past 5 years. Short float at 15.54%, which implies a short ratio of 14.08 days. The stock has gained 67.09% over the last year.

18. Mindray Medical International Limited (NYSE:MR): Medical Instruments & Supplies Industry. Market cap of $3.19B. EPS has grown by 32.51% over the past 5 years, with EPS growth projected at 18.39% over the next 5 years. Sales have grown by 44.83% over the past 5 years. Short float at 19.48%, which implies a short ratio of 13.63 days. The stock has lost -9.25% over the last year.

19. Concur Technologies, Inc. (NASDAQ:CNQR): Technical & System Software Industry. Market cap of $2.8B. EPS has grown by 55.11% over the past 5 years, with EPS growth projected at 23.86% over the next 5 years. Sales have grown by 34.36% over the past 5 years. Short float at 15.91%, which implies a short ratio of 13.13 days. The stock has gained 44.61% over the last year.

20. P.F. Chang's China Bistro, Inc. (NASDAQ:PFCB): Restaurants Industry. Market cap of $1.09B. EPS has grown by 13.73% over the past 5 years, with EPS growth projected at 15.02% over the next 5 years. Sales have grown by 11.68% over the past 5 years. Short float at 30.54%, which implies a short ratio of 13.09 days. The stock has gained 53% over the last year.

Disclosure: No positions