All signs are showing that the solar industry is going to enter a period of capacity expansions. Demand is increasing and is about to reach supply. According to IHS Solar, the fourth quarter of 2014 will see solar shipments reach 15 GW, which is more than today's industry production capacity on an annualized basis.
In 2015, the global demand is expected to reach current supply, and in order to supply post-2015 solar demand, the industry will need to build more production lines and more manufacturing facilities. In this article I will go through the different aspects of the upcoming capacity expansion.
The solar industry is made up of three main components that are used to measure production capacity: silicon wafers, solar cells, and solar modules.
Current Supply and Current Demand
According to a study made available by the EPIA (European Photovoltaics Industry Association) and IHS Solar, current global production capacity is:
Silicon Wafers - Just under 50,000 MW.
Solar Cells - Just under 50,000 MW.
Solar Modules - Just under 60,000 MW.
In 2013, total global demand for solar modules was 39,000 MW. In 2014, it is expected that global demand will be around 47,000-49,000 MW. Early estimations are calling for around 55,000 MW in global demand in 2015 and eventually reaching 70,000 MW by 2017-2018.
Five-six years from now global demand is expected to reach the 100,000 MW mark.
What Drives New Equipment Purchases?
One: New Capacity Is Needed
As the industry is getting ready as a whole to reach the point where demand reaches supply, more and more tier-1 manufacturers are reporting a utilization rate very close to 100%.
In the past year or so we have seen signs of consolidation in the industry as a solution for tier-1 manufacturers to increase their own production capacity without increasing the overall industry capacity.
Looking a bit more long term, in order to meet demand, the industry will have no other option but to increase production capacity in the 2015-2018 time frame. GT Advanced Technologies (GTAT) is the market leader in the most expensive parts of the manufacturing chain. So it is a clear winner of this trend.
Let's appraise the market.
A couple of weeks ago I contacted the management of a leading Chinese solar manufacturer and asked about today's market prices for new manufacturing equipment.
| | |
| --- | --- |
| Equipment Type | Cost for 100 MW of annual production capacity |
| Wafer Manufacturing | $18M |
| Cells Manufacturing | $16M |
| Module Manufacturing | $5M |
Source: PTT Solar
Assuming that global demand will be 70,000 MW by 2017 and 100,000 MW by 2020, we can deduce the following:
| | | |
| --- | --- | --- |
| Type | Additional Capacity Needed by 2017 | Additional Capacity Needed by 2020 |
| Wafers | 20,000 MW | 50,000 MW |
| Cells | 20,000 MW | 50,000 MW |
| Modules | 10,000 MW | 40,000 MW |
Accounting for about 5% of current equipment being upgraded/replaced each year, an additional $1B-$2B will be spent annually. The market for equipment will be very large indeed. Until 2017, the market for wafer equipment will be $4.6B, the market for cell equipment will be $4.2B, and the market for module equipment will be $1B.
Until 2020, the market for wafer equipment will be $9B, the market for cell equipment will be $8.2B, and the market for module equipment will be $2.5B.
Two: Cost Reduction Is Key
In the solar industry, the ability to reduce production costs on an ongoing basis is mandatory for any manufacturer that wants to stay in business. Solar modules' prices are in a long-term downtrend, and without achieving cost reduction at the same rate, or faster, gross margins will be gradually reduced.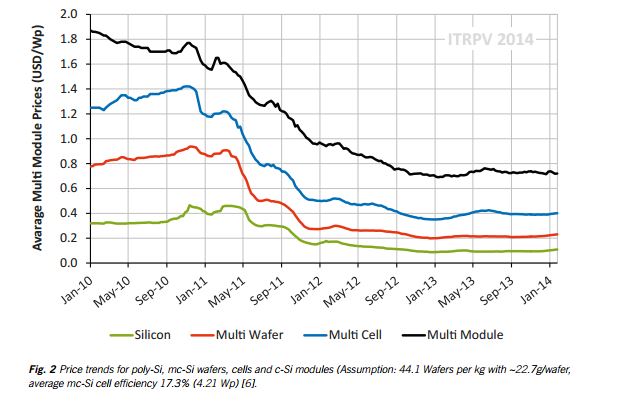 Source: ITRPV 2014 Report
Many skeptics didn't believe manufacturers could reduce production cost under a $1/watt. Then as they watched that happen, they didn't believe they could reduce costs under $0.70/watt. When that happened, they said: "There is no way production costs will be under $0.50/watt." Needless to say, that happened as well.
Where are we going next?
There are multiple paths of reducing costs in the future. I will touch on the main paths.
Less Silver!
Silver is used in the production of solar cells during the metallization process. All those whitish lines you see on the surface of a solar cell are called "fingers" and "bus-bars." These fingers are printed on top of a solar cell using silver paste. The current content of silver per solar cell is about 0.14 gram of silver (or about 0.005 ounce).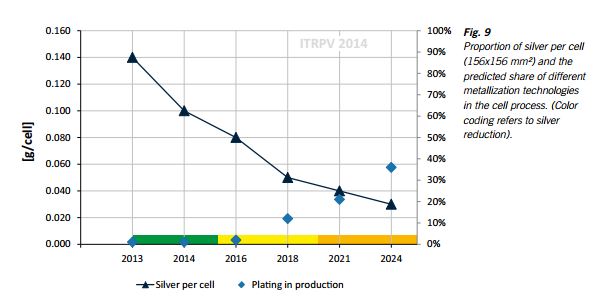 Source: ITRPV 2014 Report
Reducing the amount of silver is possible by adopting new manufacturing techniques. Both Mayer Burger and GT Advanced Technologies are offering equipment that can replace the current process with a new one, which uses very little or no silver.
Bigger Ingots!
The heart of each solar cell is made out of silicon. The silicon is grown and manufactured into a silicon ingot, and then sawed to very thin wafers (about 120 microns in thickness). One of the key developments in cost reduction is using higher throughput ingot furnaces, manufacturing higher mass ingots.

A Mono-crystalline silicon ingot.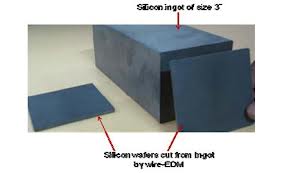 Multi-crystalline Silicon Ingot.
As you can see by the following image ITRPV forecasts, the next generation ingot furnaces will allow multi-crystalline ingot mass to more than double from ~600 Kg these days to more than 1,200 Kg after 2020. Mono-crystalline mass will follow the same path from ~150 Kg to ~300 Kg.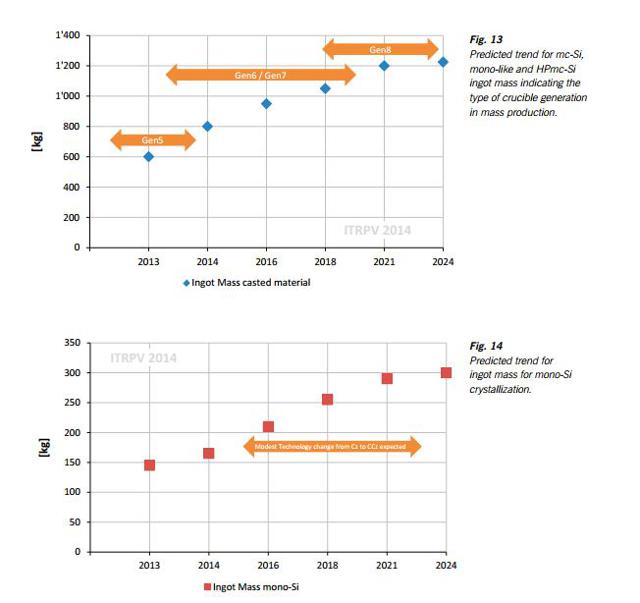 Click to enlarge
Source: ITRPV 2014 Report
That will increase the throughput and help to reduce costs.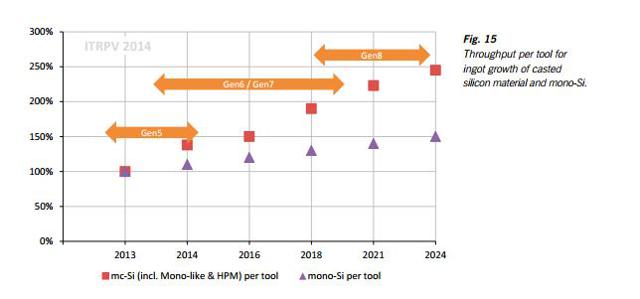 Click to enlarge
Source: ITRPV 2014 Report
GT Advanced Technologies is very active in the ingot furnaces market and is working on a furnace line that follows that exact path. I expect GT to take a very large piece of the solar CapEx cake, especially in this area of ingot furnaces.
Less Silicon!
Silicon costs in solar modules these days are around $0.10/watt (out of a total cost of around $0.50/watt). Reducing the amount of silicon needed is a key in reducing total production costs.
The way of reducing the amount of silicon is by using thinner silicon wafers. Today's wafers are about 120-150 microns thick. According to ITRPV, we could see wafers as thin as 50 microns when approaching 2018.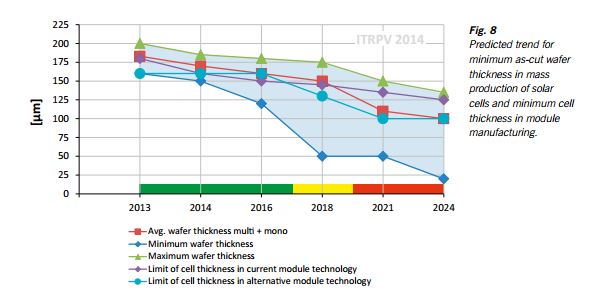 Source: ITRPV 2014 Report
GT Advanced Technologies' Hyperion Ion Implanter is said to be able to make ultra-thin slices of silicon (as thin as 5-20 microns). The Hyperion tool could be a key in advancing through this path.
Total Cost Reduction Roadmap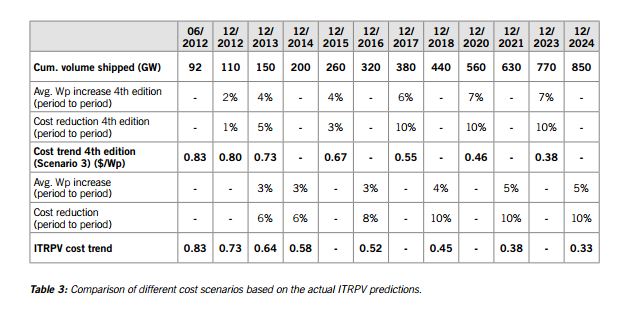 Source: ITRPV 2014 Report
The ITRPV has suggested the manufacturing cost of solar modules could reach $0.33/watt by 2024. That is the average cost across the industry. For example, JinkoSolar (NYSE:JKS) had achieved a production cost of $0.47/watt as of the first quarter of 2014, which is 19% below ITRPV's 12/2014 average.
Doing the same math shows us the lowest cost could be $0.37/watt in 2018, $0.30/watt in 2021 and $0.27/watt in 2024. I believe this roadmap will allow solar manufacturers to maintain their gross margins going forward, while the best manufacturers will be able to increase it in the next several years.
Conclusions
In the next five years, we are going to witness another capacity expansion cycle in the solar industry. That, in addition to equipment upgrades in order to achieve cost reduction, will create a large CapEx cake for equipment vendors.
GT Advanced Technologies and Mayer Burger are the two solar equipment suppliers that I expect to benefit the most from this trend.
New equipment lined up for solar manufacturers to utilize in this upcoming cycle will enable further cost reductions, which will help them maintain/improve their gross margins going forward.
To learn more about solar investing, visit solarstockideas.
Disclosure: The author is long GTAT, JKS. The author wrote this article themselves, and it expresses their own opinions. The author is not receiving compensation for it. The author has no business relationship with any company whose stock is mentioned in this article.