The following is a list of undervalued stocks, as defined by the PEG ratio. All of the stocks in this list have PEG values below 1.0, which usually signal undervalued conditions.

In addition, all of these stocks have seen significant institutional buying over the last three months.

The smart money seems to think these stocks are undervalued relative to their growth prospects, what do you think? Full details below.

PEG and short float values sourced from Finviz, institutional data sourced from Reuters.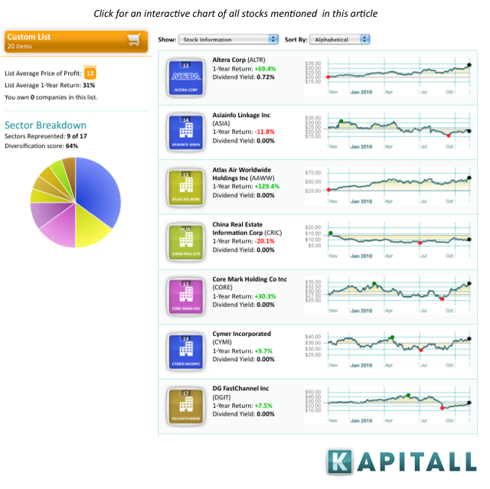 The list has been sorted by change in institutional ownership.

1. Zhongpin, Inc. (NASDAQ:HOGS): Meat Products Industry. Market cap of $795.66M. PEG ratio at 0.83. Institutional investors currently own 13,448,459 shares vs. 11,621,420 shares held three months ago (+15.72% change). Short float at 13.85%, which implies a short ratio of 8.41 days. The stock has gained 63.64% over the last year.

2. DG FastChannel, Inc. (NASDAQ:DGIT): Business Services Industry. Market cap of $788.93M. PEG ratio at 0.89. Institutional investors currently own 29,975,882 shares vs. 27,154,462 shares held three months ago (+10.39% change). Short float at 8.28%, which implies a short ratio of 1.43 days. The stock has gained 9.13% over the last year.

3. Cymer Inc. (NASDAQ:CYMI): Semiconductor Equipment & Materials Industry. Market cap of $1.15B. PEG ratio at 0.82. Institutional investors currently own 30,960,551 shares vs. 28,858,576 shares held three months ago (+7.28% change). Short float at 10.46%, which implies a short ratio of 9.5 days. The stock has gained 10.89% over the last year.

4. J. Crew Group, Inc. (JCG): Apparel Stores Industry. Market cap of $2.17B. PEG ratio at 0.82. Institutional investors currently own 68,932,569 shares vs. 65,099,318 shares held three months ago (+5.89% change). Short float at 22.27%, which implies a short ratio of 5.41 days. The stock has lost -17.53% over the last year.

5. Altera Corp. (NASDAQ:ALTR): Semiconductor Industry. Market cap of $10.39B. PEG ratio at 0.92. Institutional investors currently own 320,987,361 shares vs. 303,382,222 shares held three months ago (+5.8% change). Short float at 10.35%, which implies a short ratio of 3.28 days. The stock has gained 68.27% over the last year.

6. Core-Mark Holding Company, Inc. (NASDAQ:CORE): Food Wholesale Industry. Market cap of $365.35M. PEG ratio at 0.94. Institutional investors currently own 11,439,612 shares vs. 10,933,184 shares held three months ago (+4.63% change). Short float at 9.43%, which implies a short ratio of 14.92 days. The stock has gained 28.89% over the last year.

7. FBL Financial Group Inc. (NYSE:FFG): Life Insurance Industry. Market cap of $881.65M. PEG ratio at 0.87. Institutional investors currently own 9,988,237 shares vs. 9,551,176 shares held three months ago (+4.58% change). Short float at 5.49%, which implies a short ratio of 9.74 days. The stock has gained 41.11% over the last year.

8. China Real Estate Information Corporation (NASDAQ:CRIC): Internet Information Providers Industry. Market cap of $1.38B. PEG ratio at 0.88. Institutional investors currently own 17,988,364 shares vs. 17,238,902 shares held three months ago (+4.35% change). Short float at 21.75%, which implies a short ratio of 12.96 days. The stock has lost -24.96% over the last year.

9. AsiaInfo-Linkage,Inc. (NASDAQ:ASIA): Security Software & Services Industry. Market cap of $1.52B. PEG ratio at 0.9. Institutional investors currently own 33,825,949 shares vs. 32,693,072 shares held three months ago (+3.47% change). Short float at 7.15%, which implies a short ratio of 3.13 days. The stock has lost -12.79% over the last year.

10. Kforce Inc. (NASDAQ:KFRC): Staffing & Outsourcing Services Industry. Market cap of $613.97M. PEG ratio at 1. Institutional investors currently own 33,340,207 shares vs. 32,251,711 shares held three months ago (+3.38% change). Short float at 3.14%, which implies a short ratio of 5.65 days. The stock has gained 19.02% over the last year.

11. Veeco Instruments Inc. (NASDAQ:VECO): Semiconductor Equipment & Materials Industry. Market cap of $1.76B. PEG ratio at 0.8. Institutional investors currently own 46,302,297 shares vs. 44,891,970 shares held three months ago (+3.14% change). Short float at 31.2%, which implies a short ratio of 4.8 days. The stock has gained 81.59% over the last year.

12. Psychiatric Solutions, Inc. (OTCPK:PSYS): Specialized Health Services Industry. Market cap of $1.93B. PEG ratio at 0.87. Institutional investors currently own 51,981,528 shares vs. 50,467,611 shares held three months ago (+3.00% change). Short float at 7.74%, which implies a short ratio of 6.02 days. The stock has gained 65.81% over the last year.

13. HSN, Inc. (NASDAQ:HSNI): Catalog & Mail Order Houses Industry. Market cap of $1.52B. PEG ratio at 0.83. Institutional investors currently own 41,280,048 shares vs. 40,097,009 shares held three months ago (+2.95% change). Short float at 12.46%, which implies a short ratio of 9.85 days. The stock has gained 72.4% over the last year.

14. Taiwan Semiconductor Manufacturing Co. Ltd. (NYSE:TSM): Semiconductor Industry. Market cap of $57.93B. PEG ratio at 0.88. Institutional investors currently own 1,141,538,311 shares vs. 1,109,215,334 shares held three months ago (+2.91% change). Short float at 0.51%, which implies a short ratio of 1.99 days. The stock has gained 19.83% over the last year.

15. Atlas Air Worldwide Holdings Inc. (NASDAQ:AAWW): Air Services Industry. Market cap of $1.58B. PEG ratio at 0.81. Institutional investors currently own 28,683,486 shares vs. 27,890,827 shares held three months ago (+2.84% change). Short float at 4.24%, which implies a short ratio of 3.02 days. The stock has gained 129.09% over the last year.

16. DPL Inc. (NYSE:DPL): Diversified Utilities Industry. Market cap of $3.22B. PEG ratio at 0.99. Institutional investors currently own 60,732,288 shares vs. 59,094,269 shares held three months ago (+2.77% change). Short float at 3.91%, which implies a short ratio of 6.08 days. The stock has gained 2.97% over the last year.

17. Konami Corp. (NYSE:KNM): Multimedia & Graphics Software Industry. Market cap of $2.42B. PEG ratio at 0.86. Institutional investors currently own 186,596 shares vs. 181,610 shares held three months ago (+2.75% change). Short float at 0%, which implies a short ratio of 0.99 days. The stock has gained 0.06% over the last year.

18. The Goldman Sachs Group, Inc. (NYSE:GS): Diversified Investments Industry. Market cap of $88.21B. PEG ratio at 0.89. Institutional investors currently own 383,482,481 shares vs. 373,581,868 shares held three months ago (+2.65% change). Short float at 1.44%, which implies a short ratio of 1.14 days. The stock has lost -0.41% over the last year.

19. Oplink Communications Inc. (NASDAQ:OPLK): Semiconductor Industry. Market cap of $336.13M. PEG ratio at 0.83. Institutional investors currently own 17,431,698 shares vs. 16,990,039 shares held three months ago (+2.6% change). Short float at 6.15%, which implies a short ratio of 4.14 days. The stock has gained 10% over the last year.

20. The Ensign Group, Inc. (NASDAQ:ENSG): Long-Term Care Facilities Industry. Market cap of $440.12M. PEG ratio at 0.79. Institutional investors currently own 8,832,391 shares vs. 8,624,139 shares held three months ago (+2.41% change). Short float at 5.77%, which implies a short ratio of 7.37 days. The stock has gained 43.08% over the last year.

Disclosure: No positions