This is a series of articles to find BDCs to include in my updated "High-Yield Portfolio" for Q3 2014 that is for investors that are willing to take on a little more risk with less stock price appreciation, but higher dividend yields. The other four portfolios types are 'Total Return', 'Risk Averse', 'Value' and the 'Underdog' portfolios that will be updated on my "Portfolio Updates" page . This article is a follow up to "Part 1" and discusses projected and expected returns to identify which can deliver more to investors for the amount of risk associated with each. I have also included a valuation analysis that only uses the multiples from higher yield BDC to come up with relative valuations. These multiples include the current net asset value ("NAV") and earnings. NAV seems to be popular among most BDC investors but earnings support the dividends paid and yield potential which is also important.
Projected Total Returns
The following table is similar to the one used in my article "Total Return BDC Portfolios for Q3 2014" showing the projected total returns with the average and the 'standard deviation' that statistically measures the variation of returns compared to the average, with 68% of BDCs within one standard deviation from the average or between 9% and 12%. I believe this is an acceptable rate of return and maybe a little conservative because of the NAV per share growth discounts and may favor BDCs such as Prospect Capital (NASDAQ:PSEC), TICC Capital (NASDAQ:TICC) and Medley Capital (NYSE:MCC) that pay a higher dividend with little to no expected NAV per share growth. I have assumed that the BDCs with declining NAV per share find a way to stabilize and at least maintain 0% growth and BDCs with positive growth over the last 12 months I have discounted by 50% and assume that they continue to grow at least half the rate of the last 12 months. For more detail please read "Total Return Part 7". I believe that investors expect higher rates of return for higher amounts of risk and using this range of returns along with my relative risk rank (see risk profile articles for more) of each I assign an expected total return.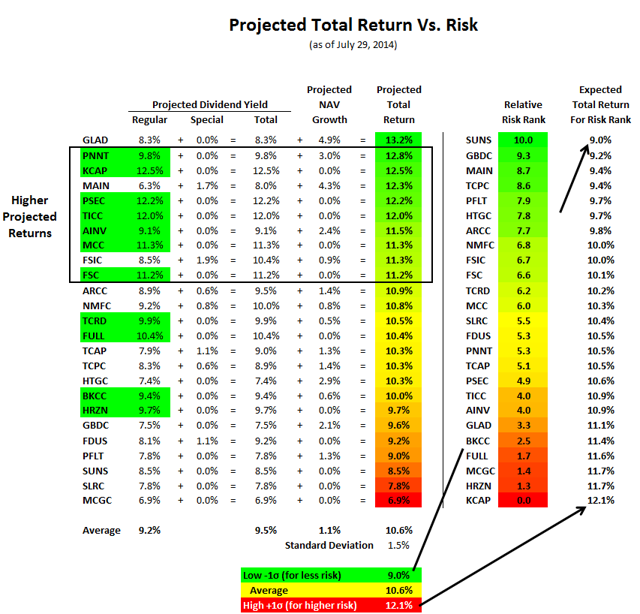 Using this analysis PSEC, TICC, MCC, PennantPark Investment (NASDAQ:PNNT), KCAP Financial (NASDAQ:KCAP), Apollo Investment (NASDAQ:AINV) and Fifth Street Finance (NYSE:FSC) all have higher projected returns with higher than average regular dividend yields. BDCs such as Gladstone Capital (NASDAQ:GLAD), Main Street Capital (NYSE:MAIN) and FS Investment Corp (NYSE:FSIC) also have higher returns but lower dividend yields unless you include special dividends.
Return Vs. Risk
The next table uses the projected and expected total returns from the previous table to show the variance between the two and then ranks each BDC according to higher than expected returns.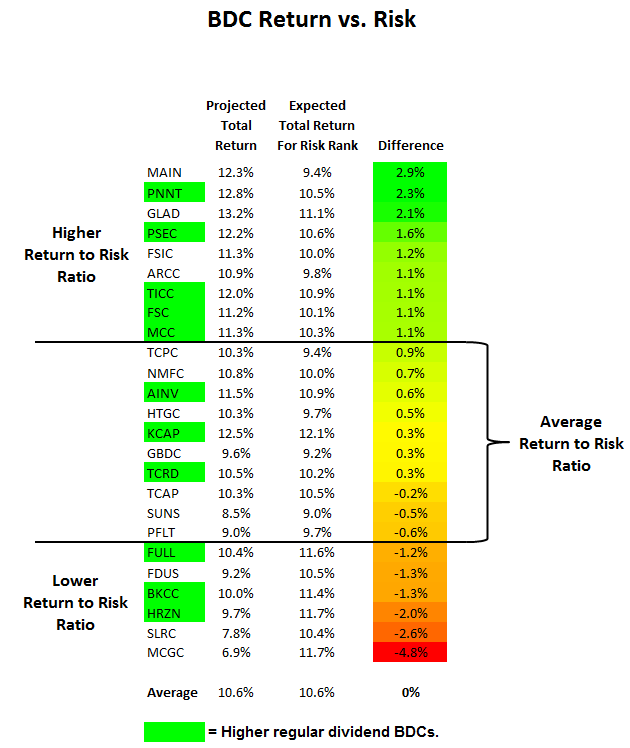 This portfolio is for investors that do not mind a bit more risk but would like to get the most 'bang for the buck'. PNNT, PSEC, TICC, FSC and MCC rank higher than the other high-yield BDCs.
Relative Valuations
BDCs are valued based on many things but mostly using multiples of NAV and earnings. Some BDCs are valued based on growth expectations of both NAV and dividends but I will not include these companies as a part of this analysis. The following table shows the current NAV and earnings multiples for each of the higher yield BDCs. For earnings I have used core net investment income ("NII") that excludes income and expenses related to capital gains as well as some of the other onetime expenses as discussed in "Part 1" of this series. Some investors believe that BDCs should only be priced on NAV multiples but this does take into account what the company can afford to pay in dividends to support higher yields to investors.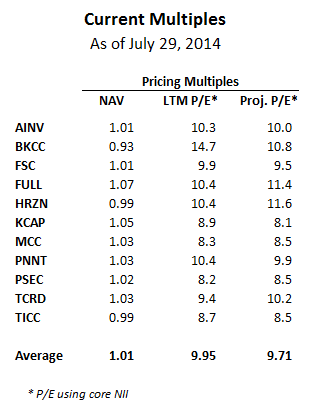 The next table uses the average multiples from the previous table applied to each company to come up with an implied price. I have ranked each BDC according to the variance between the actual and implied prices with the more underpriced companies at the top. Keep in mind that this is only using the average multiples for higher yield BDCs and does not take into account risk or projected returns with exception of the earnings multiple as discussed earlier.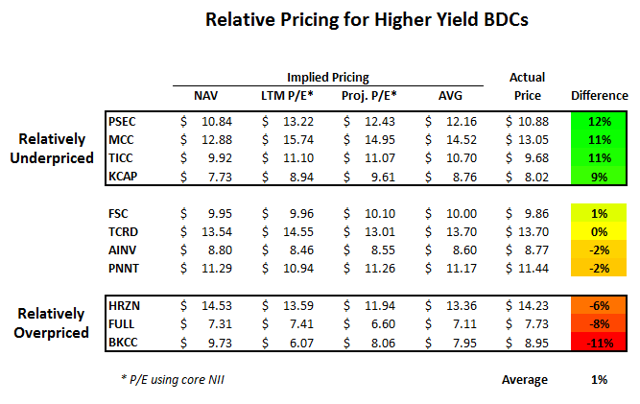 Using this analysis PSEC, MCC, TICC are KCAP are all undervalued, contributing to their higher yields, but FSC, AINV and PNNT and THL Credit (NASDAQ:TCRD) appear to be adequately priced and will be considered for this portfolio. Horizon Technology Finance (NASDAQ:HRZN), Full Circle Capital (FULL) and BlackRock Kelso Capital (NASDAQ:BKCC) have ranked lower on each analysis in this article and most likely will not be considered for this portfolio.
I will combine the results from this article with the others to finalize this portfolio as well as discuss UBS 2X Leveraged Wells Fargo BDC ETN (NYBDCL) as a component. Investors should only use this information as a starting point for due diligence and please see my frequently updated "Index to BDC Articles" for more information.
Disclosure: The author is long ARCC, FSC, FSIC, GBDC, HTGC, MAIN, NMFC, PFLT, PNNT, PSEC, TCPC. The author wrote this article themselves, and it expresses their own opinions. The author is not receiving compensation for it (other than from Seeking Alpha). The author has no business relationship with any company whose stock is mentioned in this article.
Editor's Note: This article covers one or more stocks trading at less than $1 per share and/or with less than a $100 million market cap. Please be aware of the risks associated with these stocks.