By: Clinton Holmes
I first discovered Inter Parfums, Inc. (NASDAQ:IPAR) when I was looking to pick up some dividend stocks back in 2013.
When trying to find strong dividend stocks, I prefer stable companies with simple business models and predictable earnings, so I know the underlying dividend is secure. What initially lured me in was the 30% dividend growth over the past 5 years, but what I found in Inter Parfums, Inc. during my due diligence was so much more.
With the recent market correction of IPAR shares, I wanted to take a few minutes and share what I love about the business and why I think shares are cheap.
The Business Model is Simple, but Protected.
On the surface, Inter Parfums, Inc. sells a very simple product; water plus some chemicals that smell good. That's it. The reality is, it is very difficult to replicate what it does.
Perfume chemistry is one of the most complicated sciences to learn, and perfumers require YEARS to hone their craft before becoming experts. With more than 30 years in the business, Inter Parfums, Inc. has proven it knows how to innovate and design fragrances that match the perception of some of the most prestigious brands in the world. With product fragrances in over 100 different countries, you've probably seen at least a few of its design fragrances in your local Macy's (NYSE:M).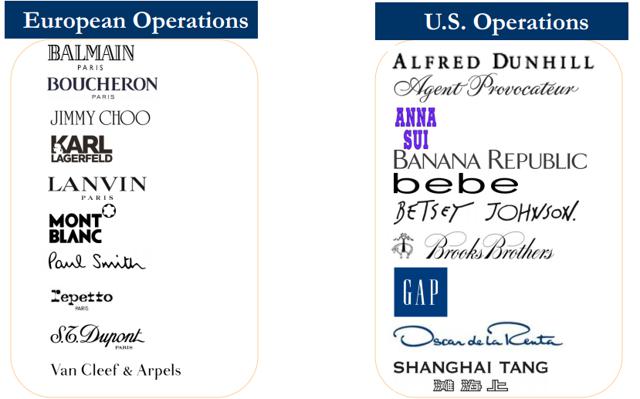 In addition to the moat created by the amount of time it takes to train professional perfumers, Inter Parfums, Inc. is also protected by its licensing contracts.
While Inter Parfums, Inc. does own and market a few fragrances of its own, a large number of its fragrances are developed for designer brands through licensing contracts. In the negotiations with these designer brands, Inter Parfums, Inc. tries to obtain long-term, exclusive licensing agreements that prevent other perfumers from stealing its business. Below is a list of current contracts from the 2013 Annual Report: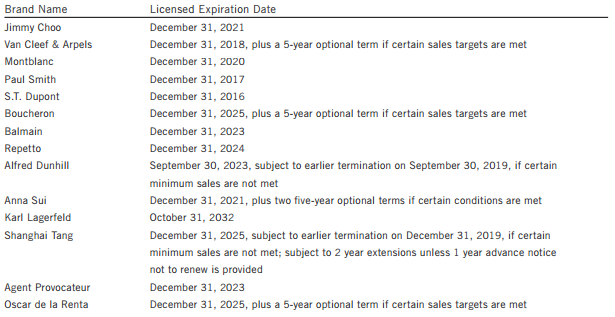 Just look at all of those protected revenue streams. Only 3 of the 14 contracts on the list expire in the next 5 years. Additionally, these contracts tend to have optional buyout clauses that protect Inter Parfums, Inc.
This is exactly what happened near the end of 2012 with Burberry. According to the 2013 Annual Report, after more than 20 years of 25% CAGR under Inter Parfums, Inc. management, Burberry exercised the option to close the contract and bring operations in-house by paying a one-time cancellation fee of $236M; an amount almost double Q2 2014 sales of $118M. While the loss of business is never a good thing (in the case of Inter Parfums, Inc., Burberry is only a small setback, but more on that later), I don't know of many other businesses models where the loss of business earns you a giant lump sum of cash.
Fundamentals are Strong
No matter which financial statement you look at, the business is strong; so let's start with the income sheet.
Net sales, excluding Burberry, grew 23% year-over-year since 2009, and are estimated to close at just under half a billion in 2014.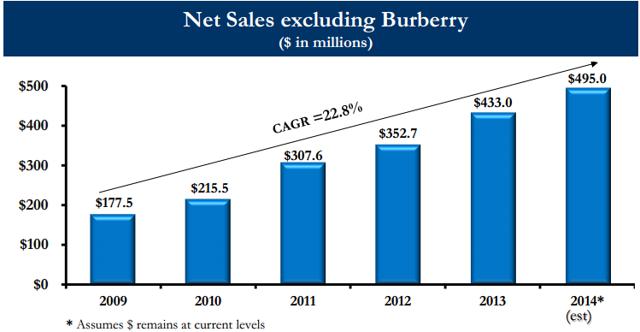 (Graphic from 2014 Investor Presentation)
Gross margin has consistently been at a healthy 55%, and management has kept the ratio of operating expenses-to-net sales at just under 45%.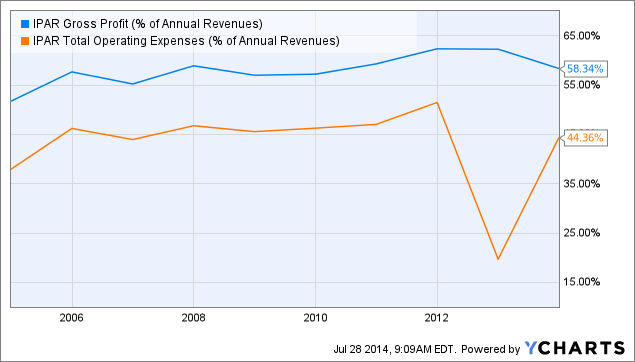 IPAR Gross Profit (% of Annual Revenues) data by YCharts
The consistency of these metrics is not really surprising given the licensing contracts I explained earlier, but as a result, the net income is also relatively consistent.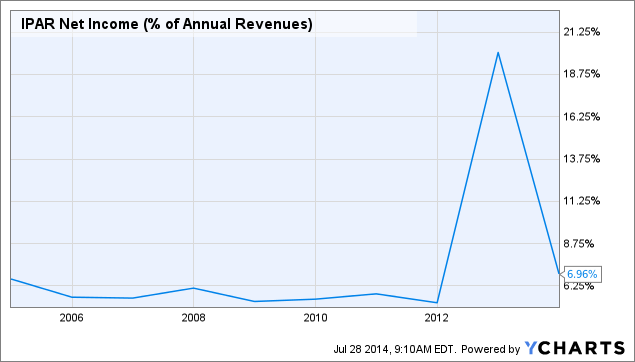 IPAR Net Income (% of Annual Revenues) data by YCharts
With no R&D expense, and low capex, generally less than 1.5% of sales, this consistent income can be used to grow dividends or buy back shares.
Turning to the balance sheet, Inter Parfums, Inc.'s cash position and retained earnings have been growing, and show signs of a durable moat and a strong business model.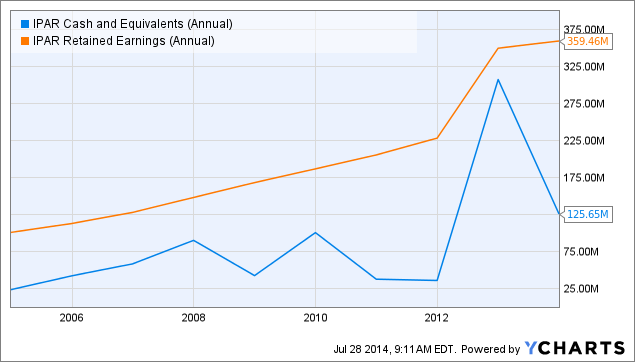 IPAR Cash and Equivalents (Annual) data by YCharts
Additionally, Inter Parfums, Inc. carries no debt, and according to Scottrade, maintains a current ratio of 4.9 and a quick ratio of 3.8, leaving it well-funded for any unpredictable events.

Potential Future Catalysts
With the loss of the Burberry business, Inter Parfums, Inc. needs a strong catalyst to drive up the price of IPAR shares. I believe that will come with the 2014 fragrance launches.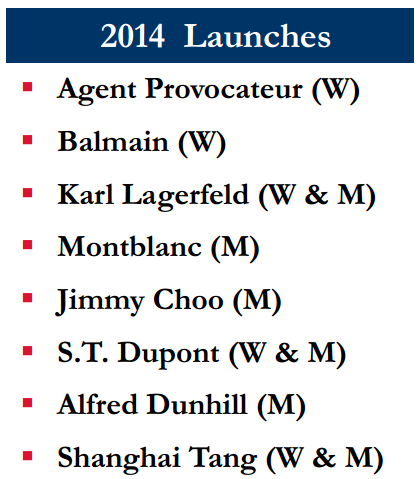 (Graphic from 2014 Investor Presentation)
Of the eight launches, two stand out as potential catalysts: the new male Jimmy Choo fragrance called Man, and the new male Alfred Dunhill fragrance called Icon.
According to Yahoo Finance, there is pent-up demand for the new Jimmy Choo Man. The fragrance, which is to be launched this Fall, already has higher-than-expected backorder log. Additionally, more robust sales are expected throughout the back half of the year. This is a good sign of strong growth for a core brand in the Inter Parfums, Inc. portfolio.
In Q4 2014, Inter Parfums, Inc. will launch the new Alfred Dunhill Icon. This is important because, according to CEO Jean Madar, U.S.-based sales declined in late 2012 and 2013, mostly due to the takeover of the legacy Dunhill fragrances. Alfred Dunhill Icon is the first fragrance to launch since Inter Parfums, Inc. took over Dunhill, and offers the first chance to turn around the sales decline.
Why I Think Now is the Time to Buy IPAR Shares
It's simple, they are cheap. The Street punished IPAR shares almost 20% since last year.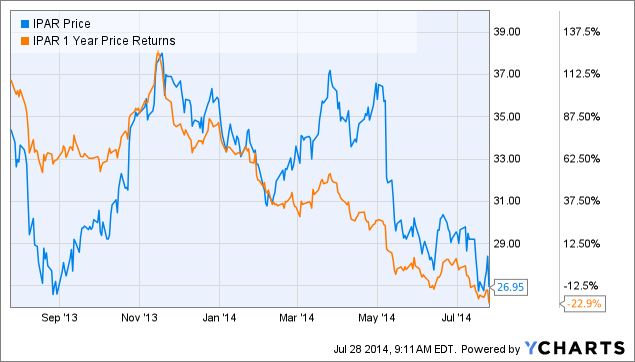 A large percentage of that decline happened between May and June. I believe the reason for this can be found in the chart below.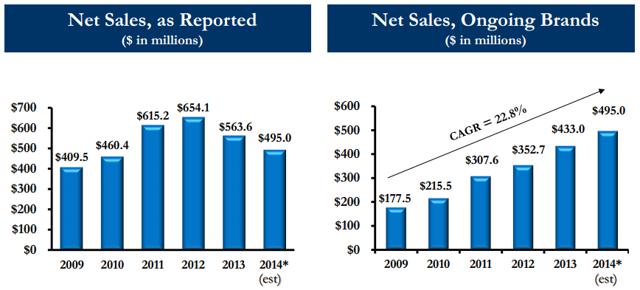 (Graphic from 2014 Investor Presentation)
I believe Wall Street analysts are only looking at the chart on the left and completely ignoring the chart on the right. Yes, the loss of the Burberry contract hurt, but it's only temporary. Should Inter Parfums, Inc. hit the 2014 estimate and continue to grow ongoing brands at the 22.8% CAGR over the next five years, sales could reach just under $1.4B by 2019.
Assuming the net margin is about 6%, consistent with historical performance, and shares outstanding remains around 31M, earnings per share in 2019 would be $2.68. Using the current P/E of 21.25, which, based on the chart below, is close to the historical midpoint, that would value shares at about $59 per share by 2019. Buying at today's price of just under $27 per share would create a CAGR of 17% over the next 5 years.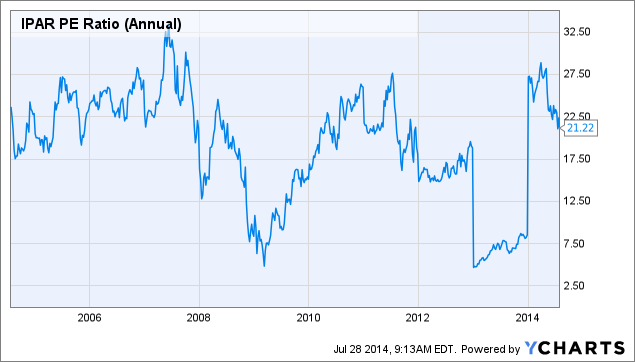 IPAR PE Ratio (Annual) data by YCharts
Should there be P/E expansion to, say 27, shares would be worth just over $72 per share, representing 22% CAGR.
The Final Word
IPAR shares, at their current levels, are undervalued. I believe has the market has a short-term focus and over-corrected for the Burberry contract. Shareholders are not looking at the potential future growth of this strongly protected, simple business.
Disclosure: The author has no positions in any stocks mentioned, but may initiate a long position in IPAR over the next 72 hours.
Business relationship disclosure: Black Coral Research, Inc. is a team of writers who provide unique perspective to help inspire investors. This article was written by Clinton Holmes, President of Black Coral Research Inc. We did not receive compensation for this article (other than from Seeking Alpha), and we have no business relationship with any company whose stock is mentioned in this article. Black Coral Research, Inc. is not a registered investment adviser or broker/dealer. Readers are advised that the material contained herein should be used solely for informational purposes. Investing involves risk, including the loss of principal. Readers are solely responsible for their own investment decisions.