By Anders Myhran, Municipal Portfolio Manager
Many investors say they don't want to own bonds because interest rates are going up. They would have a point if yields were to shoot up tomorrow or next week. Since most bonds and bond funds include some degree of interest rate sensitivity (duration), it is all but unavoidable that if yields rise, prices will fall. While investors are understandably concerned about what can happen to the price of a bond or bond fund, there seems to be little or no recognition of the shock-absorbing effects of a bond's income component.
Don't forget the income in fixed income
Risk, and the fear it often instills, can cloud investors into thinking only about the here and now. Fixed income investing is a balancing act between the shorter-term (price volatility) and the longer-term (income). The short term is often driven by changes in interest rates and the resulting impact on prices. The long term is largely driven by bond coupons and the income received for holding the investments. Together, price changes and income received - make up total return. It is the combination of these, which is the true measure of investment performance. As we consider longer holding periods, income becomes a bigger driver of total return and will eventually be the defining element of it, rendering price changes less important.
Being on the sidelines may feel safe, but it has its risks too
In today's environment, where yields on cash investments are painfully low, the opportunity cost of being uninvested can be significant. For some time, many investors have been out of the game because "everyone knew" yields were going higher. Unfortunately, for many investors, the markets haven't cooperated. In May of 2012, it may have felt safe to be in cash. Over the next 12 months the Barclays Short-Term Muni Bond Index returned 0.37% while the broad muni market index advanced more than 3%. Similarly, in May of 2013, the desire to get out of the way of higher rates may have been even greater. Again, the next 12 months saw the same broad market index tack on another 3+%, while the short-term index added just under 0.4%. Being on the sidelines for those two years would have cost an investor over 5% in excess cumulative returns. It's worth noting that during each of these 12-month periods, prices in the muni market actually declined slightly due to yields moving higher. It was the income that kept total returns positive.
Like most good things in life, time rewards
To illustrate this, let's consider a hypothetical situation. Using the June 18 single-A muni market reference yields as our starting point, and assuming rates increase 100 basis points (1%), what would be the expected total return for a 10-year bond over various holding periods? As Exhibit 1 shows, the immediate impact of this change is indeed quite painful: a nearly 8% hit to price with no offsetting income to cushion the blow. Over time however, this negative price return will be mitigated by the ongoing income generated. By year two the 10-year bond is back into positive territory and by the end of year three it has a positive cumulative total return of more than 6%.
Exhibit 1: Impact of 100 basis point increase in interest rates
10-year single A-rated muni bond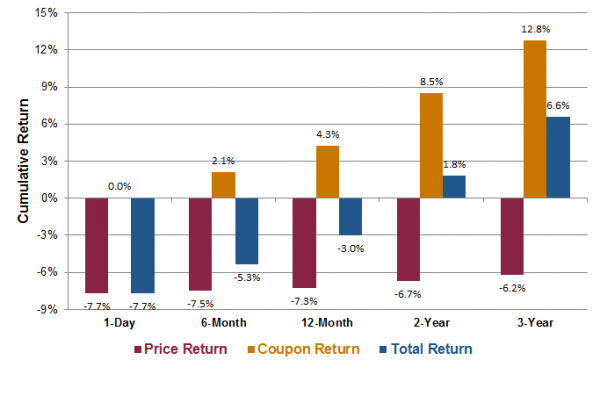 Sources: Barclays, Columbia Management Investment Advisers, LLC. Past performance does not guarantee future results.
Additionally, due to the muni yield curve typically being steeper than most other fixed-income asset classes, time benefits the holder of muni bonds in a secondary way by creating a greater reduction in yields as bonds "roll down the curve." This natural decline in yields for shorter maturities is another shock-absorbing impact of the passage of time in the fixed-income market.
History versus theory
A hypothetical exercise may be interesting, but what about actual history? Exhibit 2 provides the rolling two-year annualized total returns for two widely used Barclays municipal bond indices. Over the past 22+ years, the intermediate-maturity index has never registered a negative two-year total return. Also, the two-year return of the longer-maturity broad muni market index fell below zero only briefly in late 2008 during the worst of the Great Recession, and even that selloff was quickly reversed. Importantly, there were several periods during which yields increased significantly: on two occasions, the 10-year Treasury yield increased between 225 and 250 basis points (bps) from their previous lows, and more recently from July 2012 through December 2013, the 10-year Treasury yield backed up over 150 bps. During all of these periods of rising interest rates, these two muni market indices maintained positive two-year total returns.
Exhibit 2: Rolling two-year total returns of muni market indices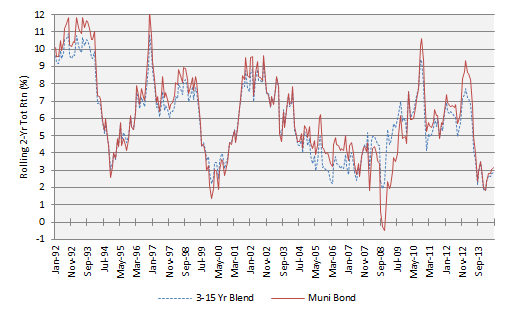 Source: Barclays. Past performance does not guarantee future results.
Leave the crystal balls to the psychics
Understanding one's risk tolerance and investing accordingly are essential to any well-grounded financial plan. Rethinking, reassessing and rebalancing portfolios is an exercise all investors should do regularly. Reigning in risks here and letting them out there is a vital part of this ongoing process. But when it comes to fixed-income investing in general, and municipal bonds in particular, no one knows when interest rates are going to rise, let alone by how much. Fear of losing out tomorrow may prevent us from staying invested today and realizing happier returns over the long-run.
Disclosure: There are risks associated with an investment in a municipal bond fund, including credit risk, interest rate risk, prepayment and extension risk, and geographic concentration risk. In general, bond prices rise when interest rates fall and vice versa. This effect is more pronounced for longer-term securities.
Income from tax-exempt bonds may be subject to state and local taxes and a portion of income may be subject to the federal and/or state alternative minimum tax for certain investors. Federal and state income tax rules will apply to any capital gain distributions and any gains or losses on sales.
It is not possible to invest directly in an index.
Columbia Management and its affiliates do not offer tax or legal advice. Consumers should consult with their tax advisor or attorney regarding their specific situation.
Disclaimer: The views expressed in this material are the views of the author through the date of publication and are subject to change without notice at any time based upon market and other factors. All information has been obtained from sources believed to be reliable, but its accuracy is not guaranteed. There is no representation or warranty as to the current accuracy, reliability or completeness of, nor liability for, decisions based on such information and it should not be relied on as such. This information may contain certain statements that may be deemed forward-looking statements. Please note that any such statements are not guarantees of any future performance and actual results or developments may differ materially from those discussed. There is no guarantee that investment objectives will be achieved or that any particular investment will be profitable. Past performance does not guarantee future results. This information is not intended to provide investment advice and does not account for individual investor circumstances. Investment decisions should always be made based on an investor's specific financial needs, objectives, goals, time horizon and risk tolerance. Please see our social media guidelines.