The great Australian housing bubble debate is gathering momentum. In recent weeks, several international observers have released warnings that Australia's housing market is severely overvalued. For instance, in its latest survey of global house prices, the Economist estimates that Australia's housing market is 63% overvalued based on its analysis of "fair value" in housing, which is based on comparing the current ratio of house prices to rents with its long-run average (see below table).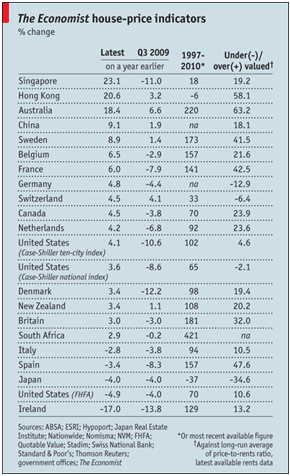 Meanwhile, in his latest quarterly newsletter to GMO investors, Jeremy Grantham again warns that the Australian housing market is an unmistakable bubble waiting to burst, although the speed of the decline is very uncertain.

Outside of a handful of bloggers (including yours truly), Grantham's claims that Australia's housing market is a bubble has received strong objections from the mainstream media, banks, and economists who claim that Australia's housing market is underpinned by solid fundamentals, including a strong economy, high immigration and chronic housing shortages.

One well known perma-bull, who has staked his reputation on the robustness of Australia's housing market, has even labeled Grantham's claims "sensationalist and spurious" and has asked "Mr Grantham to cease and desist from his hyperbolic jawboning", and offered him a $100m bet on the direction of house prices.

For their part, Australia's two largest banks - the Commonwealth Bank of Australia (CBA) and Westpac (NYSE:WBK)- both of whom are very large issuers of debt in global capital markets and have the most to lose from a housing bust, have recently released reports on why Australia's housing market is sound. The CBA's presentation, prepared as part of a global investor roadshow, received widespread condemnation for using dodgy data and self-serving rhetoric. Likewise, Westpac's report has been attacked in the blogosphere for down-playing the risks inherent in Australia's housing market (see here and here).

The stakes were raised last week when the Reserve Bank of Australia (RBA) raised interest rates by 0.25%, which was quickly followed by a further 0.20% increase (0.45% in total) by Australia's largest lender, the CBA (the other banks are expected to follow shortly). The Opposition Treasury Spokesman, Joe Hockey, had earlier made the case that the Government needs to act to rein in unilateral interest rate rises and called for "...a mature debate about the future of banking here in Australia and the challenges around the world", as well as the establishment of another Financial System Inquiry to examine these issues. (The previous 'Wallis Inquiry' was completed in 1997.) With pressure building following the CBA's unilateral interest rate increase, the Government has now committed to release measures aimed at improving competition in the banking sector.

Adding to the hysteria, these interest rate rises have come at a time when Australia's capital city house prices are starting to fall (see below table), whilst auction clearance rates are at two-year lows.
Click to enlarge:





The banks are vigorously defending their position arguing that their costs of wholesale funding are rising as cheap borrowings undertaken prior to the global recession need to be rolled-over at a higher rate.

The chief lobbying group for the banks, the Australian Bankers Association (ABA), argues that bumper profits are needed to allay concerns of international investors about a potential housing bubble, and attributes worries about Australian house prices on overseas markets as part of the reason for any extra rate hikes by its members. According to the ABA's chief, Steven Munchenberg:
Over the last few weeks, we've had a lot of international investors asking very detailed and probing questions about why it is Australia thinks it doesn't have a housing bubble... Bankers were grilled at length as to why investors should not be worried Australia has a housing bubble... [The Australian banks remain] very conscious of the risks of international investors becoming nervous about investing in Australia.
Then in another article, the ABA chief elaborated further on the risks the banks face:
The danger ultimately is that if we can't raise that money offshore, we can't lend it in Australia. And then what you get is credit rationing...You get people running businesses who can't get loans or renew their loans. You get people who can't raise money to buy their house, and that's a far worse situation...I can't honestly tell you that we need exactly 'this much' profit to keep those international investors happy so they keep putting money into Australia. But I can tell you that they want to see solid profits to do that.
In a similar vein, the CBA Chief Executive, Ralph Norris, has defended his bank's actions whilst warning that political action against the banking sector could hurt their ability to raise funds offshore:
The Commonwealth Bank chief executive, Ralph Norris, says the prized AA credit ratings of the big four banks could come under pressure from Canberra increasing regulation or pushing through controls on mortgage pricing.

Speaking publicly for the first time on the interest rate furore engulfing his bank, Mr Norris said political fire directed at the industry was creating uncertainty among overseas investors.

In the end, jawboning on interest rates and by us not moving on interest rates creates uncertainty in offshore markets, Mr Norris told Weekend Business.

I've had a lot of negative comments from investors internationally in recent weeks that Australia does not look like a particularly business-friendly environment from the point of its politicians.
Curiously, at the same time as denying the existence of a housing bubble, the CBA appears to be trying to escape the market they were part of creating, by reducing its exposure to mortgage lending:
The Commonwealth Bank has been building up its domestic mortgage book at an anaemic rate while mounting a fierce argument that the nation has not suffered a housing bubble.

Data from the banking regulator [APRA] suggests that Australia's biggest mortgage lender is increasingly averse to new lending, growing its home loan book at the slowest rate among the major banks.

CBA's total mortgage lending grew by just 0.36 per cent in September -- the same month that chief executive Ralph Norris travelled abroad to assure investors there was no property bubble in Australia.
The heart of the issue: Trillions in debt
As discussed in my earlier article, The Great Australian Housing Bubble, the Australian banks have been willing enablers of Australia's housing bubble via their:
increased emphasis on housing lending relative to other forms of lending (such as lending to businesses);

which has been funded to a large extent by heavy offshore (foreign) borrowings.
This structural shift toward housing lending is clearly evident by the below chart, which shows the dramatic rise in mortgage lending as a percentage of total credit.
Click to enlarge: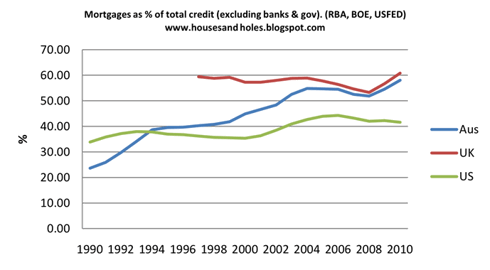 Regarding the banks' heavy offshore borrowing, consider first the below chart, which I have produced from Australian Bureau of Statistics (ABS) data, showing the breakdown of offshore borrowings by Australian depository corporations, split-out between short-term debt (maturing in less than 12 months) and long-term debt (maturing in more than 12 months). Depository corporations comprise banks (accounting for the overwhelming majority of foreign funding), building societies, credit unions and registered financial corporations.
Click to enlarge: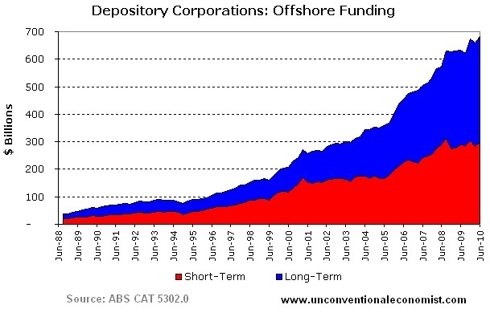 As you can see, offshore borrowings by depository corporations has exploded over the past 20 years, from around $50 billion in 1988 to nearly $700 billion currently.

Currently, depository corporations have around $300 billion of short-term foreign borrowings maturing within 12 months, in addition to another $380 billion of longer-term foreign borrowings outstanding. Other things equal, this $300 billion of short-term foreign borrowings must be refinanced within 12 months just to maintain the current level of credit within the Australian economy (let alone increase it).

Now consider the total value of Australia's residential housing stock split-out by equity and debt (see below). There is currently around $1.1 trillion of housing debt supporting $4 trillion of housing assets.
Click to enlarge: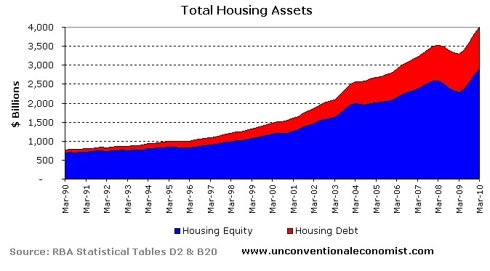 Finally, consider the below chart, which shows three indexes starting at January 2000 representing the growth in residential loan assets, bank deposits and offshore borrowings. It also includes a ratio to compare residential housing loans and deposits.
Click to enlarge: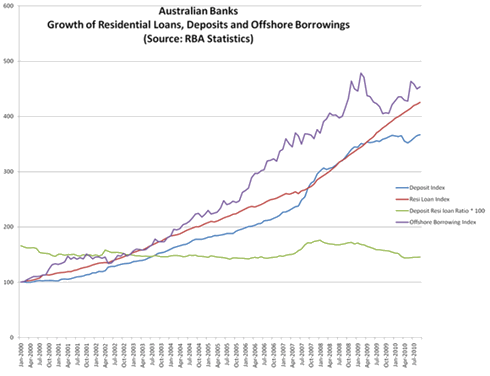 What should become increasingly clear is that the growth in Australian housing values has been funded, to a large extent, by foreign borrowings, much of it short-term.

The key risk is that the banks' ability to refinance their borrowings rests with the willingness of foreign investors to continue to lend them money. When times are rosy, perceived risks are low, and credit is freely available - such as prior to the onset of the global recession - the banks are able to refinance their foreign borrowings easily and cheaply. But in times of heightened risk-aversion - such as when Lehman Brothers collapsed in the dark days of the global recession - foreign investors are less inclined to continue extending credit. This leaves Australia's banks, house prices, and broader economy exposed to a sudden liquidity shock. This is the pro-cyclical nature of modern, risky finance. During good times, asset prices become inflated by easy credit. But when circumstances sour, credit is pulled-back, causing debt-deflation.

It is a matter of historical record that Australia's banks were saved during the global recession by the extraordinary measures undertaken by the Australian Government. The banks' inability to raise funds offshore at reasonable cost meant that, without the Government's support, their cost of capital would have risen dramatically, they would have had to immediately withdraw credit from the Australian economy, and might eventually have faced insolvency.

Fortunately for the banks, the Australian Government and Reserve Bank responded swiftly by unleashing a raft of measures aimed at supporting both their ability to borrow funds as well as their asset base (i.e. home values).

Measures undertaken to underwrite the banks' borrowings (liabilities) included:
The Government's Guarantee Scheme for Large Deposits (>$1 million) and Wholesale Funding, which functioned from 28 November 2008 until 14 March 2010;

The Government's Guarantee of Deposits <$1 million, which will remain in place until 12 October 2011; and

The RBA permanently relaxed the requirements on the assets that it accepts as collateral in exchange for loans provided to financial institutions (called 'repurchase agreements') [see here for a detailed examination of this measure].
On the asset-side, the Government successfully re-inflated the housing bubble through a temporary doubling of the First Home Buyers Grant to $14,000 for existing dwellings and $21,000 for new dwellings, as well as temporarily relaxing the restrictions on Australian home ownership by foreign citizens.

These measures were not costless to the Australian taxpayer. The wholesale funding guarantee has racked-up $154 billion of contingent liabilities for the Australian Government, whereas the deposit guarantee has accumulated around $600 billion of contingent liabilities. For its part, the temporary boost to the First Home Buyers Grant cost taxpayers in excess of $1 billion.

Of greater concern is that, although the Guarantee Scheme for wholesale debt and large deposits has expired, there is now the expectation that the authorities will support the banks when required going forward. Australia's too-big-to-fail banks are continuing to borrow heavily offshore under the cover of an implied government (taxpayer) guarantee that they expect will become explicit should foreign investor appetite for the banks' debt again fade.

The banks know they have Australian taxpayers over a barrel. They might as well be saying: "provide us with your backing or we will restrict credit, crashing both the housing market and economy and, in the process, destroying middle Australia's main source of wealth".

Where to from here?

With deposit growth flattening, business lending already cut-back, and offshore borrowing becoming more difficult in spite of implicit government support, where will future house price growth come from if credit is constrained? One industry insider believes he has the answer:
The big four [banks] are just starting to struggle to fund asset growth which has only been in residential mortgages. It all demonstrates that the fate of the housing market without further government intervention is way out of the hands of the RBA or any other regulator...


However, vested interests are working on the solutions to make it much much worse. The scenario is that the Government will be lobbied to bring back the guarantee on wholesale debt. However, so that this is directed straight at the housing market, the government will extend the guarantee only to residential mortgage backed securities (NASDAQ:RMBS). The Government will charge all issuers the same fee for the guarantee, a gesture at encouraging competition by allowing small and non ADIs access to funds. In return the Government will get some form of commitments to keep mortgage rates low or at least in line with the RBA rates - the gesture to appease the borrowers.

Of course these actions will result in nothing more than a further inject of air into the balloon. We'll all enjoy the temporary boost until the offshore investors realise that this is just another way of increasing Aussie Govt debt which is also increasing way beyond forecasts due to massive misallocation of resources and then suddenly... Bang!
Interesting times down here in the land of Oz. Watch this space...

Disclosure: No positions