HCA Holdings (NYSE:HCA) is a hospital chain that operates mainly in the US. After being taken private a number of years ago the company was taken public once more in 2011. Since that time shareholders have done very, very well and as we can see in the chart below, even in the past year shares have skyrocketed from $40 to $65. In this article, we'll take a quick look at HCA to see if it has more room to run or if the rally is at risk.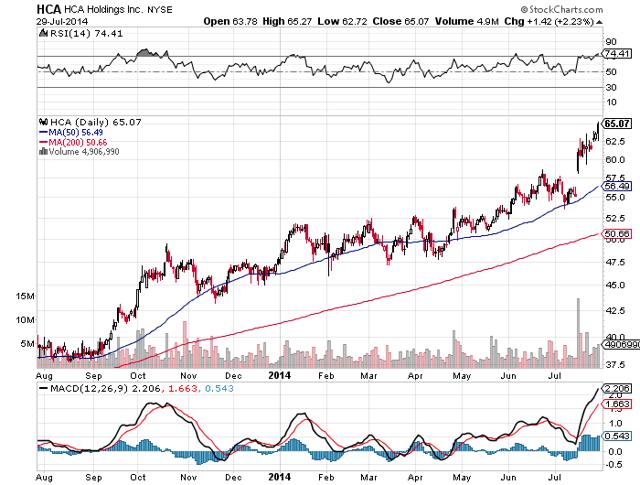 Click to enlarge
To start, the chart of this thing looks absolutely beautiful. We see some quick violations of the 50 DMA in the past year but past that, the uptrend is strong and has only strengthened in recent months. The 200 DMA is still moving up briskly and right now sits over $50. It would be difficult to find a better looking chart and shareholders must be pleased with HCA's performance.
Why has HCA ramped so much in recent months? Its operating results have been very strong. Its most recent quarter, announced yesterday, showed robust gains in revenue, operating income, EPS and hospital-specific metrics such as same facility admissions and revenue per admission. As these metrics are not unlike same store sales for a retailer they are closely watched for HCA and other equivalent firms.
In addition to the blowout quarter HCA also increased its revenue, operating income and EPS guidance for FY2014, again exceeding expectations. The company's new EPS guidance is for $4 to $4.25 and as you can see, the share price needed to be ratcheted up given those numbers increasing from $3.45 to $3.75. In other words, all is well at HCA right now.
Earlier this week HCA and other healthcare firms were up on expected upside due to Obamacare. Obamacare is increasingly becoming part of the payment landscape for healthcare firms of all shapes and sizes and HCA is not immune. However, it looks like the environment for customers that pay with Obamacare may be more favorable than perhaps first thought. We'll have to wait and see but if this turns out to be true, HCA stands to benefit unequivocally.
Analyst estimates haven't yet caught up to HCA's increased guidance from the most recent quarter but I will go with HCA's EPS estimates as the company has a lot more to lose by being wrong than analysts do. If we assume $4 in EPS for 2014, the low range of the guidance provided, we see shares trading at around 16 times earnings. However, we can expect strong earnings growth next year as well from HCA with analyst estimates coming in around $4.50 for 2015. Given that HCA just guided to within a quarter of that EPS number I'd expect there is upside to 2015's number as well. However, we'll have to wait and see what happens when the company begins to guide for 2015. Even if HCA only hits $4.50 next year the stock is still very cheap at only ~14 times forward earnings. If it guides above that we could be talking about 12 or 13 times forward earnings and given HCA's earnings growth, that would be far too low of a multiple.
One word of caution I'd offer on HCA, despite the unanimously positive operating metrics, is that the company has an enormous amount of debt. While it's not unusual for a capex-heavy company like HCA to have a high amount of leverage, HCA's market cap of $29 billion is only slightly more than the $28 billion in long term debt the company carries with it. That is a staggering amount of money for the company to owe and it is thanks to its time as a private company. HCA is paying roughly $2 billion per year in interest expense and considering the company is on pace to make about that much in 2014, the number is very, very high. It's not that I think HCA will be forced to go out of business due to its high debt load but this will crimp earnings for years and years to come. In addition, if we do see HCA struggle at some point in the future, this could come into focus for investors. Just a word of caution though as right now, investors really don't care how much debt HCA has.
Overall HCA is firing on all cylinders. The company is improving every meaningful metric it has, it just reported a great quarter and it increased guidance. If there is some additional upside from the regulatory and/or payment environment then HCA shares could still be off to the races. Despite the huge run up in shares I still think they're pretty cheap at only 14 times forward earnings. I'd prefer that the company not have so much leverage but that is how it is and isn't likely to change any time soon. The only word of caution I have on HCA is not with its operating results but its balance sheet. The company's prodigious debt load and negative retained earnings has produced a negative book value for the company and if HCA's operating results struggle at some point in the future, this will come into focus. But for right now, I think HCA is a buy.
Disclosure: The author has no positions in any stocks mentioned, but may initiate a long position in HCA over the next 72 hours. The author wrote this article themselves, and it expresses their own opinions. The author is not receiving compensation for it (other than from Seeking Alpha). The author has no business relationship with any company whose stock is mentioned in this article.