By Richard Bloch
My recent article on rare earth elements quoted Molycorp (MCP) CEO Mark Smith's October 21 interview on CNBC, where he mentioned a concern about a potential rare earths "bubble."
In a comment on Seeking Alpha, Disbeliever provided a link to an October 28 interview on Bloomberg, in which Smith said he made a mistake, that "bubble" was an "inappropriate term and I do apologize."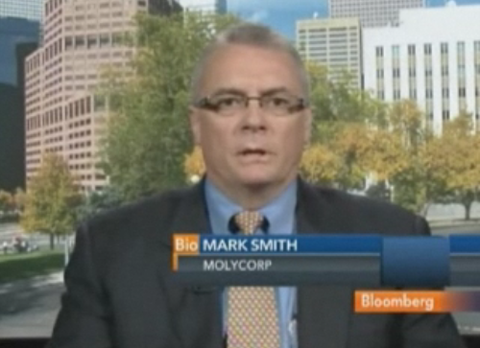 Click to enlargeI apologize that I didn't find out about Smith's apology until after the article was posted. Again, my apologies.
However, I'm going to give Smith the benefit of the doubt – as it may have been an honest mistake.
My take on it – and I think Smith might even agree with me – is this:
While specific rare earth oxides and refined metals and alloys may continue to remain in high demand, the industry itself has been the subject of a lot of hype, some of which could be explained by the recent launch of a rare earth/strategic metals ETF by Market Vectors (NYSEARCA:REMX).
As I mentioned in my original article, simply digging rare earth-laden ores out of the ground isn't necessarily "striking it rich." There's a lot of technology and engineering required to refine them into the oxides and alloys that are really what are in demand.
And many of them are indeed in high demand. Benjamin Bayer left a comment noting that one of the rare earths, neodymium, is used for making extremely powerful magnets (and is used in the Toyota Prius).
Powerful? You bet. If you hold a large enough one in your hand, you could break a finger if there's another magnet nearby.
As SuperMagnetMan says, please don't try this at home.
There may indeed be no "bubble" at all in the rare earths industry overall, but lately the hype seems as powerful as one of those neodymium magnets.