What's Happening at Tesla
Tesla Motors Inc (NASDAQ: TSLA), the manufacturer of electric cars as an alternative to gasoline driven cars, created a stir last month by making all its patents relating to design and manufacturing of its Supercharger proprietary technology available for free to the public, and more importantly, to industry competitors.
Elon Musk, the CEO of Tesla Motors, cited the necessity of eradicating dependence on gasoline in the future and the need to grow the market for clean vehicles as the reason for this path-breaking step. The stock market, surprisingly, reacted positively to the news, and the price of Tesla Motors stock has zoomed by nearly 50% since beginning of 2014 to $223 as of July 28, 2014.
Tesla Motors' flagship Model S has already sold ~22,000 units in 2013 and the Gen II and Gen III versions of Model S are expected to sell close to 75,000 units a year by 2015. The selling price of Model S when it was introduced was ~$70,000, before tax-credits. Performance enhanced Model S commanded upwards of $100,000, which drastically limited the market share. The company's recent March quarter of FY2014 has exceeded guidance by producing 7,535 Model S units and achieving a 27% increase in revenue to $713 million. The full-year 2014 guidance is positive, with 35,000 units of Model S sales and 28% gross profit margin target.

Click to enlarge
Source: InsideEVs - U.S. EVs and Hybrids Through June
The advanced Model X, expected to roll out units by 2015, has already started booking pre-orders. Estimates of over 18,000 reservations have been made. Couple this with Model S sales and Tesla's target of 500,000 units sold between the three models by 2020, then investors can begin to see how the current Supercharger capacity could become an issue with respect to queuing due to the charging times.
A large number of EVs expected by the year 2020 means charging points must increase
The growth of charging terminals for electric cars is necessary for the development of the entire electric car ecosystem. Tesla already operates 103 Supercharging stations in the North America and plans another 200 charging stations by the end of 2014. Tesla expects to install enough stations to provide the means for coast-to-coast travel for 98% of the US population and parts of Canada.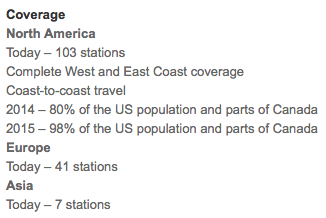 Source: Tesla Motors - Coverage of Supercharger Stations
While this appears to be a nice starting point with regard to expansion, growing inorganically by acquiring a charging terminal provider with a large existing network will be beneficial for Tesla. This could provide a cheaper and immediate solution to the challenge of charging points for Tesla EV owners.
Currently Tesla EV owners can charge their vehicles in several charging points, which are operated by different companies. However, if Tesla wants a seamless operating module, then acquiring one of these companies could be the ideal step to take. Note that Tesla's vision is for EV manufacturers to pay for charging fees, which contradicts the model employed by various car-charging companies.
Car Charging Group (OTCQB: OTCQB:OTCPK:CCGI) has 119 Fast charging stations across North America. Last year, it became the largest car charging company in the world post acquisition of the Blink Network, 350 Green and Beam Charging in 2013. It appears to fit the bill perfectly for acquisition by Tesla, especially considering its residential charging points.
Car Charging Group announced in June 2014 that its charging stations will now be compatible with all Tesla vehicles. This is a huge step for the company, especially considering the possibility of Tesla bidding for an acquisition. This is because it reduces some of the costs associated with integration into Tesla's business model in post acquisition.
Issues like the charging rate of the Tesla Supercharging station is 130 kWh, while that of the CCGI Supercharger is 50 kWh, which are some of the contradicting operative models between the two companies.
Car Charging Group's revenue model of charging a fee for EV Charging is also against Tesla Motor's vision, where the vehicle manufacturer pays for charging - all these will need sorting out in the case of an acquisition.
Does Tesla Really Need CCGI?
Car Charging Group boasts more than 13,000 charging stations, including residential charging points. The company has also signed multiple agreements with various property owners in bid to set up several commercial charging stations.
Now it would be unthinkable to try to compare the number of gasoline filling stations with the number of EV charging stations in the U.S. Nonetheless, according to Tesla CEO Elon Musk, the competition should not be within the EV industry, but rather against the gasoline emitting automobiles that manufacturers are churning out every day. This is why the company made free several of its patents. It wants to make clear the path to a pollution-free environment by encouraging automobile manufacturers to shift to clean energy-consuming vehicles. Musk discussed these views and the fundamental goal that Tesla set out for since its inception:
Our true competition is not the small trickle of non-Tesla electric cars being produced, but rather the enormous flood of gasoline cars pouring out of the world's factories every day. Tesla Motors was created to accelerate the advent of sustainable transport. If we clear a path to the creation of compelling electric vehicles, but then lay intellectual property landmines behind us to inhibit others, we are acting in a manner contrary to that goal. Tesla will not initiate patent lawsuits against anyone who, in good faith, wants to use our technology.
If indeed Musk wants to replace the entire fleet of gasoline cars in the future, then he will also have to find a way of replacing the gasoline stations with EV charging points. In fact, ensuring the swiftness in recharging EVs is paramount to the development of the industry, and as Tesla seeks to maintain its position as the benchmark in the EV industry, it must seek to lead in integrating charging points that will help its EV owners find ease in powering their cars.
While Tesla already has a good plan set for its Supercharger stations, Car Charging Group stands out having established a solid network for setting up several commercial charging points. The biggest challenge that CCGI faces is monetization of its assets. As for Tesla, this won't be necessary, because it already lets Tesla EV owners charge their cars free. Therefore, it won't be doing it for a top-up in revenue courtesy of charging fees, but rather to make sure that owning an EV feels more practical.
CCGI is currently in a transition, following its massive acquisitions last year and hence, revenues have slowed while it remains unprofitable. However, recent results suggest that there is significant improvement. This also means that Tesla could still generate some service revenue from non-Tesla EV owners.
The company has started 2014 on a strong note with revenue of $356k in Q1, which is almost half of full year 2013 revenue. A majority of its revenue came from EV service fees, with government grants and EV unit sales also adding to the overall revenue. The commercial electric vehicle charging units increased to 4,026 from just 102 last year following the acquisition of the Blink Network from ECOtality.
CCGI last raised equity of $1.9 million in March 2013, and used most of it in sustaining during the year. It currently has a cash balance of only $4.9 million as of March 2014. The group is in need of cash, despite having started registering substantial revenue this year. Based on recent developments and the well-established network for potential charging points, the current market valuation of about $48 million could prove conservative for Tesla, especially considering how useful the expansive EV charging network could be for the company in the coming years.
Disclosure: The author has no positions in any stocks mentioned, and no plans to initiate any positions within the next 72 hours. The author wrote this article themselves, and it expresses their own opinions. The author is not receiving compensation for it (other than from Seeking Alpha). The author has no business relationship with any company whose stock is mentioned in this article.
Editor's Note: This article covers one or more stocks trading at less than $1 per share and/or with less than a $100 million market cap. Please be aware of the risks associated with these stocks.