The regulatory environment for oil and gas development in Colorado is attracting a lot of attention. Citizens, concerned about the quality of air and water pollution, are pushing for tighter regulations. Having effected some of the most aggressive anti-fracking rules in the country last year which require 500 to 1,000 foot drilling rig set-backs from occupied buildings, a new 2,000 foot set-back proposal has been tabled for the November 4, 2014 ballot together with tighter controls over drilling. Somewhat belatedly, drillers are now coming together to fight the proposed measures; on July 16 Anadarko (NYSE:APC), Whiting (NYSE:WLL) and Encana (NYSE:ECA) announced that they will collectively spend $50 million to counteract the ballot proposals.
It will be interesting to watch this story unfold over the next 3 months. It may have implications not just for Colorado but, to a greater or lesser extent, for the shale oil and gas industry across the USA.
Shale drilling is providing unimagined benefits to the USA by way of huge numbers of high-paying jobs, a big drop in natural gas prices, a sea-change towards oil self-reliance, and enormous financial contributions to Federal and State coffers. On the other hand, it is clear that the shale drilling industry, still in its youthful development phase, has scope for more improvements, especially in the eyes of concerned citizens; further reduction of flaring, purifying and recycling water, reduction or elimination of damaging chemicals etc.
Perhaps the situation is best summed up by Gregory Zuckerman in his book The Frackers;
"Fracking has created less harm than the most vociferous critics claim but more damage than the energy industry contends."
What the Denver-Julesburg drillers say
This past week I contacted some drillers in Colorado's Denver-Julesburg basin, home of the Niobrara/Wattenberg formations, to try and ascertain how the new rules, as proposed, would impact them. Here is my take:
- The 2,000 foot set back applies to the point of spudding the well, not to the underground portion of the well. Therefore, once a driller obtains a clear drilling location the underground portion of the well is unaffected and can be changed by the driller.
- The impact on drillers during the next few years is negligible, not least because of the multiple drilling locations and choices they invariably have.
- There is little doubt that the 2,000 foot set back has a negative long-term effect compared to current regulations. Without clarifying how the ballot measures would be implemented including the potential for obtaining waivers, it is not possible to accurately quantify the impact of the measures today.
- Notwithstanding the foregoing, some drillers believe the new measures will have almost zero effect on them, whilst others seem to think that the new proposals will have a relatively small negative effect. Aside from a lot of modifying and reworking of approvals and permits etc and losing a small percentage of their drilling inventory, it appears that no company would be significantly damaged by the new proposals.
- There is strong and widespread concern that some citizens groups are excessively emboldened and vociferous and this, if unchecked, represents a real and substantial threat to the shale industry. And, because the drillers have gradually improved their environment practices during the past few years, they are now in a better position to fight back against overly-vociferous citizens groups so that the long term benefits of the shale industry are not lost or damaged.
Common sense would suggest that, for all concerned, there is too much to lose and that sensible compromises will be found, albeit after some polarized and heated exchanges in the meantime.
To learn more about the impact the proposed Colorado fracking initiatives may have on drillers and to understand what pro-active measures the drillers are taking, tune into upcoming conference calls. For starters refer to the conversations on Noble's July 24 Q2 earnings conference call, pages 3, 4 and the Q&As on page 9.
Will this altercation throw up investment opportunities?
We have all seen the movie before and we all know the answer; yes, assuredly, there will be attractive investment opportunities.
Frequently, the best value is to be found in the period when the uncertainties are most pronounced in the run up to a known negative event. With regard to the Colorado ballot issue, the period between now and November 4 should throw up buying opportunities. Given that the drillers seem to be one step behind the well-organized Colorado citizens, and that it was only July 16 when the drillers announced their $50 million war chest, we may see opinion swing away from approving the tabled proposals sooner rather than later because of push-back by the now-organized drilling group. Accordingly, rather than waiting until the days immediately before November 4 to find the best value, investors should be prepared to buy some deep value stocks as they occur anytime during the next three months.
This is not a recommendation to go in all guns blazing and to buy everything in sight. Rather, I'd suggest making opportunistic purchases from time to time as deep value is uncovered.
The main drillers in the Niobrara/Wattenberg include; Anadarko (APC), Encana (ECA), Noble (NYSE:NBL) Whiting (WLL), PDC Energy (NASDAQ:PDCE), Carrizo (NASDAQ:CRZO) and Bonanza Creek (NYSE:BCEI). Of these, PDCE's stock has recently been particularly hard hit and is attractive.
PDC Energy (PDCE)
PDCE has 97,000 net Niobrara/Wattenberg acres. Some touches near the outskirts of Greeley City and some is close to the smaller towns of Evans, Johnstown and Windsor. That said, it is clear that the great majority of PDCE's Wattenberg acreage is not located near built-up areas. Considering the distinction between the above-ground well location and the underground well positioning, the proposed rules are likely to have only a modestly negative impact on PDCE's drilling inventory. Certainly, nothing like the 30% hit the stock price has experienced this past six weeks. Also investors should keep in mind that PDCE's Wattenberg acreage only represents part of PDCE's overall drilling inventory.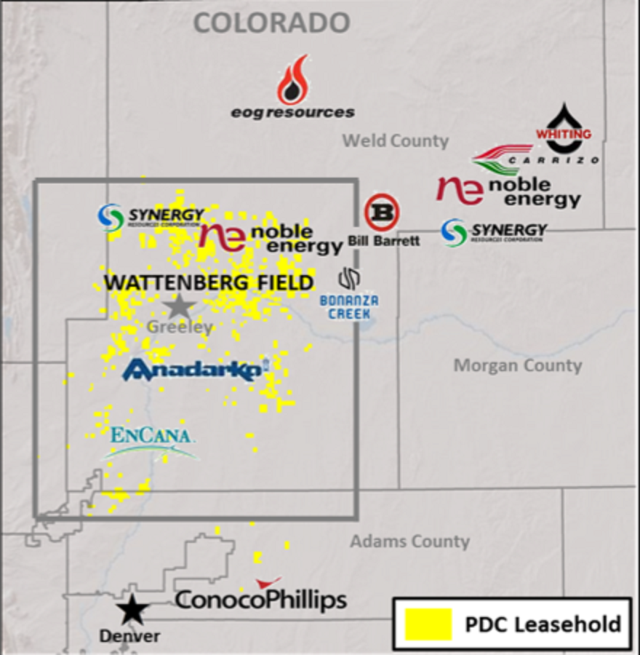 During the past three months, PDCE stock has had a total of 10 broker coverage notes. Of these 9 were upgrades, target price improvements or buy recommendations and only one was negative, that being a mere $2 price trim. Currently, PDCE stock trades at $51, the consensus target price is just under $77, equating to an upside of 50%.
PDCE is expected to earn $1.35 in 2014 and $2.76 in 2015. I estimate that 2016 EPS will be in the region of $4.75 based on a 27% production increase 2015-2016, down from 35% 2014-2015, and just a 1% improvement in LOE and other production costs. At today's $51 stock price, that would mean that in early 2015 - now just 6 months away - PDCE would be on a next year p/e of 10.7. Investors, familiar with shale stocks that have multiple years of potential growth, will immediately recognize that a next year p/e of 10.7 is cheap and that a handle of 15 or more would be typical.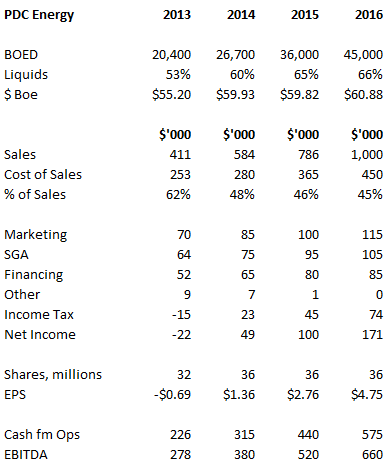 PDCE is forecast to generate EBITDA of about $380 million in 2014, approximately $520 million in 2015 and I estimate the 2016 number should be circa $660 million. At the current $51 stock price, the company's total economic value is $2.3 billion and, incorporating a $300 million increase in borrowings during the remainder of 2014, this takes total EV to $2.6 billion by year-end. Again taking the Spring 2015 perspective, PDCE would at that time have a next year EV/EBITDA multiple of 3.9. As such PDCE is a deep value play, a figure of 6 would be more normal.
Scott Black, Delphi Management Founder, Barrons Round Table member and guest on CNBC, identified PDCE as one of his top two stock picks on June 14, saying:
"PDCE had reserves at the end of last year of 266 million barrels of oil equivalent, up 38% from the prior year. They had proved oil reserves of 93.8 million barrels, with an estimated net present value of $18 per barrel, or $1.688 billion. It had 740 billion cubic feet of gas, which we value at $1.85 billion, and 48.7 million barrels of NGLs, with an estimated value of $365 million. The total is $3.9 billion. Add a gas-gathering pipeline that's worth $118 million, and gross value is $4.02 billion. Subtract net debt at year end of $580 million, and deferred taxes, and PDC is worth $3.44 billion, or $96 a share. At some point, this is a layup for a takeover."
Personally, I don't generally buy the notion of investing in the hope of a takeover. I believe that takeovers occur largely when a company is ready to sell itself and, given PDCE's multi-year growth prospects, I see no reason why the company would be sold. However, in this age of activist investors (note Soros' recent foray into Penn Virginia (PVA)) and, considering that PDCE is deeply undervalued on many metrics, it would hardly come as a surprise to see an activist arrive on the doorstep. Perhaps more so when you consider that the asset value per share would be over $100 at the end of 2014, thus offering a potential return of 100%. Pretty easy for an activist investor to make good money at that level, even without leverage.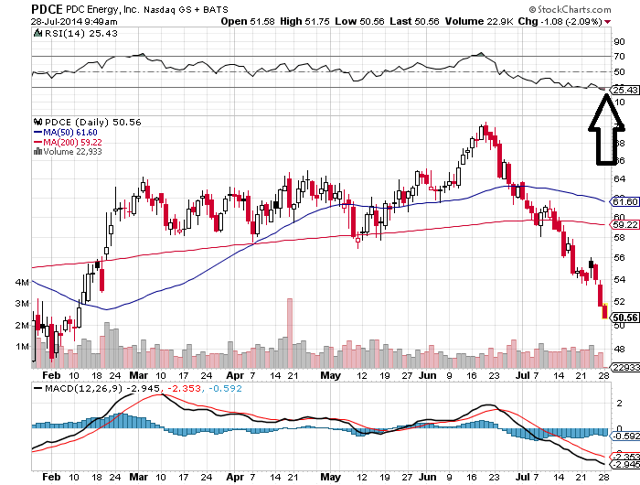 Technically, PDCE is oversold. Note the RSI line on the chart - it's showing a reading of 25.43, significantly below the 30 oversold line. Following the adage of buying low and selling high, PDCE stock is deep into in the buying zone. Whether or not it enjoys a quick short-term bounce is difficult to predict - I'll leave that to better short-term players than myself.
Summary
On several levels PDCE stock is cheap, fundamentally as well as technically. Given the deep value on offer, and the realization that stocks do indeed overreact to the upside and now to the downside ahead of a known November event, I remain confident that come early 2015, the stock should be significantly higher, probably 50% higher. That's an attractive return for 6 months.
In the meantime PDCE is due to report Q2'2014 results on August 8 and the Colorado fracking story will play out during the next three months culminating with the state wide ballot on November 4. Operationally, look for PDCE to point towards accelerating production growth in Q4 this year. After the Q2 earnings release, investors shouldn't be surprised to see brokers supporting the stock because of the large disparity between the current stock price and analysts' targets.
Disclosure: The author is long PDCE. The author wrote this article themselves, and it expresses their own opinions. The author is not receiving compensation for it (other than from Seeking Alpha). The author has no business relationship with any company whose stock is mentioned in this article.