My regular readers that follow me on Real Money Pro, Seeking Alpha or recently Investors Alley over the past six months know what a huge bull I am on Gilead Sciences (NASDAQ:GILD). Not only is it by far the biggest position in my portfolio but I also consider it the cheapest large cap growth stock in the market right now.
Although I have held the shares since the low $40s, I have kept adding shares to my portfolio, as I believe the Sovaldi juggernaut is just getting unleashed. I was especially active during the big biotech sell-off that triggered a decline into the mid $60s in March. This was a gift I do not believe will be repeated any time in the foreseeable future.
In previous articles I have discussed why Gilead's hepatitis C drug (Sovaldi) is on its way to being the biggest new drug in sales in the market in history. I have noted that Nomura believes this one drug will do over $20 billion in sales by 2018 by itself. Finally, I have shown in myriad ways how undervalued Gilead is even after tripling over the last two years.
What I have not done is demonstrate Gilead's incredible cheapness using graphical form against the market, competitors and against other large cap growth names. In this article, we will show Gilead's massive undervaluation in pictorial form, as I believe Gilead still has substantial upside in front of it.
One of the reasons I believe investors are slow to embrace Gilead's growth story is it almost seems almost too good to be true. Not only has the stock been a standout performer over the past two years tripling over that time frame, but one of the best performing stocks in the market since coming public in 1992. In fact, if you bought shares in the early 90s and are still holding them you are not reading this article; you are on your own private island somewhere near Tahiti sans internet access.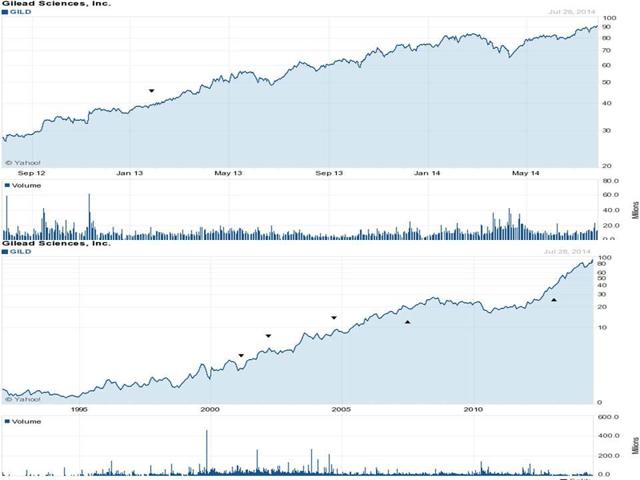 Click to enlarge
To highlight how cheap Gilead is let's compare it first to the other three major biotechs that make up the "Big Four" of the biotech sector. These consist of Celgene (NASDAQ:CELG), Biogen Idec (NASDAQ:BIIB) and Regeneron (NASDAQ:REGN). Let's compare all of the "Four Horsemen" of Biotech by earnings growth and forward price earnings ratios (See Chart).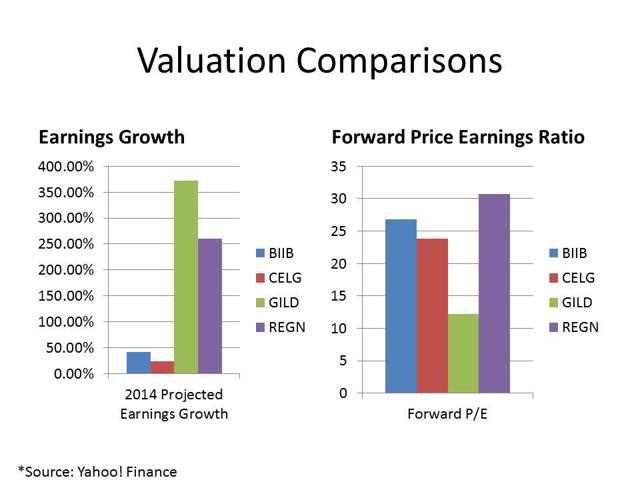 Click to enlarge
As one can plainly see, Gilead is easily outpacing its large biotech brethren by both measures. What about against other fast growing large caps like Google (NASDAQ:GOOGL), Facebook (NASDAQ:FB) or Salesforce (NYSE:CRM)? Let's take a look using the same measures.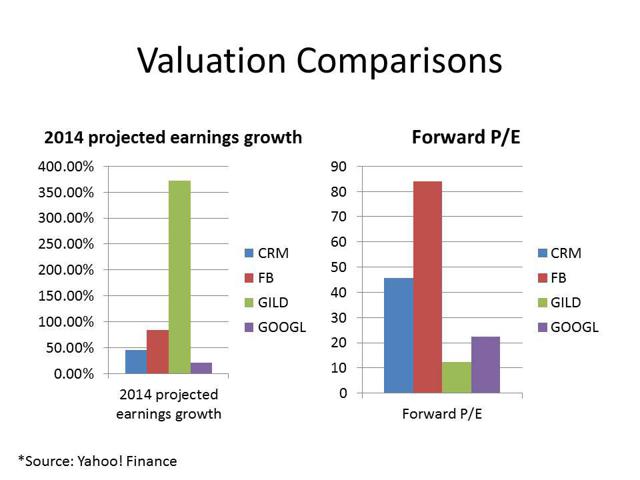 Click to enlarge
Gilead crushes these other large cap growth plays by these measures. Despite having a huge run over the last year, the stock has not kept up with earnings growth and is selling for a lower forward P/E now than it was a year ago.
Analysts have not been able to keep up with the blockbuster growth of Sovaldi and its impact to earnings. This can be seen in how earnings have come in during the first two quarters of Sovaldi's rollout, which has seen the drug already rack up ~$5.8 billion in sales. We can also look at how the consensus earnings estimate for both FY2014 & FY2015 has evolved over the past two months. A trend I expect to continue.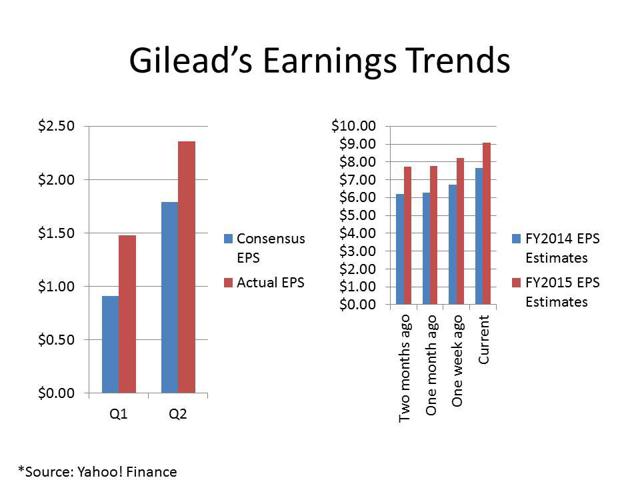 Click to enlarge
The Sovaldi story is in its early innings. The drug is not even marketed in huge potential markets like the U.K. and Japan. Gilead's other drugs, like its market leading HIV franchise, are seeing revenue growth of ~10% year-over-year.
Gilead also has drugs for certain types of leukemia and respiratory syncytial virus (RSV) in late stage trials. Given all these growth drivers, GILD should be priced at a premium to the overall market not a discount as it is now based on forward P/E.
The overall market is going for around 16 times this year's expected earnings. Slapping a still conservative 20 times this year's consensus earnings of $7.67 a share on Gilead gives me a price target of $153 a share. This is more than 60% above the current stock price of $93 a share. STRONG BUY
Disclosure: The author is long GILD. The author wrote this article themselves, and it expresses their own opinions. The author is not receiving compensation for it (other than from Seeking Alpha). The author has no business relationship with any company whose stock is mentioned in this article.