Executive summary
There are some innovative, smaller companies out there that have leveraged the increasingly complicated and unpredictable pharmaceutical industry through diversifying their portfolio of assets across numerous technology types, therapeutic indications, drug targets and industry partners. Ligand Pharmaceuticals (NASDAQ:LGND) is no exception.
During a time of impending patent expirations on major blockbuster drugs, which have placed top-line pressure on large pharmaceutical companies, as well as increasing competition in many therapeutic areas, I believe Ligand has amassed one of the largest and most diversified portfolios of royalty-generating assets in the industry.
Thus, for those investors who've been searching for a de-risked mid-cap pharmaceutical play with encouraging prospects for long-term growth, I believe Ligand could be a great fit. Continue reading and I'll tell you why.
Size matters
In the pharmaceutical industry, it's prevalent that size matters -- that is, the size of the pipeline, of course. The primary reason an extensive pipeline can make all the difference is that it can potentially offset the dismal success rate for therapeutic indications across the board.
After all, clinical failure pervades the industry, and the strict regulatory climate often places a chokehold on smaller companies that lack the money, resources and expertise to bring a product to market. What recourse is typically available for these companies, you ask? Shareholder dilution, unfavorable business deals and, in the most extreme cases, nothing at all.
However, I am confident that Ligand doesn't fit this description, since its drug candidates are based on a plethora of technologies and mechanisms of action, and are similarly targeting a plethora of therapeutic indications. While it would be taxing to list all of them, the more lucrative indications include multiple myeloma, diabetes and hepatitis, representing roughly $4.4 billion, $50 billion and $15 billion market opportunities for Ligand, respectively.
Captisol fuels Ligand's engine
The product that powers Ligand's engine is the patent-protected Captisol technology platform, which creates new products by improving the solubility, stability, bioavailability and dosing of active pharmaceutical ingredients. In simpler terms, it helps improve the efficacy of active pharmaceutical ingredients.
Thus, Captisol is in high demand, so when it comes to pipeline size, it's no surprise that Ligand has established over 90 collaborations with some of the largest pharmaceutical companies in the world, including GlaxoSmithKline (NYSE:GSK), Amgen (NASDAQ:AMGN), Merck (NYSE:MRK), Pfizer (NYSE:PFE), Baxter International (NYSE:BAX) and Eli Lilly & Co (NYSE:LLY). For more information on Captisol, click here, although I think the fact that all of these major pharmaceutical companies want their hands on it indicates just how valuable the technology is.
"Many shots on goal" is an understatement
With over 90 collaborations comes over 90 shots on goal, and in no way is this a small figure. In fact, I believe that the number of collaborations Ligand has acquired is astounding, considering that 90 collaborations is more consistent with the capacity of major pharmaceutical companies, not a company like Ligand which has a sub $2 billion market cap. Nevertheless, it's important to note that Ligand's Phase 1/2 compounds inherently have a low rate of success.
Precisely, non-oncology Phase 1 clinical candidates only have approximately 12.1% combined success rate, which lowers to approximately 6.7% for oncology indications. Furthermore, the Phase 2 clinical success rate is dismal, reflecting approximately 18.6% for non-oncology indications combined, while approximately 10.3% for oncology indications. Statistics improve in Phase 3, up to 53%. All things considered, what does this suggest with respect to Ligand's future growth prospects?
(Image source: Ligand.com)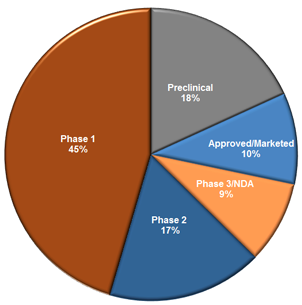 As it stands, and according to percentages listed on Ligand's website, it has a total of 110 clinical products. 18% (20 products) are in preclinical trials; 45% (50 products) of Ligand's portfolio assets are in Phase 1; 17% (19 products) are in Phase 2; 9% (10 products) are in Phase 3/NDA; and 10% (11 clinical products) are approved/marketed. Thus, a strict statistical analysis would undoubtedly conclude that the majority of the 45% and 17% of compounds in Phase 1 and 2 clinical trials, respectively, will fail. Success rates for oncology/non-oncology preclinical assets are not provided, but it's safe to say that they are worse than the dismal, respective Phase 1 success rates.
Unfortunately, the extent of which I can calculate the success rate for each segment of Ligand's pipeline is limited, namely due to the fact that the company has not publicly disclosed over 25 of its 90 collaborations, making it impossible for me to decipher which products are indicated for oncology and non-oncology (as a reminder, each indication has a different success rate). If I had such information, I could calculate the precise success rates for each of Ligand's pipeline/clinical segments. Nevertheless, statistically speaking, the margin between the success rates of oncology and non-oncology phase 1 products is arbitrary, and, thus, it should not impede my analysis, my intents and purposes.
Pipeline breakdown
(Image source: Ligand.com)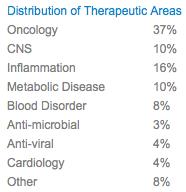 What we do know is located on the right and in the chart above. For our purposes, let's assume that the 37% of Ligand's therapeutic assets indicated for oncology are dispersed primarily among Phase 1/2, which is reasonable, in my opinion. Ligand's website shows that only two of Ligand's 40 oncology assets are marketed, while the remaining oncology assets are only partially disclosed. With respect to Ligand's 50 Phase 1 assets, suppose 15 products are indicated for oncology, while 35 are indicated for non-oncology. Considering the success rates for each respective indication, only one of Ligand's 15 supposed phase 1 oncology assets is statistically supported to receive approval.
Further, only four non-oncology Phase 1 assets are statistically supported to receive approval. So in total, Ligand is supported to advance a total of five of its 50 Phase 1 assets. Proceeding to Phase 2 assets, Ligand has 19 products. Suppose six of these are indicated for oncology, and the rest of the 13 are indicated for non-oncology. Again, from a statistical standpoint, only two of Ligand's 13 supposed non-oncology Phase 2 assets are supported to receive approval, while zero of the six indicated for oncology are supported to receive approval. So in total, out of Ligand's entire Phase 2 asset portfolio, only two clinical candidates are supported to receive approval at some point in the future.
According to the website, Ligand has 10 clinical products currently in Phase 3. Ultimately, I see only one clinical candidate indicated for oncology on Ligand's website, so I employ the >50% success rate for non-oncology indications for nine of 10 products. Thus, I calculate that five of Ligand's phase 3 products are supported to receive approval based on <50% success rate. However, the success rate increases by 30% as products progress to NDA, so it's possible that three additional products could be supported to receive approval, but Ligand doesn't fully disclose the Phase 3/NDA asset breakdown. Again, this is solely from a statistical standpoint, and it neither reflects Ligand's expertise, nor the sophistication of its technology. Regardless, I'm by nature a conservative investor, so it's very difficult for me to overlook what the statistics show.
What does this all mean?
At this point, you might think that what I've gone over suggests that I'm pessimistic about Ligand's future prospects; however, that couldn't be further from the truth. The bottom line is that at least five rugs are statistically supported to receive regulatory approval from Ligand's phase 1 assets alone. While it's impossible to determine which drugs will receive approval, I'm confident that revenue garnered from milestone payments and royalties could be substantial. Oncology drugs generally target large markets, and for a mid-sized company like Ligand, any market that's even half its market capitalization could significantly boost earnings well beyond 2014 revenue guidance figures.
The majority of Ligand's current revenue reflects royalties on products it has licensed to others for commercialization--namely Promacta and Kyprolis--milestone payments on partnered assets and sales of Captisol. With respect to current revenue growth, total revenues increased 37% versus the prior year, and royalty revenue was up 35%, primarily due to the increasing uptake of Ligand's Promacta, a partnered asset commercialized by Glaxo.
Ligand's guidance calls for full-year revenue growth of 27% to 31%, which is admittedly slower than the 56% increase during the prior year. However, in 2014 alone, Ligand expects 10 potential revenue-generating programs by the end of Q4 2014, so I suspect that investors can look forward to non-stop news on the progression of such programs going into 2015.
Future revenue growth is outstanding
With respect to future revenue growth, I cannot overlook the royalties on currently marketed drugs for approved indications. See below: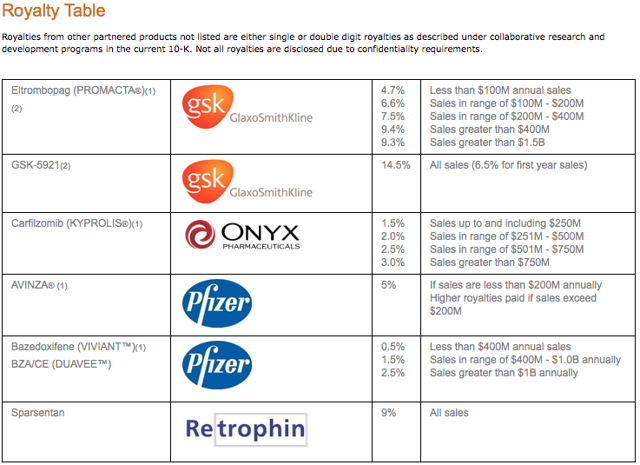 Clearly, you can see that there are numerous royalty step-ups in place, which occur at certain sales levels for the respective products above. Ligand also sees increasing Captisol sales for both commercial and investigational products, and a steady influx of milestone payments. Unfortunately, however, I cannot detail other royalty fee agreements for other marketed products because Ligand has established confidentiality agreements with its respective partners, so the information is not publicly available. Furthermore, as new products enter the market, I am confident that product royalties and milestone payments to Ligand should increase exponentially.
Recent insider buying is a positive sign
Insider buying is generally a positive sign. Following are recent insider transactions, though however small the purchases were, are still significant, in my opinion. Following is information taken from the The Street:
Foehr Matthew W, who is EVP and COO at Ligand Pharmaceuticals, bought 428 at $43.79 on July 1, 2014. Following this transaction, the EVP and COO owned 53,885 shares meaning that the stake was boosted by 0.8% with the 428-share transaction.
Berkman Charles S, who is VP, Gen. Counsel & Secretary at Ligand Pharmaceuticals, bought 329 shares at $43.79 on July 1, 2014. Following this transaction, the VP, Gen. Counsel & Secretary owned 27,307 shares meaning that the stake was boosted by 1.22% with the 329-share transaction.
Herman Melanie J, who is Director of Accounting at Ligand Pharmaceuticals, bought 98 shares at $43.79 on July 1, 2014. Following this transaction, the Director of Accounting owned 2,728 shares meaning that the stake was boosted by 3.73% with the 98-share transaction.
Ultimately, an investor must determine the meaning of the insider buying. Insiders buy and sell for many different reasons, and oftentimes the transaction is immaterial to the bear/bull thesis. In this case, however, I think it's a positive indication, considering that multiple executives bought shares within the same timeframe.
The aspects I think Wall Street is overlooking
First, while Ligand's risk profile is well documented, considering it has more than 90 programs that are being fully funded by its partners, I think many investors overlook the fact that its partners plan to spend approximately $800 million on R&D during 2014 alone. I believe this demonstrates the legitimacy of Ligand as a biopharmaceutical company, considering this number ventures close to Ligand's market capitalization.
Second, given its low liquidity, it appears investors aren't fully aware of the impending catalysts that could drive shareholder value. Specifically, Ligand expects to see both Phase III data in Pediatric ITP, as well as regulatory action for the sNDA for the Severe Aplastic Anemia indication in 2H 2014. Further, Pfizer expects regulatory action in the EU for Duavee, and Merck expects regulatory action for Noxafil-IV in the EU. Amgen also expects additional Phase III data for Kyprolis in Q2/Q3.
Lastly, Ligand will continue to seek additional partnerships and acquisitions, bolstering its stream of potential royalties, milestone payments and licensing fees. Case in point, according to a Yahoo article, the company "inked a deal with TG Therapeutics, Inc. (NASDAQ:TGTX) to develop and commercialize Ligand's Interleukin-1 Receptor Associated Kinase-4 (IRAK-4) inhibitors," announced June 25. "Ligand received 125,000 unregistered shares of TG Therapeutics' common stock, valued at about $1 million on the date of signing the deal. Additionally, it received $207 million on the achievement of specific milestones and tiered royalties of 6%−9.5% on net sales of licensed products." This transaction was received positively by analysts, namely ROTH Capital, which stated, "The terms of the deal are attractive for Ligand. The firm believes that Ligand's long-term free cash flow potential continues to increase and it reiterates a $92 price target and Buy rating on the shares."
Risk overview
Conveniently, there is a short Seeking Alpha article that articulates the contrarian perspective on Ligand. Access it here. The article focuses on deteriorating royalties due to increasing competition in varoius indications of Ligand's major assets. The author proceeds to assert that Ligand's pipeline is of little value, and is "built on promise," with little tangible assets.
Again, I strongly believe that the fact that Ligand's partners are spending over $800 million to advance their associated clinical products speaks to the legitimacy of the company, as well as Captisol technology. To suggest otherwise also fails to make note of the myriad of major companies that Ligand has managed to partner with, which of course is practically all of the largest players in the pharmaceutical industry. Tell me this: if Ligand was a "100% downside candidate," why would these Big Pharma partners spend over $800 million combined in 1 year of R&D to advance collaborations with Ligand? It simply doesn't add up. Further, consider the millions of dollars in licensing fees and upfront payments received by Ligand, which probably eclipses the $800 million mark.
The author then proceeds to discuss the particularities of Ligand's website, contending the fact that some of the pages are listed as "Under Construction," indicates that Ligand is nontransparent, lacks foundation, and has little expertise. While I cannot explain why Ligand hasn't updated its website, I can say that, in my opinion, basing a short position on the absence of content on a website is rather absurd. After all, the site pages containing the critical information about Ligand are made readily accessible.
Nevertheless, one thing that concerns me when it comes to Ligand is the unsolicited, negative attention it has received from a hedge fund called Lemelson Capital Management. Currently, Lemelson Capital appears to have successfully impacted the share price on several occasions, beginning with its initial report released on Seeking Alpha on June 15, which catalyzed roughly a $4/share drop on that day alone. Lemelson Capital has continued to update investors about its increasing short position in Ligand ever since its June 15th report, accessible here, here and here. Each of these releases had a negative impact on Ligand stock, in my opinion.
Thus, current and prospective investors should be aware that the daily volatility is consistently influenced by Lemelson Capital. Furthermore, with knowledge of these frequent releases, investors could benefit from selling low strike price Puts to take advantage of major dips if Lemelson Capital so desires to publish additional articles. This also mitigates the risk of the standard buy-and-hold strategy.
Conclusion
I will leave you with a quote from management that, in my opinion, perfectly sums up my article on Ligand.
Beyond company facts, figures and the reasons Ligand is worth an investor's time to analyze, there are the intangibles that characterize Ligand. We are a small company in terms of headcount, but all 18 Ligand employees share an unwavering commitment to the success of our company, to our business model and to our financial performance. Our corporate culture is characterized by a positive, "can do" attitude, along with hard work, and a strong sense of camaraderie and a focus on driving shareholder value.
Disclosure: The author has no positions in any stocks mentioned, and no plans to initiate any positions within the next 72 hours. The author wrote this article themselves, and it expresses their own opinions. The author is not receiving compensation for it (other than from Seeking Alpha). The author has no business relationship with any company whose stock is mentioned in this article.