Situation: Kindred Biosciences (KIN) is a biotechnology company that develops medicine for pets. Kindred seeks to identify drugs that have been validated in humans and develop animal versions to treat and cure pets. The company aligns well with pet market dynamics, with a majority of pet owners willing to spend large amounts on their pet's health and appearance, many times viewing their pets as part of their family. The company completed its initial public offering in December 2013 at $7 per share and since then has more than doubled to around $16 a share. The company's stock has appreciated as a result of Kindred Biosciences continuing to develop its extensive pipeline, with its most advanced candidates being: CereKin for the treatment of osteoarthritis pain and inflammation in dogs, AtoKin for the treatment of atopic dermatitis in dogs, and SentiKin for the treatment of post-operative pain in dogs.
What Does Wall Street Think: Analysts are bullish on Kindred Biosciences, with a mean price target of $26. Given the lack of profitability this price target is usually derived from a discounted cash flow or a takeout analysis (what a larger pet medicine company would pay).
The Financial Rationale Behind Street Optimism: Kindred Biosciences operates at the intersection of enormous and growing markets. U.S. consumers each year spend $1.5 billion on dog knee surgeries and $3.5 billion on flea and tick treatments. Additionally, the veterinary care market grew by 54% from 2006 to 2013. Modest penetration of the veterinary care market could produce substantial upside for stockholders, with Kindred Biosciences only having a market capitalization of roughly $300 million.
Veterinary Market Is Attractive: The market dynamics of the sector look very appealing, specifically the speed and cost of development.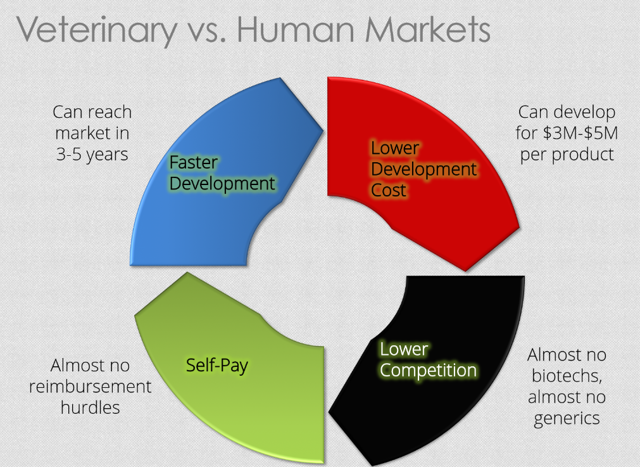 Source: Kindred Bio Investor Presentation
Sales Strategy: The company is looking to sell its portfolio through an approximately 50 person direct sales force. The sales force will target top distributors responsible for fulfillment of the majority of U.S. pet sales by veterinarians, in addition to targeting veterinarians directly. The sales should yield strong penetration given there are few pet generic companies, contrasting to the large generic market in the human generic market.
Lack Of IP Protection Is Major Risk Factor: One of the major risk factors in this sector is the lack of IP protection. According to Kindred Biosciences' most recent 10-K filing, the company has no issued patents, only provisional patent applications. This is because most of Kindred Biosciences' portfolio are based on generic human drugs, which do not afford composition of matter patents. Lack of patents is unusual for a biotechnology company, and will force Kindred Biosciences to outshine competition in other areas such as commercialization and sales and marketing.
Valuation: In order to value this company, given its lack of revenue, investors need to project the future revenue and incremental margins on that and then discount those metrics to the present at a discount encompassing the chances of approval (subjective metric). Looking at Leerink Partners' (Boutique Healthcare Investment Bank) initiation report, a $32 price can be derived from a discounted cash flow analysis, based on total estimated sales in dogs of $190 million by 2018. Note though that the price target changes dramatically as you change the growth assumptions.
Summary: Kindred Biosciences looks well-capitalized to achieve near term milestones with approximately $61 million in cash and cash equivalents, as of March 2014. Kindred is targeting large markets and has numerous milestones coming in 2014 and 2015, with Cerekin/AtoKin/Sentikin set for approval in as early as 2015. Kindred Biosciences is trying to cure man's best friend, but a prudent investor may want to consider it as a cure to an ailing portfolio.
Disclosure: The author has no positions in any stocks mentioned, but may initiate a long position in KIN over the next 72 hours. The author wrote this article themselves, and it expresses their own opinions. The author is not receiving compensation for it (other than from Seeking Alpha). The author has no business relationship with any company whose stock is mentioned in this article.