Investment Thesis
Xerox Corporation (NYSE:XRX) is increasingly a business services company. The printer business ("Document Technology") is an ex-growth cash cow and will continue to generate cash for a long time. It is attractively priced in absolute terms, and has a shareholder-friendly strategy of returning capital through dividends and buybacks.
Investment Thesis Review
Services Business: The Services Segment grew revenues 3% in 2013 and now represents 55% of total revenues. Its contribution at the PBT level is even higher. Some of the increase in contribution is due to the fact that Document Technology shrank slightly, but as long as the overall profitability remains stable to slightly improving, the revenue quality of the overall business is improving - which is a positive.
2009-13 Services Segment Revenue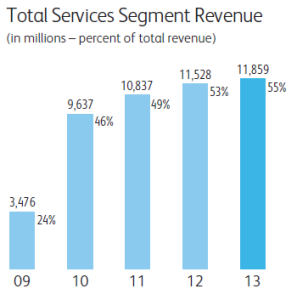 Source: Xerox Annual Report.
This segment is an attractive business composed of Business Process Outsourcing (59% of Services revenue), IT Outsourcing (13% of Services revenue) and Document Outsourcing (28% of Services revenue). These are long-term contracts with high renewal rates (85-90%) and the company has a strong pipeline of new opportunities. Document Outsourcing (managed printing services, or "print as a service" if you want to be promotional) is probably a lower quality business, but the company is incredibly well positioned here given its legacy. It is also worth noting that other outsourced printing companies such as Vistaprint (VPRT) trade at very rich multiples (11x LTM EBITDA and 30x LTM P/E - although to be fair, FY1 multiples look decent if they achieve the growth at 8.3x EBITDA and 14x P/E).
Document Technology: The Document Technology segment shrank by 6% in 2013, and profitability fell to $966m (9% below 2012), almost as low as it was in 2009. I am still of the view that the era of the "paperless office" is still a long way away, so I think this profit stream will continue to be sustainable for a long time. It's certainly not a growing market, but it is a market that needs to be served and few serve it better than Xerox.
Attractive Absolute Valuation: Maybe the below will sound like a contradiction to what I previously wrote on the bias of cost basis, but I think it is more about "knowing where you stand" than anything else. Here are some key valuation metrics for Xerox with the change in the metric since my last review of this position (Nov. 4, 2013, which was when I bought the shares) in parenthesis.
EPS: $0.92 (+0.2%)
Price/LTM Earnings: 14.2x (+32%)
Price/FY1 Earnings: 12.0x (+27%)
EV/LTM EBITDA: 8.2x (+17%)
EV/FY1 EBITDA: 6.7x (+11%)
EV/Revenues: 1.1x (+20%)
EV/FY1 Revenues: 1.1x (+17%)
Source: Company filings and CapitalIQ.
At first glance, it looks like the valuation part of the investment thesis is poorer across the board now - by about 20%. One the one hand, this is a nice problem to have and one that should hopefully be a recurring one for any value investor. On the other hand, it would be preferable for the near 30% price appreciation experienced to date to be a result of an improving business, rather than a richer valuation. In any event, the valuation remains attractive on an absolute basis. At a 12x forward P/E, the implied earnings yield is over 8%. That is a very acceptable base case, and there is a lot of optionality here with valuation re-rating (there is a long way to go before getting to "market" levels) and some growth in the long term once the slow decline of the Document Technology business settles.
The dividend yield has now fallen below 2%, but I would not be surprised to see the company raise its dividend at some point. The share repurchasing has been aggressive, which is the right thing to do with a depressed valuation. It would be nice to see a shift in favor of more dividends and less repurchases if the valuation continues to increase at this rate.
Shareholder-Friendly Strategy: One of the first thing that attracted me to Xerox was that it had a decent dividend yield. I see that as a sign of sensible valuation (assuming it's sustainable) and a shareholder-friendly management. Combined with the aggressive share repurchase program, it is very clear that the management has a strategy of returning capital to shareholders. The chart below compares cash flow from operations to the major uses of cash for the last five years.
2009-14 Cash from Operations and Its Uses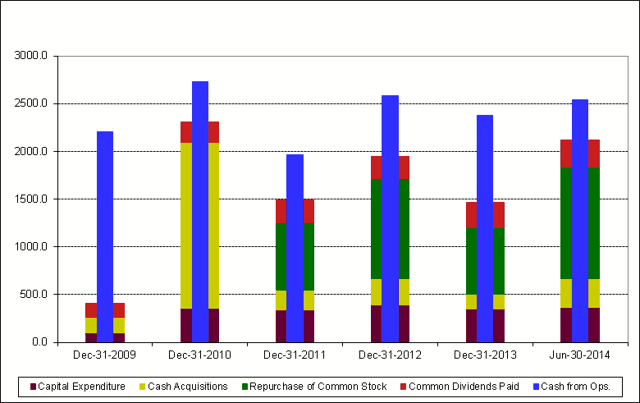 Source: Company filings and Capital IQ.
With the exception of the large acquisition of Affiliated Computer Services (now known as Xerox Business Services), the company has had a moderate and disciplined M&A strategy. That acquisition bolstered the services business and seems to have been a good one. They do enough M&A that I have not had the time to analyze each one specifically, but given the company's heritage, it seems as if they are being appropriately opportunistic here. I like the optionality it creates.
Other Considerations: The company makes a lot out of their "Annuity-Based Business Model" (now 84% of revenues). I certainly like that about the business model in general - recurring revenues are a nice thing. It strikes me as a bit promotional, despite the fact that I think it is true. I wonder if it is a legacy of the printer business where selling the ink cartridges was always where all the money was made - one of the real classic "razor/razor blade" business models.
Conclusion
The original investment thesis still holds and this investment should stay in the portfolio (which is good, since it has only been nine months). This is a nice business worth owning for the long term. Given current valuation and profitability, I would expect it to generate an overall return of about 100% over the next 10 years (implied by 8% earnings yield, assuming a bit of degradation), which would be a good outcome.
In more general terms, I think this is a decent investment to hold in the event of a downturn. The printers business could surely suffer, but the services business should be resilient. There are some concerns around the consumer financing (the company lends people money to buy its products) to which most of the debt is related, but the balance sheet is strong and credits should be fairly safe.
Disclosure: The author is long XRX. The author wrote this article themselves, and it expresses their own opinions. The author is not receiving compensation for it. The author has no business relationship with any company whose stock is mentioned in this article.