CIT Group (NYSE:CIT) is a New York-based commercial lender that is stretching its muscles with a number of moves that have recently been in the news.
The company's CEO John Thain has helped steer the company from a bitter period of bankruptcy into a vigorous financial institution with a bright future.
Putting The Past Behind
CIT Group was one of the many lending institutions that was caught up in the 2008 financial crisis. CIT received funds under the Troubled Asset Relief Program like many financial institutions but it was not enough to keep it out of bankruptcy.
Thain's Leadership
John Thain came to CIT with a deep background. Thain headed the mortgage securities division at Goldman Sachs (NYSE:GS) from 1985 to 1990. He then became the company's president and co-chief operating officer. From 2004 to 2007, he served as CEO of the New York Stock Exchange, and then joined Merrill Lynch. He helped arrange the Merrill Lynch/Bank of America (NYSE:BAC) merger, but decided to leave the company in 2009.
When the CIT leadership spot opened up, Thain was ready to bring his aggressive style to a company that had recently dug its way out of bankruptcy. The challenge was too great to pass up, and Thain tackled the endeavor with his accustomed thoughtful energy.
The OneWest Purchase
In 2008, a California lender called IndyMac succumbed to the pressures of the financial crisis and went under. George Soros and John A. Paulson saw an opportunity to take over the remaining assets of the company. They fashioned a new bank out of the remains, calling it OneWest Bank, and it thrived as a regional bank in the Pasadena area.
CIT Group recently announced the purchase of OneWest Bank for the sum of $3.4 billion. The deal will double CIT's commercial bank to $28 billion in deposits and $67 billion in assets. In the process, CIT's funding level will drop to 2.4 percent.
Inviting Greater Scrutiny
With the OneWest purchase, CIT Group has propelled itself onto a bigger ball field with its lending. The deal will draw increased scrutiny from banking regulators as it joins the SIFI classification, that is, a "systemically important financial institution." The increased regulatory scrutiny will allow the company to better utilize its assets and consolidate its standing as a major player.
Outlook For CIT Group
Thain's recent actions clearly indicate he has larger plans for the company in the coming years; in particular, the aggressive moves to secure CIT as a large asset player could give CIT considerable room to implement additional strategies.
CIT recently emerged from bankruptcy and is so far clean of many of the legacy issues and stiff regulations that face its larger peers, such as Bank of America and JPMorgan (NYSE:JPM). With less debt, and free to innovate, CIT is doing well and expanding. BTIG analyst Mark Palmer maintains a Buy rating and Barron's suggests book value growth throughout 2014 and that CIT is currently undervalued.
Already, CIT pays 10X the dividend that Bank of America (which pays just $.01). (An accounting error recently cost BAC shareholders a dividend hike and share repurchase.)

(CIT.com)
Over the past five years, the company's stock has seen somewhat choppy but overall upward growth.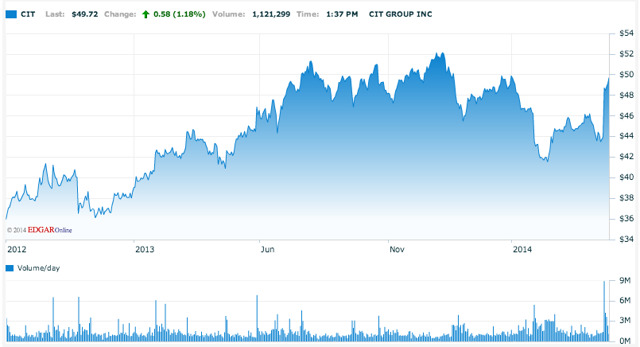 (Nasdaq.com)
Following the recent positive news, including very strong Q2 earnings (CIT beat analyst estimates by $0.31), shares jumped 10%.
CIT's price-earnings ratio is expected to reach 15.5 by the end of 2014, and gradually improve moving forward.
Trading just below its 52-week high, and poised for a change ahead (with a 1.49 percent return on assets and 7.62 return on equity) this appears a valuable buying opportunity.
We are positive on CIT moving ahead in 2014 and suggest other investors be so, as well.
We invite readers wishing to join the discussion on CIT to click the +FOLLOW button above the title of this article, and those looking for the latest updates to click +Get real-time alerts.
Disclosure: The author has no positions in any stocks mentioned, and no plans to initiate any positions within the next 72 hours. The author wrote this article themselves, and it expresses their own opinions. The author is not receiving compensation for it (other than from Seeking Alpha). The author has no business relationship with any company whose stock is mentioned in this article.