As more attention is given to internet companies and their business, we are seeing investors reevaluate how they value the underlying businesses based upon how users access the sites and products. Internet companies still sport rich valuations, but until a company can crack the mobile market we are seeing investors behaving more skeptically about that company's outlook. It should also be noted that as companies are able to crack the mobile market, not only on a measurement of how their content is accessed but also how they monetize their platforms, revenue and other financial measurements take off.
Chart of the Day:
We are going to see Twitter (NYSE:TWTR) shares moving strongly higher this morning, but the key level investors need to watch is the $50/share level. The stock probably will not take out that level today, but moving forward it will be interesting to see whether these new users that access the site through other platforms will cause numerous analyst upgrades. If so, then $50/share will be taken out in the near-term.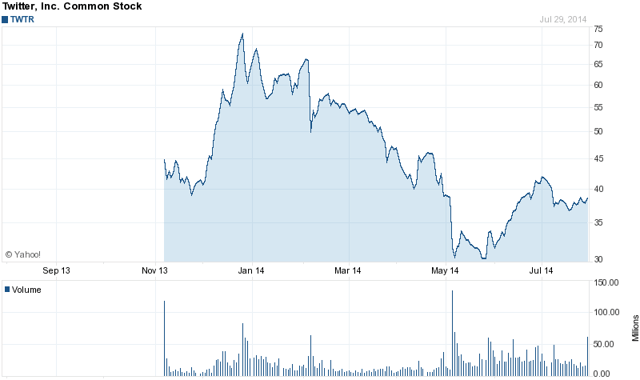 Source: Yahoo Finance
We have economic news today, and it is as follows:
MBA Mortgage Index (7:00 a.m. EST): Est: N/A Act: -2.2%
ADP Employment Change (8:15 a.m. EST): Est: 215k Act: 218k
Chain Deflator - Adv (8:30 a.m. EST): Est: N/A Act: -
GDP - Adv (8:30 a.m. EST): Est: 3.2% Act: 4.0%
Chain Deflator - Adv (8:30 a.m. EST): Est: 2.1% Act: 2.0%
Crude Inventories (10:30 a.m. EST): Est: N/A
FOMC Rate Decision (2:00 p.m. EST): Est: 0.25%
The Asian markets are mixed today:
All Ordinaries -- up 0.62%
Shanghai Composite -- down 0.09%
Nikkei 225 -- up 0.18%
NZSE 50 -- down 0.14%
Seoul Composite -- up 1.00%
In Europe, the markets are higher this morning:
CAC 40 -- up 0.15%
DAX -- up 0.41%
FTSE 100 -- up 0.03%
OSE -- up 0.29%
Costello Delivers
Dick Costello has brought sexy back, at least as it pertains to shares of Twitter. After last night's earnings announcement, the stock rose nearly 30% as investors cheered the company's financial results and increased user growth rate on a quarter-over-quarter basis. Revenue doubled year-over-year to $312.2 million as the net loss grew to $144.6 million. While the financials were positives, investors really cheered user growth of 24% which was above expectations and shows that events can continue to drive people to join the social network.
While Twitter will not have a World Cup to help drive the business next quarter, Mr. Costello did lay out his reasoning behind this quarter's good results and why some of the company's recent moves will help drive the business moving forward.
A Mobile Company
It has always been our feeling that Twitter is an easier product to transition to mobile than certain competitors, namely Facebook (NASDAQ:FB), because of the way people use it. The revenue breakdown from the latest quarter highlights this, as 81% of Twitter's revenues came from mobile advertising. Internationally, mobile is becoming a big driver of growth, with the best operators cracking the mobile code. One only needs to look at Facebook and Baidu (NASDAQ:BIDU) for evidence of this trend, and if Twitter has joined the club then those companies' stocks could be a good indicator of where shares could be headed.
We have argued in the past that Twitter's user base growth was not as important as Facebook's because they purchased MoPub Inc. which expanded their presence to 1 billion users across multiple platforms. As both the Twitter and MoPub user bases expand, investors should see margins move higher and larger advertising accounts landed.
Looking Internationally
While one can do nothing but cheer the international growth for the quarter, investors should pay attention to the upcoming results from Sina.com's (NASDAQ:SINA) Weibo (NASDAQ:WB). Weibo, China's microblogging answer to Twitter, has recently been seeing overall industry use decrease as more users in China allocate their time to instant messaging apps rather than microblogging apps. We always look for trends in the industry so we are obviously interested in the user behavior and want to see how the World Cup impacted Weibo's results.
Disclosure: The author has no positions in any stocks mentioned, and no plans to initiate any positions within the next 72 hours. The author wrote this article themselves, and it expresses their own opinions. The author is not receiving compensation for it (other than from Seeking Alpha). The author has no business relationship with any company whose stock is mentioned in this article.