Last week, high-growth MLP, Tallgrass Energy Partners LP (NYSE:TEP) announced a drop-down acquisition that will allow the partnership to maintain its sector-leading distribution growth profile and accelerate that growth into 2015.
The shale revolution requires new pipeline infrastructure to cost-effectively transport oil between producers and consumers. New pipelines have considerable lead time, as customer commitments have to be obtained and permits need to be acquired before construction can begin. However, there are pipelines which have been in place to transport natural gas which are now being converted to move crude, thus bypassing the build challenge of new pipeline capacity. The Pony Express is one such pipeline, which includes the conversion of a 430-mile natural gas line and construction of an additional 260-mile extension to transport Bakken-originated light sweet crude from Guernsey, Wyoming to Cushing, Oklahoma. The main line is expected go into service in Q3 of 2014, with a 66-mile, Northeast Colorado lateral extension that will go into service in the first half of 2015. At present, the Pony Mainline pipeline has 5-year commitments for approximately 206,000 bbls/d of committed capacity under firm contracts that have a weighted average fee of $3.30 per barrel, and the Northeast Colorado Lateral currently has approximately 81,000 bbls/d of committed capacity under firm contracts that have a weighted average fee of $3.60 per barrel.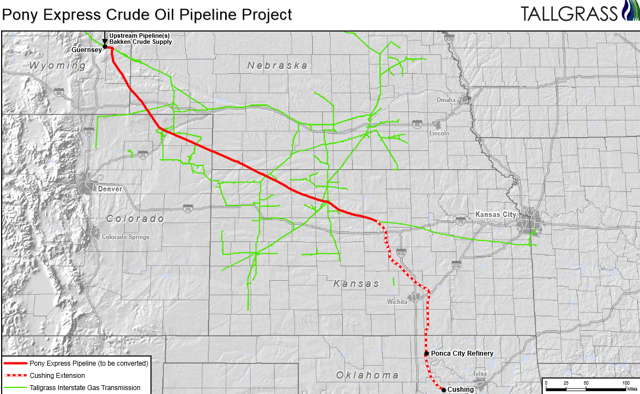 Presently, only 30% of Bakken crude is delivered by pipeline. The majority is shipped by rail, which is much more expensive and will be subject to future regulations and higher expenses due to the pending changes to rail care safety requirements.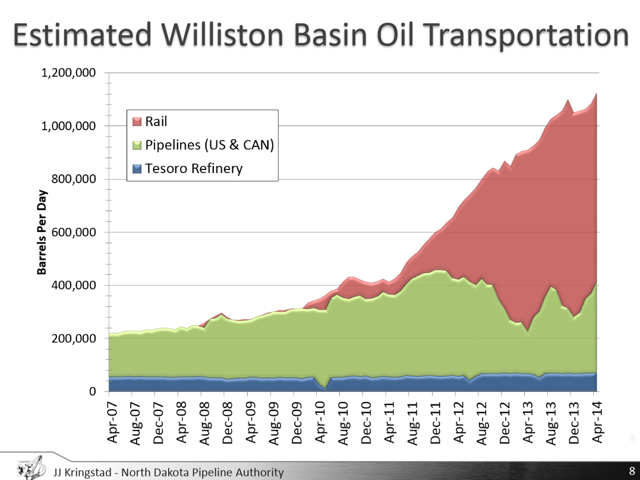 On July 21, TEP's sponsor and general partner, Tallgrass Development LLC announced it had offered TEP the right to purchase a 33.3% interest in the Tallgrass Pony Express Pipeline for $600 million.
The purchase will be funded with a 7 million share equity issuance, and the balance from TEP's existing revolver. The equity issue is expected to net $280 million, leaving $320 million of new debt. This deal assumes a 9x EBITDA multiple, or approximately $66MM on EBITDA, once fully operational. Here is the calculation from EBITDA to Distributable Cash Flow:
$66 million EBITDA minus:
$6.3 million maintenance capex (using ratio from projected Q2 results)
$12.8 new debt interest
$11.4 million of incremental distributions and IDRs on new units.
Equals $36.5 million of additional accretive DCF, or $0.76 per unit, based on 47.9 million units outstanding after the equity issuance.
Using a 1.2 times coverage ratio (DCF/actual distributions), the Pony Express drop-down provides $0.63 of add-on distribution per unit. Including incentive distribution rights to be paid to the general partner, this amount of cash flow allows Tallgrass Energy Partners to increase the annual distribution rate up to $1.91, or $0.4775 quarterly, compared to the current $0.38 rate. The distribution will not be increased in one big jump, but will increase on a quarter-by-quarter basis.
Tallgrass Energy Partners has the highest 3-year projected annual distribution growth rate - CAGR - of any MLP, at 38.6%. The Pony Express acquisition puts a high level of visibility on a large portion of that number for next year, as it appears that the market has undervalued the growth prospects for TEP. At the current distribution rate, TEP yields 3.8%, which is almost double the yield on other high-growth units. Even though TEP is up 78% over the last 12 months, the unit price gains are not keeping up with the distribution increases. An increase to $1.90 per unit annual distribution is a 25% rise from the current level. It will be up to Tallgrass management to judge how fast the payout can be raised on a quarterly basis. With this type of growth, at a peer-comparable 2.5% yield, the unit price would have to climb to $76, compared to just under $40 currently.
Tallgrass reports its Q2 results on August 6th after the market. Since the announcement of equity issuance on 7/21, TEP has fallen 8%, giving investors an attractive entry point before the market fully digests the impact of the Pony Express acquisition.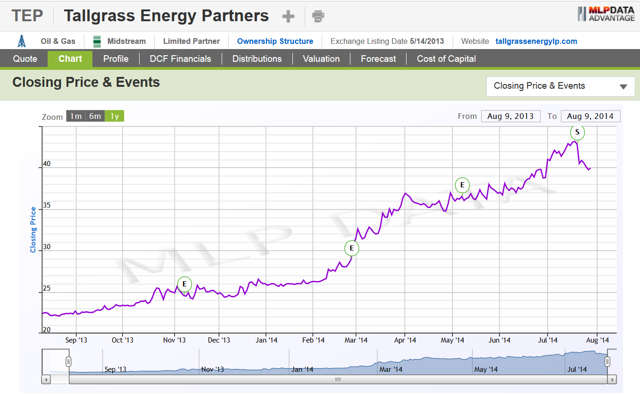 All Data is collected and provided by MLPData.com
Disclosure: The author is long TEP. The author wrote this article themselves, and it expresses their own opinions. The author is not receiving compensation for it. The author has no business relationship with any company whose stock is mentioned in this article.
Additional disclosure: Created position at IPO