It has been a very tough month for Valero (NYSE:VLO), North America's largest refiner. Like all refiners, it was hit by the Commerce Department's decision to allow two Texas based E&P plays to directly bypass refiners and export its condensate (the main product produced from shale) overseas. All refiners fell significantly on this news as it was thought this would allow an open season for oil exports, something that has not happened in 40 years.
The company then slightly lowered guidance prior to earnings. This double whammy knocked the stock down 15% to 20% from previous levels. As I argued recently, I thought the dip was a solid entry point for long-term value investors. This refinery play was both cheap and the belief that the administration was opening up the country for full oil exports - or that it had any kind of well thought out energy policy - was misplaced.
Yesterday, news came that the Commerce Department was indeed "rethinking" it recent decision and has put these requests to export condensate on hold. This decision played a huge part of the recent decline in refiner stocks and this reversal should buoy the sector while we await the Commerce Department figuring out what it actually wants to do. It might be a long wait given the sensitivity of the subject.
In addition, Valero reported standout earnings this morning.
The company delivered earnings of $1.22 a share, two cents above the consensus. This is also up nicely from the 84 cents a share it delivered in the year-ago period.
Revenues were more impressive, coming in at just under $35B for the quarter; significantly above expectations.
Lower corn prices helped Valero's ethanol business more than double profit year-over-year to $187 million.
Q2 refining throughput volumes averaged 2.7 million barrels per day, an increase of 115K barrels per day from the year-ago quarter.
Refining operating income rose 18% year-over-year to $1.08B, reflecting higher volumes and bigger discounts on certain kinds of oil which the company already previewed in its recent guidance.
Finally, the company announced a solid 10% dividend increase to 27.5 cents per share per quarter.
Summary:
Valero was trading at ~$58 a share before the Commerce Department's condensate export decision. I expect the shares to recapture a good portion of that decline now that this directive has been put on hold and the company has delivered a solid quarterly earnings report and raised its dividend payout.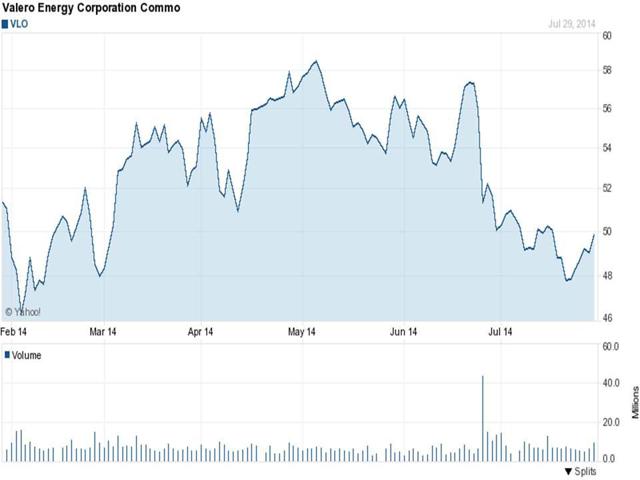 Click to enlarge
Longer term, Valero is well-positioned to benefit from America's growing energy production. It already gets almost 25% of revenues from exporting refined products overseas and its facilities on the Gulf Coast are ideally suited to ramp up this activity.
Even with the recently reduced guidance, earnings should come in up 25% year-over-year. Thanks to the recently increased payout, the shares yield nearly two percent with less than a 30% payout ratio - which bodes well for future payout increases. In a market that is selling at ~16 times this year's earnings, Valero shares go for a bargain ~9 times this year's expected earnings. ACCUMULATE
Disclosure: The author is long VLO. The author wrote this article themselves, and it expresses their own opinions. The author is not receiving compensation for it (other than from Seeking Alpha). The author has no business relationship with any company whose stock is mentioned in this article.