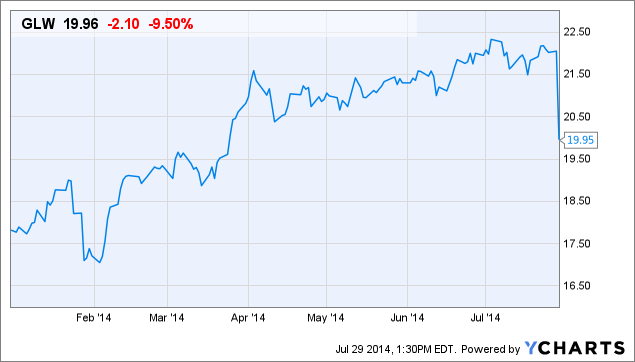 Corning (NYSE:GLW) reported 2nd quarter earnings that fell short of analyst estimates due to lower demand in Gorilla Glass. The company cited lower demand for smartphones and tablets and the delay in the launch of certain new products as the primary reason for weakness in its specialty materials segment. GAAP EPS of $0.11 fell well short of analyst consensus EPS of $0.38. The market responded by sending shares of Corning lower by 9-10%. I believe this gives investors a great long-term entry point. Corning remains head and shoulders above competitors in the industry and reports of Corning losing market share to GT Advanced Technologies (GTAT) in the smartphone market are overblown.
3 months ended June 30

($ millions)

2014

2013

Y/Y % change

Display Technologies

$ 1,085

$ 670

62%

Optical Communications

$ 686

$ 601

14%

Environmental Tech

$ 285

$ 228

25%

Specialty Materials

$ 298

$ 301

-1%

Life Sciences

$ 223

$ 219

2%

Total Core Sales

$ 2,577

$ 2,021

28%

Core Net Income

$ 527

$ 469

12%

Core EPS

$ 0.37

$ 0.32

16%

GAAP EPS

$ 0.11

$ 0.43

-74%
Source: Corning Earnings release
Specialty materials and life science segments lagged for 2Q2014, but all other segments had healthy growth. Corning is starting to see the benefits in its display technology segment from acquiring full ownership of Samsung Corning Precision Materials Co., Ltd. (SCP), an unconsolidated equity venture with Samsung Display that manufactures LCD glass in Korea, back in October 2013. The company predicted this agreement with Samsung would add around $2 billion in annual sales and approximately $500 million in additional cash flow. Corning now expects it can exceed these initial forecasts based on improved synergies. Optical communications saw a healthy 14% year-over-year increase due to strong demand for Corning's fiber-to-home solutions in North America and Europe. Environmental technologies increased 25% year-over-year due to continued demand for the company's heavy duty diesel emissions control products. Overall sales in 2Q2014 were strong with a 28% increase to $2.6 billion.
Looking forward Corning expects sales growth and earnings improvement in 3Q2014.
-Display Technology: LCD glass volume will be up mid-single digits, sequentially.
-Optical Communications: Sales expected to increase mid-single digits, year-over-year, driven by continued demand for fiber-to-home solutions.
-Environmental Technology: Sales expected to grow 20-25%, year-over-year, driven by continued growth in diesel emissions control products in North America, China and Europe.
-Specialty Materials: Sales expected to grow 10%, sequentially, as demand for Gorilla Glass increases in the second half of 2014
-Life Sciences: Sales expected to increase slightly year-over-year.
Takeaway
Using GAAP, Corning's 2Q2014 revenue of $2.48 billion fell short of Wall Street's forecast of $2.53 billion and net income fell to $169 million, or $0.11/share, from $638 million, or $0.43/share, in 2Q2013. Clearly, Corning didn't live up to expectations in the second quarter, but the 10% drop in stock price appears to be overdone. The core of Corning's business remains strong as do valuations. With a P/E of 16.5 and a forward P/E of 14, the stock remains cheaper than the market as a whole. The company also maintains a solid balance sheet with $5.9 billion in cash ($4.29/share), debt/equity ratio of .17, and a current ratio of 4.7.
Gorilla Glass twist
Authors are already stretching to make the link between lower than expected Gorilla Glass sales in 2Q2014 and losing the iPhone 6 display cover market. A Reuters report titled, "Corning profit falls short on lower Gorilla glass demand," comments on the lower Gorilla Glass sales and goes on to say,
"Apple (NASDAQ:AAPL) also is reportedly planning to switch from using Gorilla glass to GT Advanced Technologies' Sapphire glass for its next iPhone."
What the article fails to mention is the CEO stating 3Q2014 will see a 10% increase in Gorilla Glass sales due to higher volume driven by new smartphone launches and that there has been no change in its forecast of Gorilla Glass being used in smartphones during 2014. In reality, weaker than expected sales in cover glass for tablets and touch notebooks is the primary reason for the unexpected decline in its specialty materials segment. Cover glass for tablets in far bigger than smartphones, so a decline in tablet sales has a bigger impact than smartphone sales. While Gorilla Glass makes all the headlines for Corning, it is important to remember it only accounts for roughly 10% of total sales. Corning has extremely diverse products that span 5 segments, all of which are expected to increase during the back half of 2014.
Furthermore, Corning has announced it will launch its next version of Gorilla Glass later in 2014 that will be resistant to bacteria and viruses and also have anti-reflection properties. In the second quarter conference call, the CEO stated Corning has already won models that will use Gorilla Glass 4.
Conclusion
I'm a firm believer that investors can find great entry points by waiting for short-term weakness in quality companies. Corning's 10% pullback does just that. Investor concerns of Corning losing the Apple iPhone 6 market are unfounded and appear to be pure speculation. The company is fundamentally sound and has products that are gaining traction in rapidly expanding markets such as fiber-to-home solutions and diesel emission filters. Earnings misses often allow investors to get into a stock they've had on their radar, but were waiting for a pullback in price. Corning has good downside protection at this point and the opportunity for long-term gains while collecting a 2% dividend yield.
Disclosure: The author has no positions in any stocks mentioned, and no plans to initiate any positions within the next 72 hours. The author wrote this article themselves, and it expresses their own opinions. The author is not receiving compensation for it (other than from Seeking Alpha). The author has no business relationship with any company whose stock is mentioned in this article.