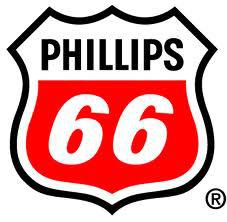 Phillips 66 (NYSE:PSX) announced Q2 earnings this morning of $1.51/share - a miss of $0.19 when compared to the Thomson Reuters EPS estimate of $1.70. The miss was largely a result of lower earnings from PSX's Midstream segment. However, investors should focus on the company's very strong core refining performance as well as record earnings from its chemicals business. In addition, the company continues to execute on bullish long-term growth prospects. Meanwhile, management continues to reward shareholders with increasing dividends and share buybacks.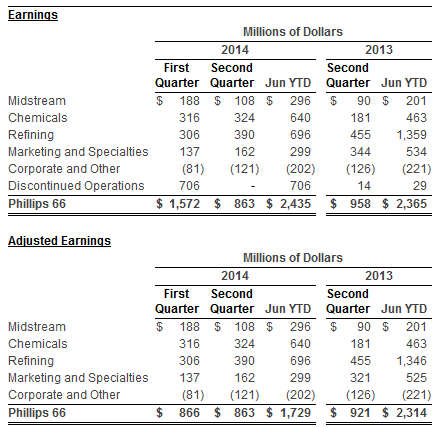 Midstream
Q2 Midstream earnings were $108 million, down $80 million from Q1. Earnings contributions from DCP Midstream, LLC were down $50 million sequentially. Earnings from PSX's NGL businesses were down $28 million from Q1 largely due to lower demand and pricing for propane.
It is important to note that while sequential Midstream earnings were down, YOY Midstream Q2 adjusted earnings were up 20%.
Lower Q2 propane results should not have surprised analysts. The exceptionally cold winter and increased US propane exports led to abnormally strong propane drawdown and pricing in Q1. Seasonally, Q2/Q3 are propane injection quarters and Q4/Q1 are propane sales quarters. In addition, the US continues to increase propane exports to emerging markets and the long-term outlook for the propane market remains solid.

Source: The EIA.
In April of this year, the EIA reports the US exported 414,000 bbls of propane/propylene compared to 279,000 bbls last year (+48%).
Refining
Refining recorded Q2 earnings of $390 million, up $84 million from Q1. Despite weaker refining margins, earnings were up due to increased volumes after planned turnaround and maintenance activities were completed.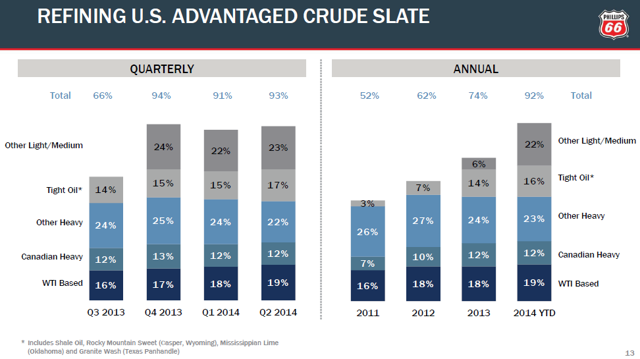 Click to enlarge
During the quarter, PSX's advantaged crude slate increased to 93%, up 2% compared to Q1. The company continues to take advantage of lower domestic crude pricing by pushing out Brent-based volumes.
Phillips 66's Q2 refining utilization was an impressive 96%. The realized refining margin was $9.66/bbl. During the quarter, PSX processed a record 305,000 bpd of tight oil, 48,000 barrels more than the previous record.
Chemicals
Q2 chemicals earnings were a record $324 million, an increase of $8 million over Q1. The Chevron Phillips Chemical Company ("CPChem") performed very well. PSX's cut of CPChem's Olefins and Polyolefins (O&P) business was $310 - up $27 million over Q1. Global utilization for O&P was 95% during the quarter. According to the company's Q2 slide presentation, the Chemical segment's annualized YTD ROCE is 29%.
Marketing and Specialties
Q2 earnings for the Marketing and Specialties segment were $162 million, up $25 million over Q1. The improvement was largely the result of increased exports. Refined product exports totaled 181,000 bpd in Q2, up 30% as compared with 139,000 bpd in Q1.
Growth Projects
PSX continues to fund strategic growth projects including:
Construction of the Sweeny Fractionator One and Freeport Liquefied Petroleum Gas Export Terminal.
Agreed in June to purchase a 7.1 million-barrel-storage-capacity terminal near Beaumont, Texas. The Beaumont Terminal is strategically located on the U.S. Gulf Coast, with deep-water access and multiple interconnections to crude oil and refined product pipelines. The transaction is expected to close in the third quarter of 2014.
Acquired Spectrum Corporation in July. Spectrum is a blender, packager and marketer of specialty lubricants, distributed globally.
DCP Midstream: the Zia II plant is anticipated to start up in the first half of 2015, and the Lucerne 2 plant in the Denver-Julesburg Basin expects to begin operations in mid-2015.
In June, CPChem successfully started up the world's largest on-purpose 1-hexene plant at its Cedar Bayou facility in Baytown, Texas. The 1-hexene unit is capable of producing 550 million pounds per year for use in the manufacturing of polyethylene. Also during the quarter, CPChem achieved final investment decision to expand normal alpha olefins production capacity at Cedar Bayou by 220 million pounds per year.
Financials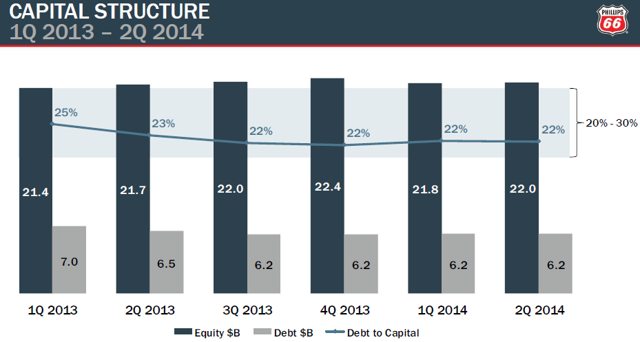 Click to enlarge
PSX generated $830 million of CFO in Q2. The company funded $561 million in cap-ex and investments, and returned $897 million of capital to shareholders. Phillips 66 paid $281 million in dividends and repurchased 7.5 million shares of common stock for $616 million.
At the end of the quarter (June 30, 2014), cash and cash equivalents were $5.0 billion and debt was $6.2 billion. The company's debt-to-cap ratio was 22%. PSX reported an annualized year-to-date return on capital employed (ROCE) of 18%, and an annualized YTD adjusted ROCE of 13%.
During the quarter, the company increased the dividend 28% to $0.50 share. In July, the board approved $2.0 billion of additional share repurchases for total authorizations of $7.0 billion since 2012. Through Q2 of 2014, the company has repurchased 60.0 million shares.
Bottom line: despite the Q2 "miss," PSX continues the excellent operational and financial performance investors have come to expect since the company's spin-off from ConocoPhillips (NYSE:COP).
Phillips 66 Partners

It is also important to note the continued success of Phillips 66's MLP, Phillips 66 Partners (NYSE:PSXP). PSXP announced solid Q2 earnings this morning. Highlights included:
Distributable cash flow of $34.3 million.
EBITDA of $37.6 million.
Increased quarterly distribution by 10% to $0.3017 per unit.
Net income of $32.1 million.
These results compare very favorably with the Q1 EPS report:
Distributed cash flow up 47%
Net income up 15%
Quarterly distribution per unit up 10%.
The continued success of PSXP bodes well for the increased flow of tax-advantaged distributions to PSX.
Summary and Conclusions
Phillips 66's Q2 earnings were strong despite the headline miss. The company's MLP continues to perform very well. PSX continues to make substantial investments in high visibility growth projects to take advantage of low-cost petrochemical feedstocks in the U.S. Gulf Coast region. Meantime, as shareholders have come to expect, PSX management continues to reward them with increased dividend payouts and share buybacks. Conclusion: as I reported in my earlier Seeking Alpha article, Phillips 66 remains An Outstanding Dividend Growth Stock.
| | |
| --- | --- |
| Market Cap: | 46.34B |
| P/E ("ttm"): | 12.81 |
| EPS ("ttm"): | 6.39 |
| Div & Yield: | 2.00 (2.30%) |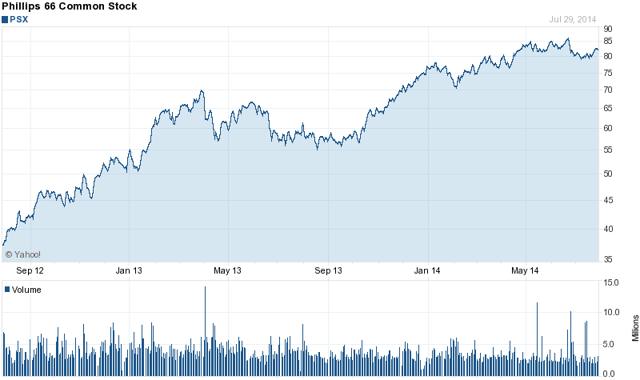 Click to enlarge
Disclosure: The author is long COP, PSX. The author wrote this article themselves, and it expresses their own opinions. The author is not receiving compensation for it (other than from Seeking Alpha). The author has no business relationship with any company whose stock is mentioned in this article.
Additional disclosure: I am an engineer, not a CFA. The information and data presented in this article were obtained from company documents and/or sources believed to be reliable, but have not been independently verified. Therefore, the author cannot guarantee their accuracy. Please do your own research and contact a qualified investment advisor. I am not responsible for investment decisions you make. Thanks for reading and good luck!